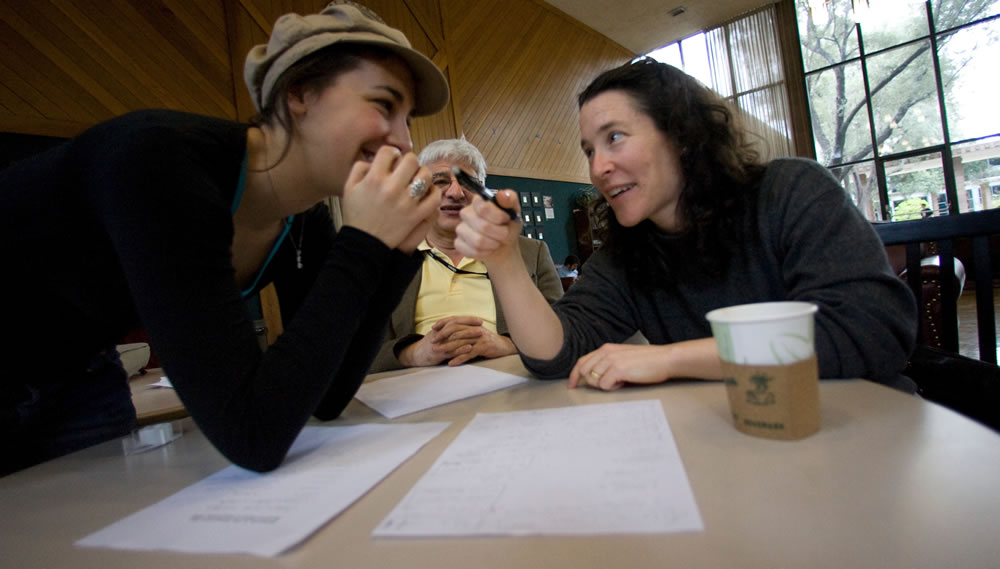 The Harvey Mudd College Office of Admission is dedicated to supporting our colleagues that help guide students through the college application process. This page was developed to assist your efforts in providing students all they need to know about applying to HMC.
We are fortunate to have a very engaged prospect pool, so in most cases if one of your students is considering HMC they have probably already researched and digested our policies and procedures! Whether this is the case or not we still want you to be able to become easily acquainted with how our office works and learn about what we value.
If you are unable to find what you are looking for please do not hesitate to contact our office at either 909.621.8011 or admission@hmc.edu for assistance. You can also reach out directly to the admission staff member that is assigned to your area.
Application Requirements and Deadlines
HMC is an exclusive user of the Common Application. We accept official fee waivers from the College Board or NACAC, but we will also accept a counselor note explaining a student's financial circumstances and requesting the waiver.
Application Review Process
We read the applications thoroughly, assigning each file to a territory manager and then on to a second reader, assigned randomly. About 20% of the cases, ones clearly identified as weaker applications, are relegated without a second reader. The vast majority of remaining cases are put through a committee selection process. We tend not to put students into groupings geographically, by school, or by major, but review cases almost completely at random. When we agree to offer admission, we must be unanimous in each case.
Our application process is need-blind for all domestic students. We review international applicants seeking need-based aid as one large group. We consider our financial obligations when admitting them, and can only afford to offer admission to about 10 international students seeking need-based aid.
Shaping our Class
At HMC, there are two main considerations when we review students. We look for "fit." We hope that the student can articulate the desire to attend HMC for the process of the education and for the community, more than simply the product of this fabulous education. We also look for ways in which the student plans to contribute to the college.
The other critical consideration is each student's preparation for the intensity of HMC. We pay particular attention to the rigor of courses completed, grades, test scores, and the student's attitude toward learning. Here are some specific factors we weigh extremely heavily:
Grades. A "C" or lower in most solid courses is nearly fatal. "B" grades raise eyebrows.
We count the number of academic solids each semester.  Students who choose a light load of courses, either in count or in rigor do not fare well in our competitive pool. We note especially course work (count and rigor) in Sciences and Math and English. Slumping off senior year is a quick way to be relegated.
The applicant pool is chock full of students who are stars in their high schools and communities. The vast majority of candidates show impressive curricula, grades, extracurricular involvement, and test scores.  For those who do not, we want to know why.
The counselor's recommendation (School Report) is the best place to understand the context of the student's performance.  There could be a very good explanation for a lower grade. There may have been budget cuts or scheduling issues that prevented selection of a preferred curriculum. The context of the student's activities is also useful information. It is worth noting if the band program is well recognized or that the journalism program wins awards, or that the debate program is ranked, or if the Math or Robotics teams consistently perform at a high level. Please include a profile rather than asking us to go to your web site.
Please let us evaluate any disciplinary issues. If a student has a disciplinary record, we want to know about it. The infraction might be a big deal at the high school but innocuous at a college. Or the issue might be minor at the high school but worrisome at a residential college. We take questions of integrity, whether academic or not, extremely seriously. We have an Honor Code at HMC.
Visiting Campus
We offer several visit options for students including tours, info sessions, overnight visits, and class visits. We also encourage you and your students to frequently check our homepage for upcoming on and off-campus events.
If you plan on visiting HMC yourself please let us know. In addition to the usual campus tour and information session we can arrange to have you meet individually with someone from our staff (if possible, your area's representative).
Request a Group Visit
If you wish to bring a chaperoned group of students to visit campus, please submit your request through our Group Tour Request Form. We accommodate Group Tours as space and staffing/scheduling permit.
Financial Aid
HMC offers both need-based and merit based financial aid opportunities. We are able to meet 100% of a family's demonstrated need. About 80% of HMC students receive financial aid, with the average award being about $32,000. We do package students with loan, but in most cases it is at the bare minimum amount that the federal government allows. The Office of Financial Aid is available to answer any of your questions.
Underrepresented Student Opportunities
HMC is committed to unsurpassed excellence and diversity at all levels. The office of admission offers some opportunities for students that help our efforts in recruiting, enrolling, and retaining students from populations that are underrepresented at HMC and STEM (science, technology, engineering, mathematics) fields.