Humanities, Social Sciences, and the Arts
A distinctive feature of the Harvey Mudd College experience is the opportunity for students to major in STEM fields while pursuing wide-ranging interests in the humanities, social sciences, and the arts (HSA), both on campus and throughout the Claremont Colleges.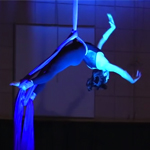 Harvey Mudd College HSA Department Trustee Showcase
HMC students bring a lot of passion to what they do, whether it's chemistry or dance, physics or historical research. Students shared these passions with the HMC Board of Trustees on the evening of Sept. 28, 2018.
The Hixon Forum for Responsive Science and Engineering
An annual conference that explores the intersection of science, technology and society
What Can a Liberal Arts Education Offer in the Age of Trump?
A panel discussion with six HSA faculty on how diverse disciplines can shed light on current affairs
Harvey Mudd welcomed writer and "Westworld" story editor Charles Yu to campus
Writer Charles Yu gave a presentation on Oct. 19, 2017 as part of the Harvey Mudd Reading Series.
Fall Semester Exhibition
An exhibition of student artwork from two HMC courses: Undisciplined Art (Art 188) and Photography (Art 33), Fall 2018
Andrew Bishop '18 publishes Wastescapes, Examining Waste as an Economic Externality
Bishop's final project from STS 179G was published on Discard Studies, one of the core academic resources by scholars of waste
Coco Coyle '17 co-authors "Equity in Author Order: A Feminist Laboratory's Approach."
Coyle's article appeared in the October 2017 issue of the journal Catalyst: Feminism, Theory, Technoscience