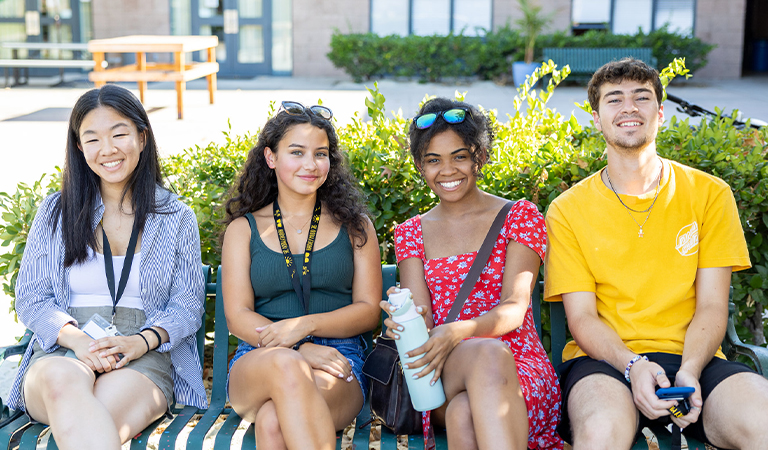 Here, you'll find all you need to get started on your application. We've included important dates as well as tips for applying as a first-year, international or transfer student.
| | Early Decision I | Early Decision II | Regular Decision | Transfer |
| --- | --- | --- | --- | --- |
| Application Due | Nov. 15 | Jan. 5 | Jan. 5 | Mar. 15 |
| Optional Interview Deadline | Nov. 15 | Mid-Dec. | Mid-Dec. | N/A |
| Merit Scholarship Deadline | Jan. 20 | Jan. 20 | Jan. 20 | N/A |
| CSS Profile and FAFSA | Nov. 15 | Jan. 5 | Feb. 1 | Mar. 2 |
| IDOC | Dec. 1 | Jan. 20 | Feb. 15 | Mar. 16 |
| Decision Release | Dec. 15 | Feb. 15 | Apr. 1 | May 5 |
| Reply Date | Jan. 5 | Mar. 5 | May 1 | Jun 1. |
Apply Deadlines
If you are applying for financial aid, please refer to our Financial Aid website for more detailed instruction.
HMC reserves the right to evaluate an application and render a final decision even if all pieces of the application have not been received.
Standardized Testing
Since 2020 we announced these additional changes to our previous standardized testing policy:
Important: Students will not be at a disadvantage in our admission process if they are not able to submit or choose not to submit test scores.
Some other important things to know about testing in our admission process:
We do not require the optional ACT writing section or the optional SAT essay. They will not be considered even if they are submitted.
We have no preference between the ACT or SAT.
We do not use standardized testing in our consideration for merit scholarships.
Test-optional Details
When students apply to HMC, they will be asked on either the Common Application or Coalition Application to choose their preferred testing plan. That means the students are asked if they want their application to be considered with ACT/SAT test scores or without.
Students are able to change their preferred testing from "Do not consider ACT/SAT scores" to "Consider ACT/SAT scores."
Students are able to change their preferred testing plan selection through a form on the HMC Applicant Hub until 5 days after their application deadline. Students get access to the HMC Applicant Hub after they submit their application.
Submitting Test Scores
Self-report on the Common Application or Coalition Application
Self-report through the HMC Applicant Hub
Submit official score reports from the testing agency
See Self-reported Test Scores FAQs
Important: Only depositing students who requested that we consider their ACT/SAT scores will be required to submit official ACT/SAT score reports.
Recommended Test Dates
The following recommended test dates are just that, recommended. If students want to have their test scores considered with their application, these dates would be optimal. However, we will do our best to update students' applications with scores as they become available. We are ready to work with you however we can.
Early Decision I – November test date
Early Decision II – December test date
Regular Decision – December test date
First-Year Profile
| General | Number |
| --- | --- |
| Applications | 4,794 |
| Admitted | 628 |
| Enrolled | 230 |
Applications and Admitted
| | |
| --- | --- |
| Female | 50% |
| First-generation | 18% |
Class of 2027 Profile
| | |
| --- | --- |
| International | 13% |
| Hispanic/Latinx | 24% |
| Asian | 19% |
| Black | 4% |
| Native | < 1% |
| White | 21% |
| Two or more races | 13% |
| No response | 6% |
Race/Ethnicity (IPEDS)
| | |
| --- | --- |
| U.S. States | 26 |
| non-U.S. countries | 15 |
| California | 44% |
| West | 21% |
| Midwest | 5% |
| Northeast | 13% |
| South | 3% |
| non-U.S. | 13% |
Geography
| | |
| --- | --- |
| Applications | 37% |
| Admitted | 32% |
| Enrolled | 36% |
Test-Optional
| | |
| --- | --- |
| SAT ERW | 720–770 |
| SAT Math | 760–790 |
| ACT Composite | 34–36 |
Middle 50% Scores