Student Life at Harvey Mudd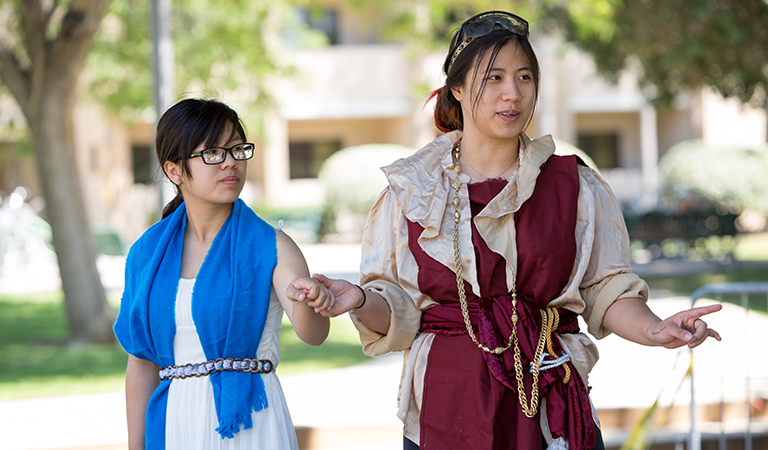 It's not all work and study at Harvey Mudd. Our students are famous for seeing the quirkier side of life and for making sure that ours is not an average campus.
Beyond Harvey Mudd, the other Claremont Colleges provide a wide range of activities and facilities that Harvey Mudd students may enjoy.
Honor Code
The campus is governed by an Honor Code that gives our students a lot of freedom but demands accountability.
It states that "every student is responsible for maintaining his or her integrity and the integrity of the College community in all academic matters and in all affairs concerning the community."
The Honor Code sets the tone for life on campus. Students have 24-hour access to labs, studios and workshops.
Students respect and accept each other's differences and are not pressured to do something uncomfortable in order to fit in.
Thanks to the Honor Code, Harvey Mudd College faculty have the confidence to regularly assign timed, take-home exams or closed-note homework assignments without worrying about students cheating.
Student Activities
Harvey Mudd College students have plenty of extracurricular outlets. The College plays host to a wide range of on-campus activities, including student government, clubs and organizations, recreation, athletics and community service.
Students also take advantage of opportunities sponsored by the other Claremont Colleges—concerts, guest speakers, art shows and more. The Committee for Activities Planning (CAP) helps students take advantage of the many Southern California attractions.
Athletics
Harvey Mudd College, Claremont McKenna and Scripps College collaborate on a joint program of intercollegiate athletics, intramural and recreational activities, physical education and club sports known as Claremont-Mudd-Scripps (CMS).
The intercollegiate athletic program is a member of the NCAA Division III and the Southern California Intercollegiate Athletic Conference (SCIAC). CMS sponsors 20 intercollegiate sports for both men and women. Club sports include ballroom dancing, fencing, men's lacrosse, men's and women's rugby, women's field hockey, ultimate frisbee and rowing.
Students who do not participate in intercollegiate or club competition may join intramural teams.
The Arts
Opportunities in fine and performing arts are available at Harvey Mudd College and The Claremont Colleges.
Students can audition for many of the productions available through Pomona's Department of Theater and Dance or the Dance Department at Scripps or Harvey Mudd improvisational comedy group known as DUCK! Musicians can participate in orchestras, bands and ensembles through the Joint Music Program or the Pomona College Music Department.
Numerous fine art classes available to Mudd students, including sculpting, painting and drawing, digital and analog printmaking, ceramics, photography and more. Students also have access to the latest imaging, editing, animation, sound and graphics software, as well as multiple formats of video and film cameras through the Intercollegiate Media Studies program, housed at Pitzer College.
Residential Life
Harvey Mudd College is a residential campus. Ninety-eight percent of Harvey Mudd students live on campus all four years, making residential life as significant as academic life.
We do not separate class years or in-state and out-of-state students. Several residence hall leadership positions are available every year, including dorm proctor, president, treasurer, social and athletics representatives and more.
Location
Harvey Mudd College is located in the city of Claremont in Southern California, about 35 miles east of Los Angeles.
Situated at the base of the San Gabriel Mountains, the city has a population of nearly 40,000 and is best known for its tree-lined streets and historic buildings.
The city is also home to the Claremont Village, which features specialty shops, restaurants, sidewalk cafes, spas and salons, entertainment venues, an art museum, independent music stores and more.