Web Events
All the times listed below fall in the Pacific Time Zone.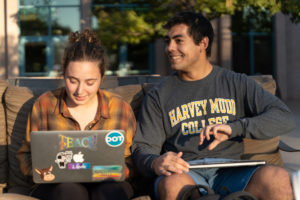 Upcoming Web Events
Behind the Curtain with The Claremont Colleges: Looking Ahead to the College Admission Process – Register Now!
Wednesday, May 12, 4-5:30 pm PT
The "5Cs" are literally located across the street from one another, so students can attend a small, tightly-focused college even as they enjoy the benefits of a bigger, multi-faceted campus! Join admission officers from the Claremont Colleges as they kick off summer and discuss the college application process and holistic review. Presenting with Claremont McKenna College, Pitzer College, Pomona College, and Scripps College.
Upcoming Virtual College Fairs
Coalition for College Virtual Fairs – Learn more
Wednesday, May 19, 6-6:50 p.m. PT
Recordings of Past Web Events
Beyond HMC Webinars:
HMC Web Events:
Group Presentations:
Make sure you also join our inquiry list so you can stay informed about other virtual events, scholarship opportunities, and updates about the 2022 application process.