Meet the Tour Guides: Melis
September 29, 2021
Hi! My name is Melis '23. I am an Engineering major with a concentration in political studies. I am I chose HMC over other colleges because I really liked the community-based approach and our mission statement. I knew that I wanted to go to school somewhere where collaboration took priority over competition and Mudd excels at that. The number of resources, whether it's tutoring or just asking a friend for help, is so widely available and accessible that it makes the challenging homework just a smidge easier. Also, I wanted to be somewhere that placed a priority in learning STEM for the benefit of society, or in a social conscious manner. I believe this largely comes into play with the humanities requirements and the ability to interact with four other colleges with different areas of expertise.
My favorite professor at Mudd so far, is Prof Dodds, my intro to computer science prof. I came into Mudd with absolutely no computer skills whatsoever. I mean, ctrl+C was a true revelation, forget about actual coding. So needless to say, I was terrified. But Prof Dodds was so outgoing and approachable that I was able to gain confidence in a subject in which I previously had none. And lastly, even though I've only ever been in that one class with him, Prof Dodds still says hi to me by name whenever I see him around Mudd.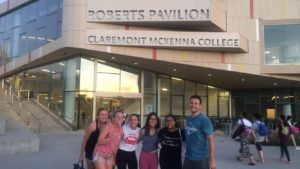 My advice to any prospective student is to remember that while academics are important, you're going to live at college! Don't forget that the place that you choose to go to will be your home for the next four years, so it has to feel home-y. You have to be comfortable there. This is usually kind of an indescribable instinct you get when you visit somewhere, so go with your gut! Lastly, this time period sucks! It's stressful and crazy and high school is ending, everything is chaos, so it's ok to feel a little stressed out. Take it easy on yourself, everything will work out.