Visiting Joshua Tree National Park
April 7, 2023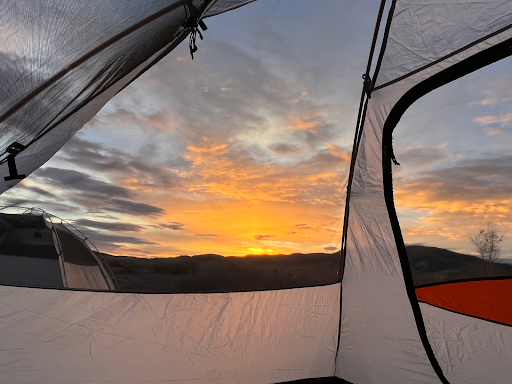 I love exploring the outdoors, be it through road trips, camping, hiking, or any combination of the three. I recall looking at the map of the area surrounding Mudd before campus and being excited to explore all of the landscapes. There are many national parks within driving distance of campus, including Death Valley, Sequoia, Joshua Tree, and Yosemite. I looked forward to exploring these parks and other locations in my four years at Mudd, and hope to continue visiting similar places. Recently, I had the opportunity to visit one of them: Joshua Tree National Park. Along with a mixed group of students from the Claremont Colleges, we carpooled to Joshua Tree and camped there for one night. 
This trip was organized with the help of a 5C club called "On the Loose", where trained leaders organize hikes and/or camping trips and make them open for Claremont Colleges students to join. The club helped fund our transportation and meals for the trip, making it easier for students to go camping like we did. I was additionally able to rent out hiking equipment from the Outdoor Education Center, so I had all the gear that I needed. There are many opportunities like these on campus that facilitate exploring the surrounding areas, for people of different levels of experience.
During the camping trip, we hiked two different short trails and explored rock formations throughout the park. We cooked our meals together using a fuel power portable kitchen and built a campfire to roast marshmallows. My favorite part of the trip was stargazing from our tents, enjoying the clear night sky.
We were a varied group in terms of experience. Some of us had previously gone hiking and camping various times while for some it was the first (or second) time. Regardless of our past experience, we all appated to each other's wants and needs, and were able to have a successful trip. 
I was happy to have joined this trip as I got to meet students with a shared interest for the outdoors, while we explored a beautiful park near campus. I am excited to continue exploring the natural beauty surrounding campus with other 5C students, using the opportunities offered to us by the Colleges.