Mudders Migrating: Downtown LA
June 22, 2022
Now, I know we Mudders talk a lot about homework and studying. That might be your jam, and that's perfectly fine! But if you're looking for inspiration on places to travel outside Mudd, look no further!
Over the course of my freshman year (which is wrapping up soon 🙁 ) my friends and I have traveled to quite a few places, including the village, Hollywood, and downtown LA. Today I'll focus on my trips to LA and recommend the most fun (and delicious) places we've visited within it!
First of all, getting to downtown LA is a lot easier than you think. The train station is about a 20 minute walk south of Mudd, and it's super quick to buy a ticket once you're there. We took the train to Union Station, which is a gorgeous ride. My favorite thing to do is listen to music and look out the window (yes, maybe it makes me feel like the main character in a movie). Union Station itself is breathtaking! My friend Rohan's favorite thing to do is play the piano in the cavernous hall. We've even gotten a few strangers show up and sing along to his songs.
Now for some recaps of food! We've been to Grand Central Market and tried places including Eggslut and McConnell's ice cream, both of which were very tasty. I'd definitely go back and try them again!
After stuffing ourselves to the brim, we of course had to take a walk around and explore the city. 
We've visited quite a few different places in downtown LA. Two of my favorites are Little Tokyo and The Last Bookstore. Little Tokyo has
scrumptious
food everywhere you look (if you don't feel full enough already!) We tried ramen and takoyaki, both of which were amazing.
Don't forget to save some room for dessert too! We shared boba and SomiSomi, the latter of which had nutella and cookies & cream ice cream.
In addition to the food, Little Tokyo is a super cute place to explore and shop in general.
And finally, if you're any sort of a bookworm (like me and a LOT of my friends), you'll absolutely love The Last Bookstore! The bottom floor is a normal bookstore, but if you climb the stairs to the second floor, you'll find amazing book "art" and sculptures, including a book arch and flocks of novels that look like birds flying. You can spend hours browsing and exploring the jaw-dropping scenery.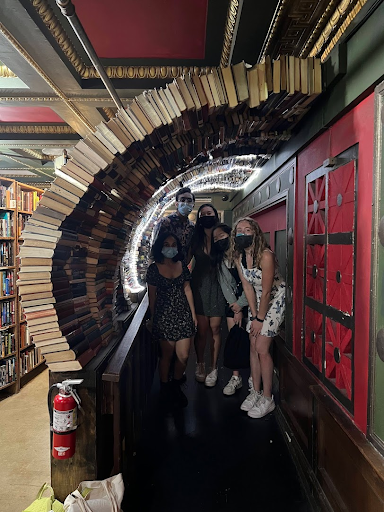 If you need a break from studies, textbooks, and tests, I've found that spending a day down in LA is the perfect remedy. It's full of refreshing scenery, tasty treats, and amazing places to explore!