Club Feature: The Muddraker
March 14, 2022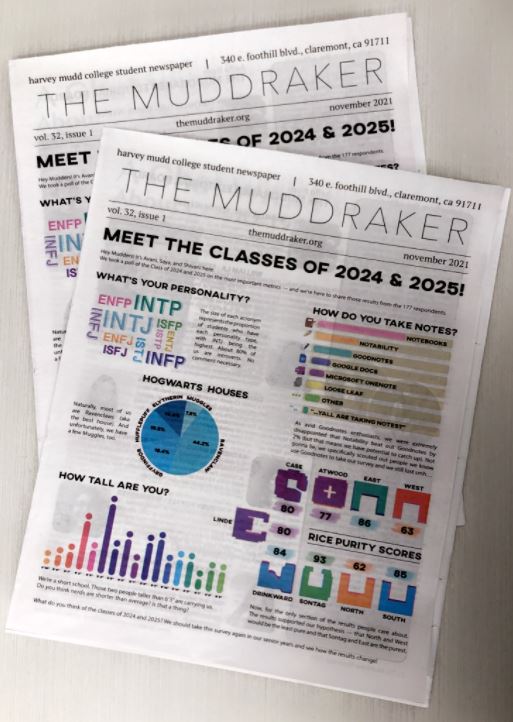 The Muddraker is Harvey Mudd's resident student newspaper, publishing new print and web issues once a semester. Their stories cover a variety of topics: this semester, they're writing a profile on the Hoch and its inner workings, publishing an interview with Dean Marco, and describing different rites of passage for the majors on campus. Some more casual additions to the newspaper include a Wally the Wart comic and a special crossword puzzle. 
I decided to attend their design session one Sunday, where I spoke to Michelle Lum '23, a CS-media studies major who is the current Editor-in-Chief of the Muddraker. She's been involved since her frosh year, explaining that the club gives students a chance to express themselves creatively at a mainly STEM-oriented school. Whether it's through photography, layout design, or writing, students can hone their skills and develop knowledge of common softwares used in industry—all while contributing to the publication of a physical newspaper at the end of the semester.
William La '22, The Muddraker's senior advisor, agreed with Michelle's sentiments. He added that Muddraker meetings are indescribably relaxing, and a chance to just enjoy everyone's company. To prospective students, he says that although coming into Mudd can be stressful due to the workload, you should prioritize your hobbies and find time for the things you enjoy: whether it's in journalism or something else. 
Other Muddraker members at the meeting had similar things to say about the newspaper. Shivani Manivasagan '25, Avani Anne '25, and Saya Kim-Suzuki '25 had all joined last semester, participating in writing articles, designing the newspaper layout, and interviewing fellow students and faculty. Editorial Board members Daniela Sechen '23, Becca Verghese '24, and Waverly Wang '23 were seasoned Muddraker members, working deftly on their layouts, articles, and teaching others Adobe InDesign. Though they all contribute differently to the Muddraker, many expressed that the feeling of having a physical newspaper in their hands was the most satisfying part of the entire process. 
Follow The Muddraker on Instagram at @themuddraker for more.