Ask the Senior Interns: Round Two
August 5, 2020
Hey y'all! We're continuing our Q&A with the Senior Interns today, this time focusing more on what people get up to when they're not in classes or working on homework/projects! The first half of this blog, Ask the Senior Interns: Round One, goes more in depth about academics and jobs!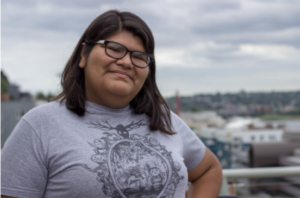 Name: Sol Cruz
Dorm: CASE IS THE PLACE
Favorite Club: Horror Game Club 🙂
Best Dining Hall: Hoch (at Mudd) …totally not because I'm lazy…they have good food! I love the pho on wednesdays (no it's not super authentic but when you're craving some it's enough), the oreo smores bread pudding (super chocolatey and gooey), and the personal pizzas on friday (I always box out and get two, eat one that night, then use my toaster oven to heat up the other one as a snack some other time, highly recommend)!
Favorite Interview Question: My favorite was asking about people's phone backgrounds, there was always a huge variety of cool backgrounds and sometimes interesting stories behind them as well! Lately since interviews are online and there's usually a pretty strong glare when people try to show their phones, I haven't been able to ask that anymore 🙁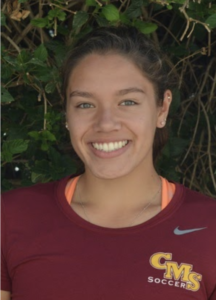 Name: Kira Favakeh
Dorm: LindeLindeLinde
Favorite Club: Does soccer count? 🙂
Best Dining Hall: Hoch Sunday, Scripps Monday, Hoch Tuesday, Pitzer Wednesday (RIP Pz nachos), Pitzer Thursday, Dorm bbq Friday!, Scripps Saturday
Favorite Interview Question: What would your ideal day look like?
.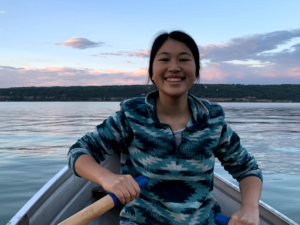 Name: Kailee Lin
Dorm: Atwooooood!
Favorite Club: 5C Science Bus (teaching + science + kids = best way to spend a Friday afternoon!)
Best Dining Hall: The Hoch, especially those Creations salads with salmon, avocado, and hot Cheetos! (and also Frank at Pomona has a special place in my heart because it's right by the dance studio and I'm always hungry after class)
Favorite Interview Question: What's your favorite kind of plant?
Name: Hannah Larson
Dorm: Atwood! (although I've also lived in North and South and they were both pretty cool 🙂 )
Favorite Club: In my ~totally unbiased~ opinion, The Muddraker is definitely the best club. But Cheese Club and Botany Club are also pretty great
Best Dining Hall: The Hoch and Frank (Pomona) are tied. Things to try are Frank's caramel pecan cookies and The Hoch's caramelized onion polenta and Creations salads.
Favorite Interview Question: I love asking people what their favorite kitchen utensils are! I definitely love food/cooking and its role in bringing people together so I think it's really interesting to see what people enjoy using in the kitchen. 
What's your favorite dorm activity?
Sol: I think this is true for a lot of dorms, but people love going out to get food together. So most of my favorite memories with my dorm involve food! For example at least once a year, we would usually do one big trip to get Dim Sum together as a chance to hang out with the frosh and get to know them. My freshman and sophomore year it was also really common to do boba runs once a week, it was really fun going with my seniors and waiting forever to pick up boba for the dorm. Lastly, in case it is a tradition to get Thai food every Thursday night, we order around 11 pm so that it gets here around midnight. We call it Thur Fri (…get it? Thur Fri…like stir fry…we like to consider ourselves some sorts of comedic geniuses…) because we're getting it when it turns from Thursday to Friday. It's always fun to get food and hang out with friends as we eat our midnight meals. 
Kira: I always loved Friday evening barbeques. I'd come back to my dorm after a long week of doing work and the feeling of taking a load off (literally, when I finally put my backpack down) and just grilling a quesadilla or burger and listening to music with friends in the courtyard was always so refreshing (and yummy!).
Kailee: Every Friday or Saturday, our dorm (and most dorms on campus) would get a grill and BBQ foods from the Hoch (our dining hall), and instead of going to a dining hall for that dinner many people would join the BBQ. We'd have burgers, veggie burgers, chicken, quesadillas, and all sorts of toppings including avocado and chips, as well as some delicious Hoch cookies made even more delicious by warming them up on the grill! It's a super fun way to hang out at the end of the week and catch up with your friends and the dorm community, and see people you maybe hadn't gotten a chance to talk to in awhile. 
Hannah: During the first week of the fall semester, Atwood has a giant meeting with everyone in the dorm. The frosh stand in the courtyard and introduce themselves and are asked random questions and all the upperclassmen cheer and make as much noise as possible. It's a great way to meet the people in the dorm and it feels like one big family! Also, this isn't a thing with the whole dorm, but my suite would often do lots of fun things together (going out to dinner, pumpkin patch trip during fall break, going to dance shows and track meets, and having surprise birthday parties, just to name a few)!
Do you have a favorite place to go to get off campus?
Sol: If you're looking for a chill/easy way to get off campus I'd definitely say the village, it has quite a few small stores that are fun to wander around and plenty of good restaurants to eat out at if you're getting tired of the dining hall food. If you can go farther I'd either recommend a day trip to LA (especially on free museum day), going to the arcade, or out to eat. I went to Round 1 arcade quite a few times with friends, although my favorite was definitely with Senior Intern Hannah who was my co-mentor for our little PRISM* family (we also went out to eat quite a bit with our mentor groups)
*PRISM stands for People Respecting Identities and Sexualities at Mudd and is Mudd's LGBTQ+ club. They have a pretty awesome mentoring program that pairs groups of frosh with upperclassmen mentors.
Kira: Bua Thai and 21 Choices is one of my favorite dinner + dessert combos in the village. It's a small way to get off campus but always delicious and worth it.
Kailee: Wahfles! It's this amazing, you guessed it, waffle place not far from Mudd. They've got all sorts of savory sandwiches made with rosemary waffles and of course amazing dessert waffles with all sorts of cookie butter, fruit, ice cream and more. But my favorite is definitely the creme brulee waffle, which is a waffle full of cream and coated with crisp caramelized sugar, what's not to love? The only downside is that Wahfles is a bit farther than a walking friendly distance from Mudd, so it takes a bit more coordination to get there. However, this means that when we do go, it's a special treat. 
Hannah: A couple times a semester, my friends and I would go to get dim sum in El Monte (about a half hour from Mudd) at a place called Ocean Bo. If you like dim sum, I would highly recommend it. This is where I was introduced to things like coconut taro pudding, turnip cakes, and eating spicy mustard with dim sum!
Best thing to do when not working on homework?
Sol: Personally my favorite thing is just hanging out with friends, you only have four years at college, and despite Mudd being small, there's a lot of cool people to get to know! I also loved wandering around the 5Cs and finding cool/pretty places to just chill. The best thing was the combination of these, wandering the 5Cs with friends and just talking.
Kira: Spikeball, Hanabi (card game), Planet Earth, dance!!!
Kailee: My favorite thing is just being in the suite with my friends (awake or not). I love the culture of hanging out and doing homework as one combined activity. I feel like no matter what we're doing, when I'm with my friends, it is always a good time. Plus, the Atwood couches are great for napping, (pro tip, a quick 2 minute nap is the best way to recharge!). 
Hannah: Hang out with friends and eat, often at the same time! If neither of those are available, then probably going for walks around campus or catching up on my constantly growing pile of books to read.
What's something new you've tried in college?
Sol: I learned to ride a longboard! When I was younger we had a ripstik at home, but I was terrified of falling off. So when I got to college I was pretty scared of hurting myself while riding a longboard, but I thought it looked cool so I ended up teaching myself anyway and I don't regret it (although I did fall off a few times, be careful going downhill kids).
Kira: Dance! I've always loved dancing and music in general but in my childhood I never got around to taking an actual dance class. My sophomore year I took Jazz Dance at Pomona and absolutely loved it. It was so great to spend a few hours a week just dancing and having fun (not that it wasn't hard, it definitely was). In the end, a bunch of my friends came to my final performance and I was so proud of myself and had so much fun doing it. After that, I always found myself trying to teach the dances I was learning to friends and pulling out my jazz dance moves as my signature party moves.
Kailee: A new skill I've picked up in college is giving haircuts! Luckily I have a few customers who trust me enough to cut their hair and not mess it up too much. Aside from the satisfaction of chopping off my classmates' hair, I think it's a really fun way to (hopefully) help my friends and go on a hair cutting adventure through the process of me figuring out how not to mess it up.
Hannah: Freshman year, I joined The Muddraker (Mudd's student newspaper), even though I had never done any kind of journalism before. I've made some of my best friends and favorite memories through my time on the newspaper! I could talk about how much I love The Muddraker for an entire blog, and have actually done that before! So read this blog if you want to know more of my thoughts on the paper!
Best way to use your flex*?
*editor's note: "flex" is a dollar amount included in your weekly meal plan that you can spend at lots of different places on campus, including Mudd's cafe, Jay's Place, The Hub, The Coop, and more!
Sol: Depends on what you consider to be "best". One way would be to use your flex to supplement meals, especially if you're on the 12 meal plan, that's not quite enough to have two meals a day, but you can use your flex to swipe into two meals (two lunches specifically since dinners are more expensive). Or if you're gonna have extra meals (listen sometimes I'd be too lazy to get up for brunch, it's fine), then you can use your flex and flex out with friends on Saturday nights, right before your flex goes away at midnight. I personally loved going to Jay's and buying a bunch of snacks or a pizza to share with friends. Also I highly recommend checking out the Coop store! They have a bunch of frozen meals (most are very tasty), as well as milk, eggs, oil, cake mix, etc. It's kinda like a little grocery store, they even have sushi (disclaimer: I haven't tried the sushi so I cannot attest to how good it may or may not be).
Kira: Breakfast. If you're on the 12 meal plan you have enough swipes for lunch M-F, dinner every day and brunch on the weekends. All that's left is breakfast so I like flexing into the dining hall twice a week and the leftover money I can spend on a couple bagels the other days! 
Kailee: Go to the Coop fountain at Pomona, I especially recommend the curly fries. Or if you're at Mudd and feeling both lazy and hungry, the chicken quesadillas at Jays are amazing. 
Hannah: I love getting up early in the morning and doing homework in the cafe, so I typically use my flex for morning tea or muffins. If my friends and I end the week with leftover flex though, I'm a big fan of the mochi ice cream they have at both the Hub and the Coop. 
Favorite way to get free food on campus?
Sol: Going to on campus events is probably the best and easiest way to get free food on campus. Different offices like DSA, OID, and OHW will often host events with free food. Companies also come to campus to help students learn about what it's like to work for them or to help students with their interview and resume skills. Although there are also a few ways to get free food off campus. I would say one of the best ways is to join or organize a Leonard Fund Dinner. This is a fund that the school has that students can use to go to off campus dinners with professors to have a chance to get to know them better and it's a lot of fun!
Kira: Go to talks and events! You get two for the price of none, free food and you get to learn something!
Kailee: Check your email! Extra Thai food in Platt Campus Center from a job talk without having to go to the talk? Yes please. Free boba outside the LAC brought to you by your friendly neighborhood Muchachos? Absolutely. Wellness pop-up serving fresh berries today? Yum. (Also check out Sol's blogpost on the Wellness Peers and what it's like to be one here!)
Hannah: Either going on a Leonard fund dinner with a professor (it's a great way to get free food and meet cool students and profs!) or having friends go to tech company dinners and bring back the leftover free food to our suite. 
What do you wish you had known about Mudd as a pre-frosh?
Sol: Uh, I feel like I'm the wrong person to ask this. I'm one of the few people that applied to Mudd without knowing all that much (it was a great decision and I love Mudd, but highly do not recommend doing that). Literally all I knew about Mudd was that it was a small STEM liberal arts school and being someone who wanted to take more humanities along with STEM I thought it sounded great. What I did not realize was that humanities was a requirement not a choice, or that core was a thing, or how hard it was. Again I think it was a great decision, if I'd known more about Mudd (like how awesome and competitive it was to get in) I might have been too scared to apply, but either way, don't be like me kids. 
Kira: I wish I had spent a little more time earlier figuring out what I was interested in and what I wanted to do after school. I think if I had thought about this earlier i would have been able to get more exposure to different fields, but I shied away from it since it was intimidating. At the same time, to get those experiences, say yes more often! Make connections with people and professors, they're all there to help you succeed. And that can be from any department or field. Just because I studied engineering doesn't mean I'm going to do technical work for the rest of my career. There are so many options and different niche positions Mudd had prepared me to be able to fill so it just takes time to figure out what all is out there.
Kailee: I wish I had known how rigorous it would be. Especially during Core, I felt like I had to do a lot of adjusting to the workload and difficulty of my classes. However, I think that my expectations and goals for myself also changed, and I was able to figure out what was important to me.
Hannah: Although I went to lots of office hours and Academic Excellence meetings during core, I wish I knew from the start how easy it was to go in and ask for help outside of scheduled events. Email a professor to set up a meeting or just show up in their office and ask for help, it's seriously beneficial! If you're nervous about asking for help alone (even though all the profs are really nice and genuinely understanding, I totally get that it can feel intimidating), you can also bring along a friend, especially if you're both confused.