Ask the Senior Interns: Round One
August 3, 2020
Happy August! It's Hannah again, on behalf of all the Senior Interns working in the (virtual) Admissions Office this summer. The start of August means that there's only three weeks before the next school year starts, at which point most* of us will leave Mudd and start our futures elsewhere. Before that happens though, we wanted to take some time to share with you some of the wisdom we've gathered over the last three or four years. Between the four of us, we've collected so many memories/suggestions for future Mudders/favorite things that this will be split into two posts! This first post focuses more on academics and the next one highlights fun things to do when you're not studying. We hope you enjoy!
*Three of the four Senior Interns were seniors last year and graduated from Mudd in May, but Kailee is a rising senior and will be sticking around for the next year!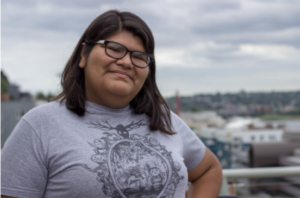 Name: Sol Cruz
Class Year: 2020
Major: Computer Science
Concentration: Psychology
________________________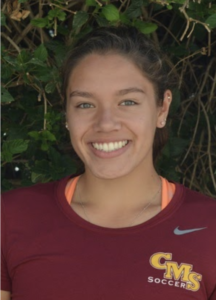 Name: Kira Favakeh
Class Year: 2020
Major: Engineering
Concentration: Philosophy
Sport: Soccer! The photo below is from the 2019 NCAA Sweet 16!!!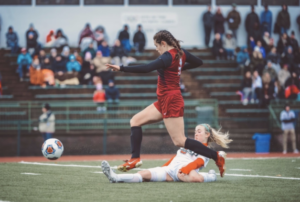 .                                            ________________________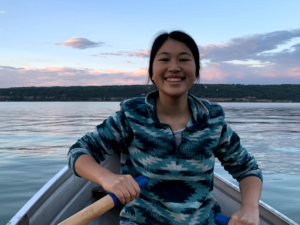 Name: Kailee Lin
Class Year: 2021
Major: Math-Physics (but I'm considering switching to Math to be able to fit in more fun electives!)
Concentration: Dance
________________________
Name: Hannah Larson
Class Year: 2020
Major: Mathematical and Computational Biology AND Theatre!
Concentration: Theatre
Emphasis: Emphasis in Environmental Analysis
________________________________________________________________________
What's your favorite memory from frosh* year?
*at Mudd, we often use the term frosh to refer to first-year students

Sol: Does the summer right after frosh year count? If so I'd say living with friends and getting to cook and eat together pretty much everyday! I personally love cooking and having someone to hang out with while I cook and chat with or belt out Panic! At the Disco songs with definitely made it a lot more fun. 
Kira: One of my favorite parts of freshman year was spring break. It started with a relaxing girls night with some friends, a trip to the beach in Santa Monica and a fun time strolling on the boardwalk (where we ran into Drake Bell!!!!!!).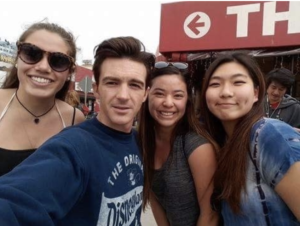 The next day I went snowboarding at Big Bear Mountain (beach one day, snowboarding the next, each only about an hour away from campus!) After that I embarked on a road trip with a group of friends to spend time camping in Death Valley and Zion where we hiked Angels Landing!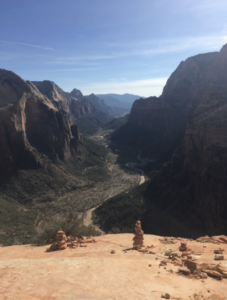 Kailee: I think one of my favorite memories from frosh year is from the second day of school. I was in the suite doing homework with about 10 other frosh I had just met, and I remember being so excited to be in a new place, meeting so many new people, and wondering if these people would be my friends in the future (spoiler alert the answer is yes!). 
Hannah: During my freshman spring, I took a class called E4 (Introduction to Engineering Design and Manufacturing) that had a lot of group projects. For the final project, my group consulted with someone who had Parkinson's and was wheelchair bound but looking for ways to get exercise. Towards the end of the semester, we had a prototype of our final product that we wanted to test out, so my group drove close to Venice Beach to meet our client at his house. We got to see our client using what we had built for him, which was really impactful for me. My group and I also had some extra time before our meeting, which we used to walk down to the beach and just experience the calm of the ocean. Although I definitely have lots of great memories from my freshman year, I still remember that day as being a really nice break from the usual hectic rhythm of classes/homework. 
_____________________________________________________________________________________________________
What's the most memorable class you took for fun (i.e. even if it was to fulfill a major/HSA requirement, you still had some choices for classes)? Favorite required class?

Sol: Anything taught by Prof Seitz! He's the Geography professor for Mudd's HSA department and his classes are really interesting and insightful, if I could have concentrated solely in Prof Seitz's classes I honestly probably would have.
I think my favorite required class was probably Computability and Logic with Prof George, it was a really fun class and I thought the material was fun! It also helped that Prof George was very understanding (and cool).
Kira: Here's a list of my favorite classes, and their department: Ethical Theory (CMC Philsophy), Jazz Dance (Pomona Dance), Philosophy of Feminism (Scipps Philosophy), Sex, Body and Reproduction (Pitzer Anthropology), Neuroscience Systems (Keck Biology), Intro to Biomedical Eng (Mudd Engineering), Analog Circuit Design (Mudd Engineering), HSA10 with Mashek & Writ1 with Hamilton (Mudd Core). I highly recommend exploring off campus classes!!!
Kailee: There are so many favorite classes I've taken for fun! One would be Breaking (dance department at Pomona), which felt new and scary to my ballet-trained muscles, but was a great experience and lots of fun to try something totally different. We also learned about the history and culture of Breaking which I found super interesting and it was definitely important to learn the context of the dance style we were learning. Another favorite class was Spectral Theory which I took this semester in Budapest! It was certainly a learning experience like no other. Stay tuned for an upcoming blogpost about my semester in Budapest!
My favorite required class was definitely Discrete Mathematics, which is one of the first math classes you can take past Core. We got a taste of number theory, graph theory, and combinatorics, which were all super cool, and I have fond memories of going to office hours and then sitting outside with my friends once office hours was over and continuing to work on the problems. 
Hannah: My favorite required class was probably Biostatistics (paired with Experimental Ecology Lab). Pretty much all people majoring in something related to bio end up taking this class during sophomore spring, so it's a great way to get to know some other people in the department. I really liked that the biostats class often used data and details from the experiments we did in lab, and we worked on a huge range of labs, including counting organisms at the beach and studying the temperature regulation of lizards. 
My other favorite required class was Junior Seminar, a theater class I took my junior spring. It taught me some really interesting things about theater theory and we read a good mixture of plays important to the theatre cannon and plays that responded to the cannon in a variety of different ways (e.g. we read Hamlet and Rosencrantz and Guildenstern are Dead in parallel and talked about similarities, differences, and issues that each of them tackled). That class also taught me things like how to write a resume, how to do taxes, and what it means to make your living in the theater.
I'm not sure I could choose a favorite class I took for fun, I loved pretty much all of them! Two of my favorites were Theatrical Lighting/Projections Technology and Topics in Behavioral Ecology. Not only was I really interested in the subject material, but I loved the way that both classes were run, with lots of projects and student engagement, I really liked both of the professors, and both classes ended up helping me narrow the focus of each of my theses!
_____________________________________________________________________________________________________
What's your favorite thing about your department/major?

Sol: The profs! There are so many cool profs in every department, but I absolutely love the CS profs. They really care about making sure you understand the material and want to get to know you as well, they're also just cool people in general.
Kira: My favorite thing about Mudd engineering is that it's general engineering. I never would have explored half the classes that I did because the engineering major requires us to take classes across many fields to expand our breadth of knowledge. I was dreading taking E84, our electrical engineering course because I didn't think I would like it. Next thing I know I'm taking our Analog Circuit Design class my senior spring and applying to electrical engineering positions! On top of that, I didn't have to give up anything I was interested in. In addition to Analog Circuit Design I took courses in Digital Design and Microprocessor applications, biomedical engineering and even a neuroscience course.
Kailee: I think my favorite thing about both the math and physics departments is how small and family-like they feel. Profs, students, and staff all know each other, and the banter that comes up in class or at department events has always got me laughing. Also, in most of the major classes, it feels like you have a really good core group of the people in your year taking the same classes with you, and so you always have friends to work with in class and on homework. 
Hannah: I love the flexibility that the Math/Comp Bio major provides, which allowed me to choose a lot of the classes I took to fulfill major requirements (including an engineering course!). I spent most of my time in the math and bio departments and love the communities that I found in both of those departments! The bio department has a party (with free food) towards the end of every semester where everyone just hangs out and this fall, almost all of the senior MCB majors went out to dinner with two professors. I also love being a part of the Pomona Theatre Department. Everyone there is so kind and supportive of each other and I've been able to learn a lot of valuable life skills/lessons from people I've met in the department, both in and out of the classroom. 
_____________________________________________________________________________________________________
Best prof sighting story?

Sol: My sophomore year during spring break we went to the Bay area and stayed at a friend's house, one of the days while we were there we ended up going to the Monterey Bay Aquarium and ended up seeing Prof Yong there with his husband! I remember this because one of our friends came over confused saying she thought she saw Prof Yong and led us to him, we all just kind of stood staring at the man trying to figure out if it was him, then he ended up turning around and waving at us. So all that to say, yes it was him.  
Kira: Not sure I have one that's too crazy, although I did love meeting some of my profs kids both in person and over Zoom!
Kailee: For the annual Atwood scavenger hunt, we were tasked with getting a picture with a Prof. Mind you, this was at 10PM on a Friday night. My team wandered around ac end (short for the academic end of campus), and down into the libra complex. As we neared the end, who did we find but our beloved CS5 hero: Prof Dodds! He happily agreed to take a photo with us, and neither party asked why the other was in the libra complex on a Friday night…
Hannah: I often run into Prof. Adolph (my bio advisor and Mudd's resident lizard expert!) at the weekend Claremont farmers market. One time, I went with my friend to the farmer's market and then Trader Joe's and, as we were talking about how I was surprised we hadn't seen Prof. Adolph at the market we ended up running into him in the Trader Joe's parking lot! I guess weekends are a good time for everyone at Mudd to do their grocery shopping!
_____________________________________________________________________________________________________
Favorite summer job/internship/research you've had while at Mudd?
Sol: 🙁 don't make me choose, they were all fun. Research at Mudd meant I get to spend my summer with Mudders and have fun getting to know them better and actually doing things we don't have time to do during the school year, like going to the beach (this was the summer after my freshman year). But doing internships means getting to meet really cool new people, learning what it's actually like to work in the industry, getting to explore a different city, and depending on where you work (but tbh at most places for software engineering interns) live that bougie life. 
Kira: Camp counselor at the McGaw YMCA's Camp Echo!!! I was a camp counselor for a few years including the summer after my freshman year at Mudd. Some people like to start research or internship experience their first summer but there's nothing wrong with spending another summer or two continuing experiences outside of tech!
Kailee: My favorite summer of research was last summer in the Physics of Soft Matter Lab with Prof. Ilton!! We were researching biological Latch Mediated Spring Actuated (or LaMSA) systems such as in little jumping bugs. We got to do everything from rheology and materials testing with liquid nitrogen, to mathematical and computational modeling, to working with high speed video cameras! We also took part in (and won one category of) the Chem-Phys-Bio summer bakeoff, as well as weekly physics department journal club meetings. However, my favorite part was lab Fun Fridays, where we did things like use our high speed camera to film water balloons popping, or taking a field trip to the Keck Joint Science Department to check out another biophysics lab!
Hannah: The summer after my junior year, I worked with HMC Bee Lab, which studies social insect behavior using biology, math, cs, engineering, and lots of interdisciplinary ideas! I spent my summer studying the foraging habits of ants and got to divide my time between Mudd and the University of York in England. I really appreciated being able to learn more about mathematical modeling/behavioral ecology and also more about myself and what kinds of things I might be interested in doing in the future! The summer I worked as a tour guide was also pretty awesome: I made lots of amazing friends, gave a ton of tours, and had some great opportunities to explore Claremont!
_____________________________________________________________________________________________________
Best on-campus job?
Sol: I mean, obviously it's being a senior intern, or just working for the office of admissions 😛 , but I guess if I'm choosing something else I'd probably say grutoring (grading and tutoring) a chill class. It's rewarding to help others with their work when you still remember being in their shoes.  
Kira: Senior Intern with the Office of Admission! Also shout out to the Office of Institutional Diversity. 
Kailee: Aside from working in the Admissions office of course, my favorite on campus job would have to be Muchachos! We are a group of students who work under the Division of Student Affairs to plan fun events for the student body. The Muchachos have a great culture of being pretty wacky and creative with the events we come up with, and everything from brainstorming ideas to planning and executing events is always a lot of fun. Some of my favorite events are Crib Races (a tradition at the beginning of the school year where teams of 5 do a baby themed relay race including pushing massive carts on wheels [aka. cribs]), Pub Night (which is a trivia night with lots of snacks provided), and Paint Night (where our dear colorblind art major Dean Chris pretends to be Bob Ross and teaches us how to paint something). At the end of the day, the Mudders who come to our events usually leave with a smile (I know I do), and that makes it special to me. 
Hannah: Definitely working in the admissions office! It's really fun, and I love interacting with lots of different people every day. I also absolutely loved my job on the electrics crew in the Pomona Theatre!
*editor's note: we did not actually all plan to say that working in the Admissions Office was our favorite (and this is not a sponsored ad to work in admissions), it just turns out to be an amazing place 🙂