Loving Locusts and Modeling Math (aka my math thesis)
July 21, 2020
Hey y'all! It's Hannah, back with another blog! Last time, I talked about how much I loved being a theatre major, but I also want to highlight some parts of the STEM side of my major, starting with my experience doing a thesis!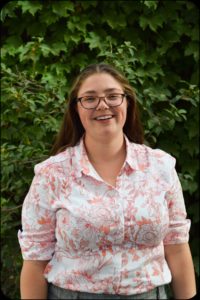 As a math/comp bio (aka mathematical and computational biology aka MCB) major, I got to choose between cs clinic, biology thesis, and math thesis. I was lucky (and stressed) to find myself deciding between two really interesting projects during my junior spring, one in the biology department and one from the math department. Although I technically had to decide around Spring Break, both professors were kind enough to give me a few extra months to make my final choice. That summer, I ended up working in the biology lab (Bee and Ant Lab with Prof. Donaldson-Matasci!) I had been thinking about doing my thesis in and I had a great time learning about ant foraging techniques and group behavior! Towards the end of the summer though, I decided to work on my thesis in the math department.
In the fall, I started working with Prof. Bernoff and Prof. Weinburd (one of Mudd's few, if not only) postdocs last year. Prof. Bernoff conducts research on locust swarms and aggregate behavior and I was excited to learn more about locusts and mathematical modeling. I was also excited to hear that some of the techniques (like agent-based modeling) that I had learned over the summer to study ants could also be used to study locust group behavior!
Although a lot of people think about math thesis as being independent because you're not collaborating with other students on the same research project, one of my favorite parts of math thesis was the community I got to be a part of! Almost every week, all of the students working on their math thesis projects get together for "class". Sometimes this class is where we learn important things about our theses, like when different milestones are due, but this was mostly used as opportunities for people to present on their work so far. I loved being able to hear about what my peers were working on and I liked presenting on my work and seeing what feedback other people had for me. 
In addition to meeting with the other math thesis students every week, I had two meetings with my advisors each week. One of these meetings was with both of my advisors, so we could talk about my progress over the last week and our goals for the next week. This was a great opportunity for me to ask any of my questions or for us all to figure out what I should be working on next and we often ended up filling up an entire whiteboard wall with notes and ideas! The other meeting I had every week was with Prof. Weinburd and we got to go through the code I was writing and debug* any issues I was having. Although most of the time I worked on thesis was on my own, I really appreciated being able to talk through any issues that came up with one of my advisors and problem-solve together. 
*many jokes were made over the school year about bugs in the code and locusts in the model 🙂
In addition to presenting my work throughout the semester to my thesis advisors and the other students working on math thesis, I was planning on going to a conference (the Southern California Applied Mathematics Conference) in April to present a poster, and giving a 15 minute presentation during Mudd's Project's Week in May to present my work to larger audiences. Although I was pretty excited to attend both of these events, talk about my work, and hear about other people's research, they unfortunately weren't able to happen this year.
Math thesis was definitely a lot of work. I had lots of late nights, early mornings, and didn't always get done what I was hoping to accomplish. One week, my biggest accomplishment in thesis was changing the way that part of my model looked so it more accurately represented a locust (something that took less than half an hour and didn't make a huge difference in the end). Despite these challenges (or perhaps because of them), I had a really great time this year working on my thesis and learning more about research, mathematical modeling, and presenting my work clearly to a variety of audiences. I also felt really lucky to have not one, but two amazing advisors who took the time to ask about my week, taught me about math (and life!), and who were supportive whenever I felt stuck in my research.
P.S. One of the things that I really liked about my thesis was that, to me, it had a very clear application. Locust species are really interesting to study from both a mathematical and biological perspective, but they are also very present in many people's lives. Here is an interesting article talking about the locust swarms currently hitting the globe.