Today we have a guest blog by Eva '23 on how she decided to come to Mudd and how those factors have played out in her first year experience.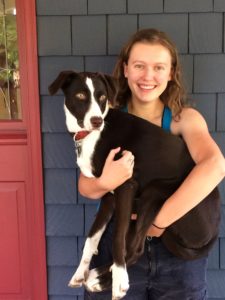 Hello! I'm Eva, Mudd Class of 2023. From Salt Lake City, Utah, I'm a prospective chemistry major with a passion for creative writing, climbing, and climate activism.
I decided to attend Mudd on April 31st last year. You know, about twenty four hours before the final deadline. Now, some of you might dismiss this, but I am normally incredibly methodical about making decisions. When it comes to decision making, I am a planner. I had pro and con lists, I had bullet points, I had it all. But for some reason, the decision just stuck in my head. Here, I'm hoping to explain some of the reasons I picked Mudd, and how I feel about those a year later.
For context, my final choice ended up being between Mudd and a large, prestigious state school. Both gave me similar levels of financial aid, and both are well-regarded as strong engineering schools (my intended major at the time, though I wasn't quite sold on it), so these were not factors for me.
Balance Between STEM and Humanities
I almost didn't apply to Mudd in the first place because I love the humanities so much. It's a STEM school, right? So what was the point in applying? I wasn't willing to give up on learning more about the world around me just so I could go to a "science" school. Not only did I love these subjects, I also found them crucial to my understanding of STEM. My political background has spurred the scientific subjects I'm interested in, and my reading has helped shape my ethical framework.
But doing research on Mudd, I found that the school not only prioritized humanities, but required students to take ten classes in the broad scope of "Humanities, Social Sciences, and the Arts" (HSA, as Mudders say). That pushed me to apply to Mudd, and made me excited about it in the long run.
A year later, I've really valued Mudd's commitment to HSA. I'm finishing up a fascinating class, "English with an Accent," from Prof Balseiro, which let us analyze works by non-native English authors writing in English, and pulled in strings from postcolonial writing, queer theory, and helped me reshape my global understanding of what language is. I plan to take more HSA courses, and I find that they're some of the most rewarding parts of my time at Mudd.
Core Curriculum
Throughout my college search, I was pretty torn on the idea of a Core, which many universities have. They seemed arbitrary, like colleges were just trying to make their students "broad thinkers" without any real aim. I also hated the idea of having required courses – I was done with those after high school! But I found Mudd's Core particularly compelling.
The Core at Mudd seemed like it would address my definite weaknesses in STEM, whether those be classes I had never been able to take (computer science) or just subjects I'd never understood (physics). It also helped me, as someone who wasn't willing to fully commit to my major right away, take my time to understand the gamut of opportunities in STEM. I loved learning about STEM, but I'd never found something that clicked.
As I'm finishing up my second semester of Core, I'm really glad that I worked through it. The coursework certainly hasn't been easy, but I've been able to learn and grow, both personally and academically. I feel more confident in any field of STEM, not just my major. Core not only helped me understand the interdisciplinary nature of science, but helped me reconsider some areas of it. For example, I came to Mudd as a self-described "anything-but-a-chem-major," (I literally attended the info sessions for every other subject) and I'm now planning to major in chemistry.
The Mudd Community
I was lucky enough to be able to attend the Admitted Student Program (ASP), which unfortunately I know admitted students wren't able to this year, but I hope that I can share some of my experiences. One thing that struck me during ASP was how welcoming and kind everyone was. Even though I met some people who were admittedly a little weird, they were nonetheless welcoming and incredibly willing to talk to me, even though I wasn't even a student at Mudd yet. I loved the environment, and it made me feel that I could make connections here, even if I was a little nervous. I also got to talk to a professor, Prof Lynn, who was kind enough to tell me all about different programs in the physics department.
After a year, I know that I have an incredible, strong community at Mudd. Not only do we have the built-in support from our ResLife teams, I've also been able to easily make friends and build relationships. As much as I miss my friends now, the Mudd community has still stayed in contact with each other and encouraged our collaboration. Even on Zoom trivia nights, it's wonderful to see my friends. I've also gotten to meet many of my profs and talk to them about their work (a huge thank you to Prof Hawkins for letting me ask way too many questions after lectures), and I'm planning to do research at Mudd next semester.
Beyond Mudd: The Consortium
One of my biggest fears about Mudd was the size. There are clear trade offs with a smaller school. You have the advantage of small class sizes and knowing profs more personally, but you don't have as many resources. I ended up deciding that I valued knowing my profs and being comfortable learning the material more, but this was a bit of a false choice.
Because Mudd is part of the Claremont Consortium, we have access to resources at all five of the schools, and the five schools work together to make decisions. This means that the library, Honnold Mudd, is absolutely massive compared to the size of the schools, and our collective campus is larger. We can take language classes at the other colleges, and if Mudd doesn't have a class, one of the other colleges probably does. We also have access to resources, like the Hive at Pomona, and dining halls, as well as Scripps' magnificent coffee house, The Motley. By being in the Consortium, we get the perks of a smaller school without feeling restricted, and we join the larger community of the 5C's.
These were my reasons I chose Mudd, but naturally, everyone will feel differently. I'm sure many of my friends and classmates have their own reasons, and it's an exciting choice for everyone.