My Study Abroad Experience, Part 5 of 5
September 9, 2019
  ¡Hola! This is the last post in my series about study abroad (SA). Let me tell you about traveling abroad and give some advice for future SA students.
Traveling in Spain and Europe
Fortunately, my academic classes were scheduled on Mondays through Thursdays. So, I spent my three day weekends on traveling to different cities in Spain and Europe. Europe has a lot of budget airlines that provide cheap options to travel. Also, with the student visa, I was allowed to move freely between countries in the European Union. I saved extra money by staying at hostels instead of hotels and by taking overnight buses instead of trains or planes.
A big theme of my trips was solo-traveling. I felt comfortable with the Spanish language, eating at restaurants alone, and going up to strangers to ask for pictures. In fact, the most common phrase I said while traveling was "¿Me puede tomar una foto?" ("Could you take a picture of me?" in Spanish). Also, with a lot of traveler information online and navigation and language translator apps, getting around in an unfamiliar city was not an issue; I just needed to make sure I had data coverage and sufficient battery on my phone. Traveling alone allowed me to be open to meeting new people. I made many new friends – locals and travelers – throughout Europe, whom I still keep in touch with; I would meet them in hostels, bus rides, free walking tours, and places you would never expect to meet new people. However, as a female solo-traveler, I always had to be aware of my surroundings and avoid pickpocketers. There were certain rules I kept during my travels, such as putting my valuables – wallet, phone, passport – in a deep pocket of my bag and not walking around alone late at night. Most importantly, I communicated with my parents and host mother constantly, notifying them my whereabouts and sending them pictures from my trips.
This is normally what I traveled with: a medium backpack with the bare minimum and a small bag to carry my valuables.
Each region of Spain has its unique tradition, food, festivals, and even local language for certain parts, so it was nice experiencing a variety of cultures in one country. Luckily, Madrid is located in the center of the Iberian peninsula, and traveling to a coastal city was cheap and fast. I'll share some of the highlights.
Valencia is a coastal city in Eastern Spain, where the famous Spanish rice dish paella originated. I visited in mid-March, when the city had its 3 week long Las Fallas festival. To commemorate their patron saint, Valencians build large, cartoon-like monuments throughout the year and burn them at the end of the festival. The entire city was full of band music, people dressed in traditional costumes, and firecrackers on the streets.
Andalucia is the Southern region of the Iberian peninsula that was occupied by the Arabs in the medieval era. You can see the Islamic influences in their architecture. It was cool to actually see the architecture that I was learning about in my Spanish history and architecture classes through the SA program.
On the other side of the country in the Northern region is the Basque Country. It seemed like a completely different country because the locals were speaking the Basque language (although they speak the common Castilian Spanish as well). This region is characterized by cooler weather, seafood, and elegant architecture. Personally, Basque-style tapas, or pintxos, are by far the best dishes I've tried in Spain. I highly recommend visiting!
I had a spring break during Semana Santa (the "Holy Week" before Easter) and a week after my classes ended, when I went on longer trips to Austria, Hungary, Italy, the Netherlands, England, and France. I had quite a few memorable experiences.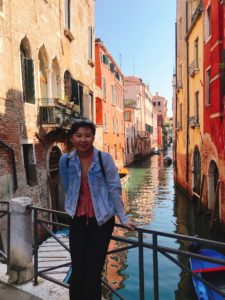 On a 10-hour long bus ride from Budapest to Venice, I met an Australian girl, who was on a college graduation trip in Europe by herself. When we arrived in Venice, we ended up navigating around the narrow Venetian canals and going on a gondola ride together.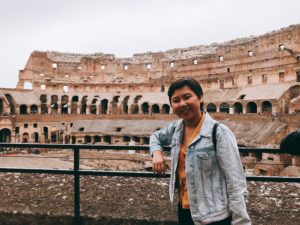 In Rome, I was sharing a hostel room with three other female solo-travelers. The four of us were sharing our travel stories, when one suggested getting a late-night meal. So, we spontaneously went out to enjoy some classic Italian pizza and pasta at midnight. It reminded me of the late-night visits to Jay's Place (an after-hours eatery on campus) with my friends back at Mudd.
Over these trips, I developed some hobbies like
Collecting postcards or local art. I'm excited to put these up in my dorm room next year!
Studying maps. I always downloaded a public transportation map and memorized the major subway stations, just in case my phone ran out of battery.
Going on a free walking tour to learn about the city's history and get recommendations for the best restaurants from the local guides
Trying famous dishes and drinks in each city, such as currywurst in Berlin, Germany
Visiting their local flea or food market
Watching a performance, such as fado (traditional Portuguese music) by a street performer in Lisbon, Portugal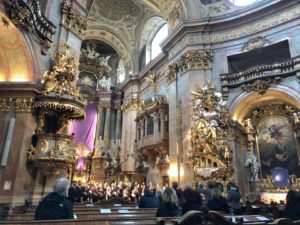 Once in Vienna, Austria, I walked into a church for a free concert, where the choir ensemble from Mt. San Antonio College (a college located near HMC) was performing. What a small world!
I'm so thankful for these memories. It was a good way to get out of not only the "Mudd bubble," but also my comfort zone as I was meeting constantly people with different cultural backgrounds. After visiting historical palaces, churches, and museums, I'm much more knowledgeable in European history and art. Also, I can definitely consider myself an experienced traveler!
A look back at my semester abroad
Overall, I had an amazing time in Madrid and would definitely do it again if I had the chance! It's only been a couple weeks since I left Madrid and I already miss my host mother, my home, and the friends I've made in Spain. My only regret is that I didn't make Spanish friends. Although my classes were taught at the local university with Spanish students, I ended up socializing with other American SA students. Now that I am back home in the States, I look forward to joining my Mudd friends next semester and enjoying my last school year at Harvey Mudd.
To wrap up this post, I'll give a couple tips for future SA students!
Double, triple, quadruple check and read every relevant documents, such as applications, instructions, and emails from the SA program and Mudd.
Pack light! The chances are that you will be buying necessities, souvenirs, and other things in your SA destination, especially if you're a huge shopper like me!
When traveling, always carry around your student ID and passport. Not only are they necessary for emergency situations, but also they can be used for student discount or resident discount (if you have a long-term visa) at museums, performances, and historical monuments. It's always good to make copies of them and save them on your phone and email account as well.
I hope you choose to study abroad and have a once-in-a-lifetime experience. ¡Buena suerte ("Good luck" in Spanish)!