The Intern Squad Discusses: Cool Courses
August 22, 2019
Hello Internet,
Joaquín, Beans and Jasmine here. Today, we're having a crossover blog about some of our favorite courses we've taken at the Claremont Consortium! Up first, Beans will discuss E4.
Beans:
Coming into Mudd, I was considering majoring in engineering. I wasn't absolutely sure about that, since I hadn't had the opportunity to take an engineering course before coming to Mudd. So, during class registration for my second semester, I decided to sign up for Introduction to Engineering Design and Manufacturing (ENGR004), commonly referred to as E4. This is a semester long, project-based course and it's the first course engineering majors are required to take. In the course, a lot of different projects happen one after another and the projects change from year to year. The projects are meant to teach us about the design and manufacturing process as well as team communication and feedback skills. As a final project, we were tasked with designing a safe device that would assist the elderly in playing a game of cornhole.
This meant that this device would launch a bean bag 27 feet at the cornhole board and had to be thoughtfully designed project targeted towards people with limited mobility would be able to operate the device with ease. My group considered the audience we were designing for and visited a nearby retirement home a couple of times to get their perspective. We also worked with a professor, who acted as an advisor for our project and asked tough questions about what we were trying to achieve. We ultimately presented our project at the end of the year during Presentation Days.
My favorite part about the course is that it required us to be in the machine shop and learn how to use most of the major machinery and tools in our sheet metal, wood, and 3D printing shops. I liked machining in our basement so much that I applied to be a shop proctor and will start training next semester. I'm glad I took the class and am excited to pursue engineering!
——————————————————————–
Jasmine:
My favorite class has to be Introduction to Environmental Analysis (EA010) at Pitzer College. Since high school, I've been interested in sustainability and the green movement. At my high school, I was known as the "recycling lady" or the "bottle hoarder" because I always obsessively encouraging my friends to recycle their bottles and if they didn't, I would take the bottles to make sure they ended up in a recycling bin. Unfortunately, my high school didn't offer any environmental classes, so college was a perfect opportunity to learn about my passion.
The class challenged me to consider the environment with different perspectives. Environmental studies as a discipline involves other disciplines, such as politics, economics, social justice, science, history, ethics, etc. We saw how scientists quantitatively measure biodiversity in terms of number of species, richness, and evenness in nature and assessed the biodiversity of a garden in Pitzer's campus. In the Nature and Culture lesson, we read secondary sources that analyzed how certain religious texts encouraged humanity to take dominion over nature, while others encouraged coexistence and moral connection. Regarding gender issues, we learned about "eco-feminism," parallelism between women and nature as victims of systematic oppression in a patriarchal society.
The class also helped me realize that environmental issues don't just revolve around climate change and deforestation in a remote rainforest, but are much more relevant to me and my community. As a class, we discussed about how institutional racism is reinforced through unequal allocation of environmental resources, such as in the Flint Water Crisis and Dakota Access Pipeline protests. In addition, a representative from the school's dining hall management company came in and spoke to us about the importance of supporting sustainable and local food. At the end of the semester, students had to make a postcard to creatively express environmental issues as a class project. I created a souvenir postcard from an imaginary tourist destination, "Trash Island," an island that would form in the near future if humanity continues to produce the same amount of waste. If you want to have an interdisciplinary understanding about the world around us, I highly encourage you to take EA010!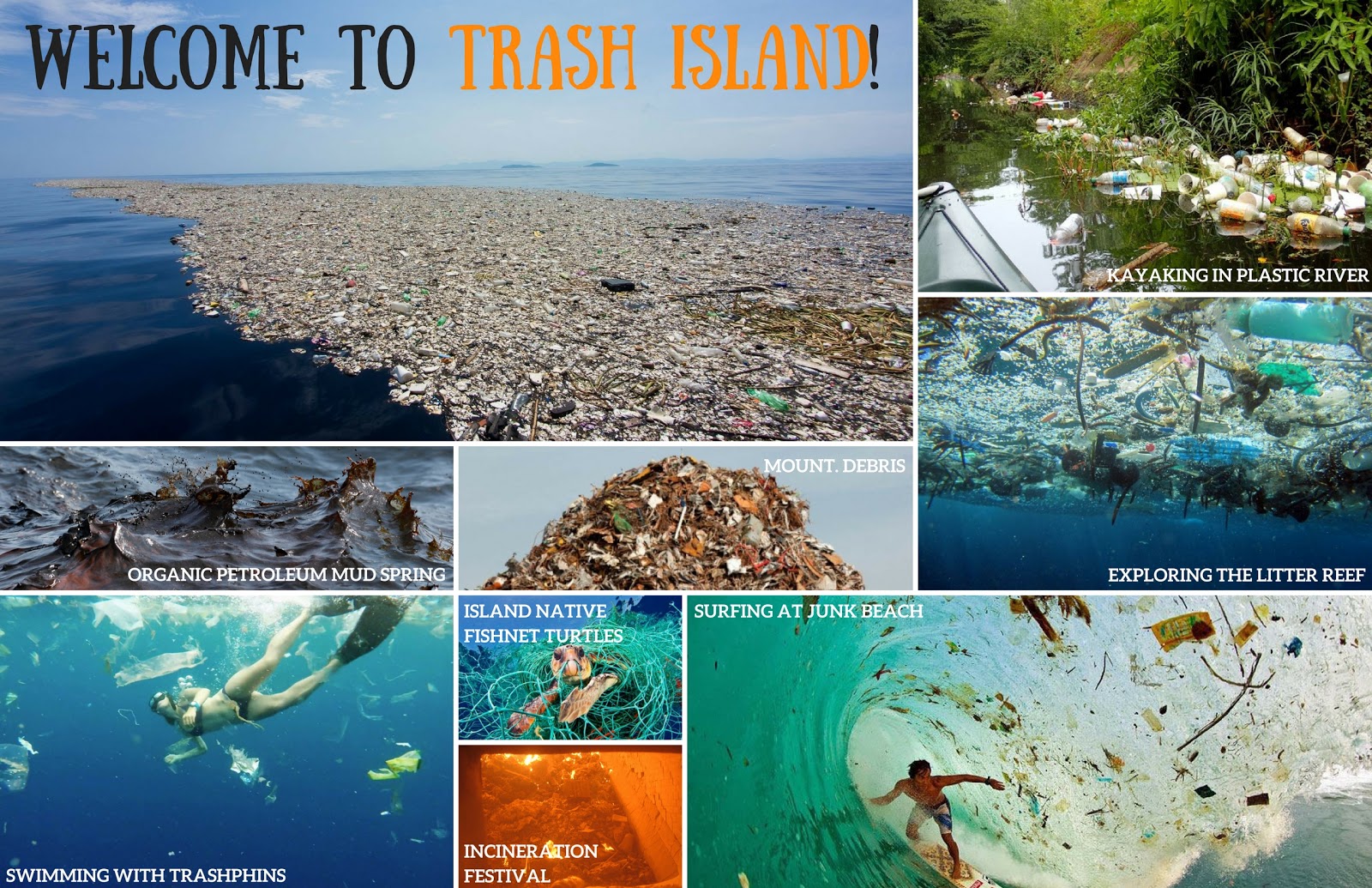 ——————————————————————–
Joaquín:
Harvey Mudd has a lot to offer students in terms of academics. I've taken courses in economics, math, computer science, physics and history beyond what is required in the core curriculum. These different courses gave me different types of knowledge, whether it be practical economic advice, skills for potential future careers or about things I personally find interesting. However, out of all the courses I've taken, the most interesting one that comes to mind was The Science of Cooking (PHYS 049B), or as we called it, "Cooking Lab."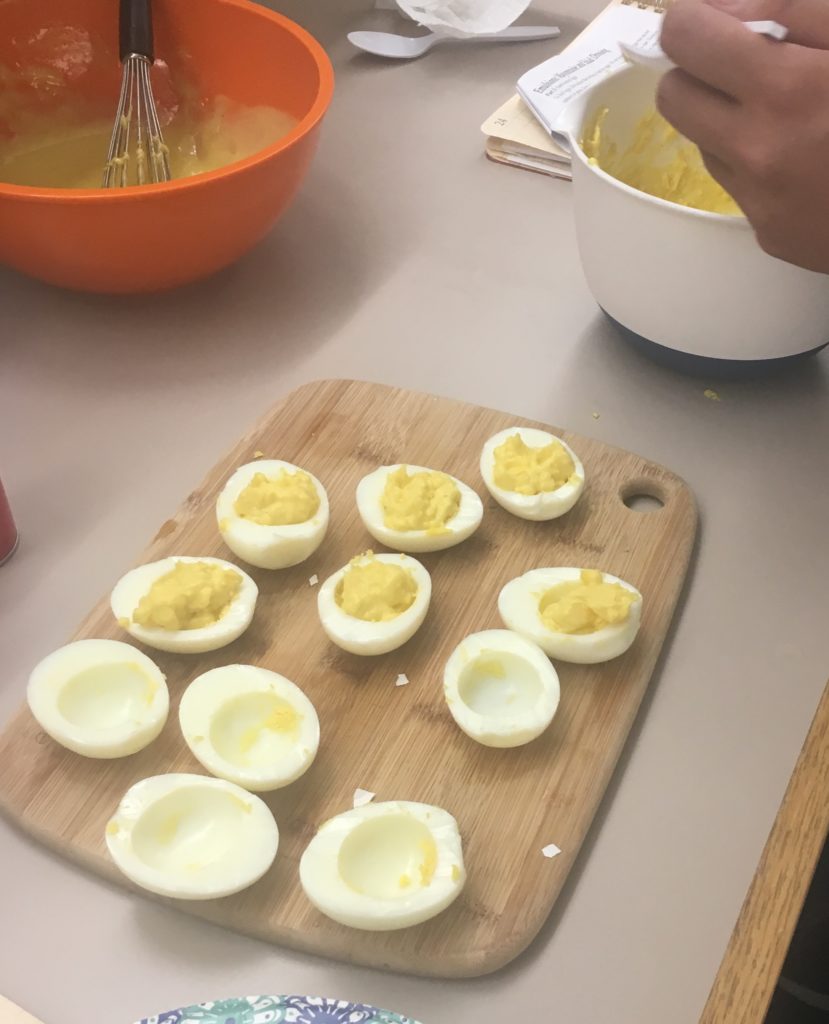 This was a Physics Course, taught by Professor Eckert and Professor Sparks. As you can probably guess, this was a lab course focused on cooking. In this course, as Professor Eckert dictates, "We only make things we like!" To that end, we made many tasty treats over the course of the semester, including french fries, cookies, deviled eggs, ice cream, sopaipillas and cream puffs. We tested different ways to make cookies with different baking sheets and temperatures to compare the resulting differences.
Before this course, I never felt super comfortable in the kitchen. Yeah, I had made chili, bacon and eggs, sandwiches and pancakes with my Boy Scout Troop, but I didn't really understand what we were doing. Cooking just felt like dark magic to me. Why did a cake recipe require flour, egg whites, baking powder, baking soda, sugar and butter? How did that turn into a cake? I had no idea; that's just what the cooking gods demanded as sacrifice. With this course, I may have not mastered the art of cooking, but I definitely feel more at ease in the kitchen now. I've been making meals for myself all summer, and I haven't suffered from food poisoning yet!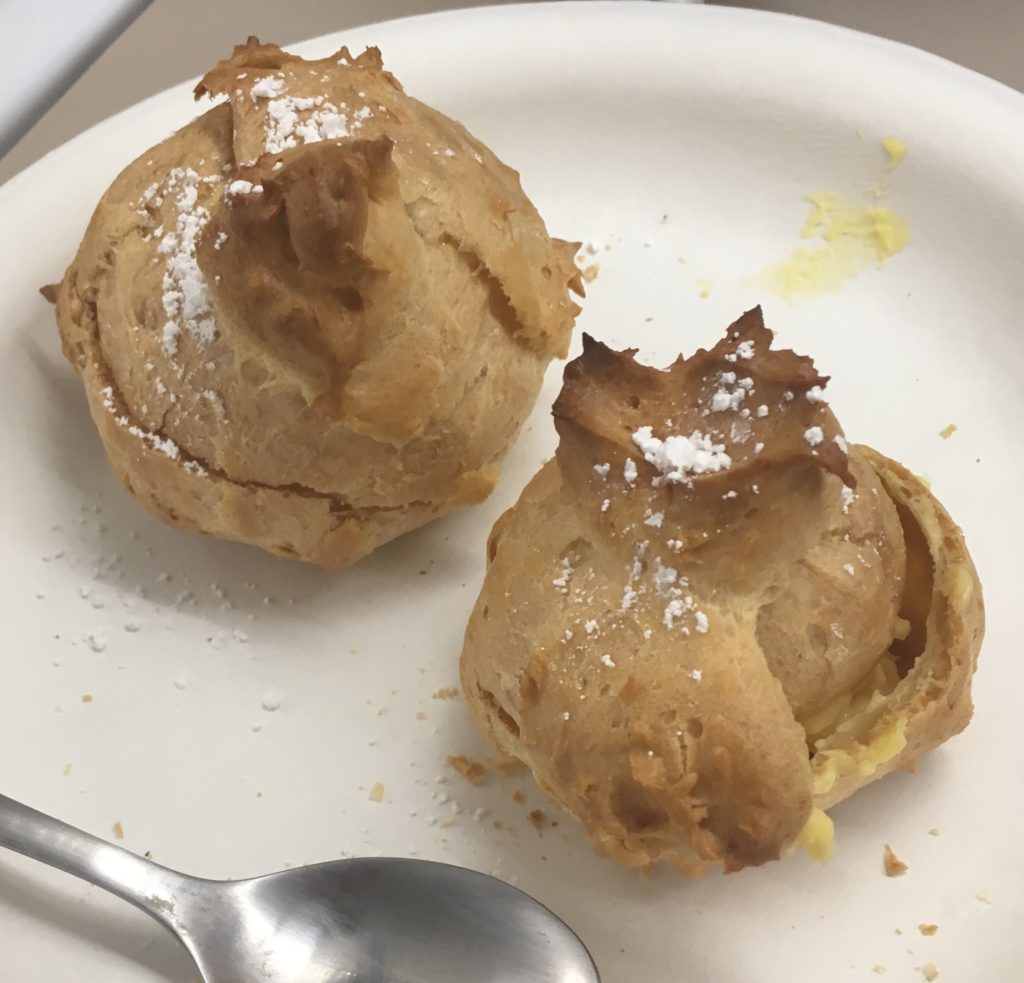 ——————————————————————-
Some of these courses may not offered every year/semester, which is unfortunate because clearly they have a lot to offer. However, these are only a couple courses that we selected that we've personally enjoyed.
Your blogosphere buds,
Joaquín "Makin' bacon pancakes" Fuenzalida Nuñez
Beans "Launchin' bean bags" Beans
Jasmine "Surfin' @ Junk Beach" Seo