Liking and Biking Ice Cream
August 1, 2019
Hello Internet,
Joaquín here. Today, I'm talking about the Harvey Mudd Ice Cream Bike. The Ice Cream Bike is a longstanding piece of Harvey Mudd history, a three-wheeled magnificent machine designed to deliver cold sweet treats across campus. I've actually had the fortune to wield the awesome power of this bike myself.
During last year's room draw, I knew the RALs (Residential Affairs Liaisons) were well occupied with everything they had to manage, in terms of academics and room draw shenanigans. So when one of the RALs mentioned that they had to pick up the ice cream and dry ice for room draw on the LEGENDARY Ice Cream Bike, I jumped at the opportunity available before me. Containing my excitement, I professionally and politely asked "NO WAY CAN I DO IT PLEASE PLEASE PLEASE?!?!?" With some master persuasion tactics of mine (known as pleading emphatically), the RAL agreed.
This was the beginning of my journey on the Ice Cream Bike. I picked up the bike from Platt, and rode off in triumphant glee towards the Chemistry Department. I didn't expect the ice cream bike to be the most nimble of bicycles, but it actually surprised me with how naturally it felt. Going downhill was definitely the most terrifying, because it only has a back-pedal brake instead of a hand brake, but I safely made it to the Chemistry Department, literally cackling in glee the entire time.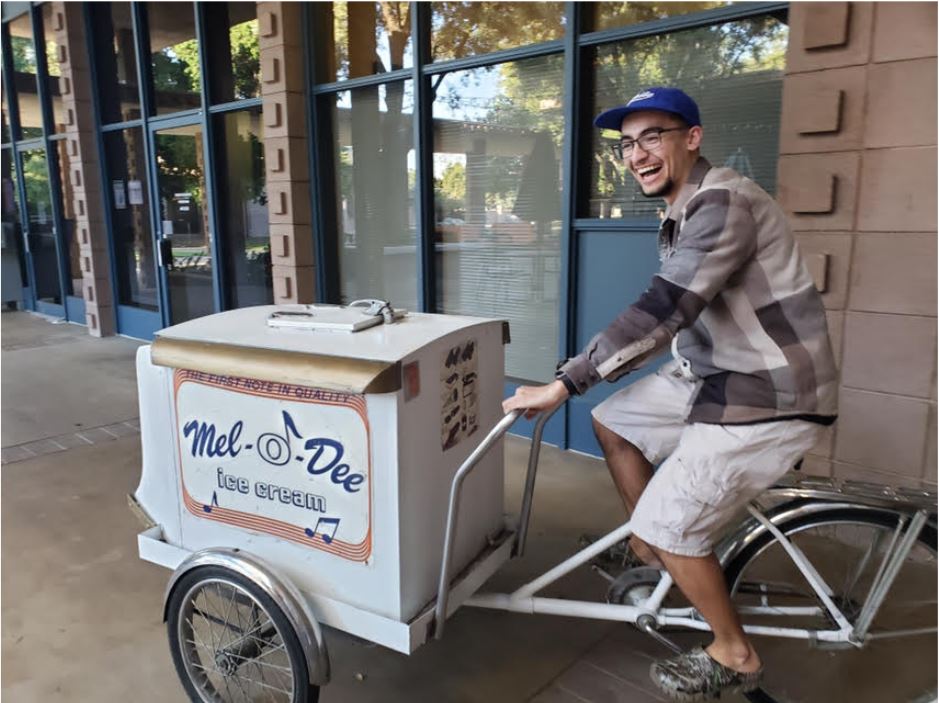 Once I had loaded in all the dry ice, I rode over to the other side of campus, where the RALs had stored ice cream in fridges scattered across the nine dorms. Going uphill, as shallow as the incline was, was pretty brutal. There was a lot of ice cream and dry ice to collect; the added weight quickly made the job much more difficult, but the adrenaline kept me powered through to the end. I actually got to hand out free ice cream for most of Room Draw, which was a fun finish to my journey with the bike. I loved being able to engage with this piece of Harvey Mudd.

This summer, the Head Mentors Lorelei Bivins and Toty Calvo Polanco are in charge of the ice cream bike. On Fridays, they sell ice cream from the bike, as they ride around the academic buildings. I decided to talk to them about what the job is like full-time.
Tell me a little bit about yourselves.
L: Hello! I'm Lorelei. I'm from Fort Lauderdale, Florida, and I'm an Engineering Major in the Class of 2021.
T: I'm Toty Calvo Polanco. I'm from Los Angeles and I'm a Chemistry major with an emphasis in environmental analysis, Class of 2021.
How is it being in charge of the ice cream bike?
L: It's a lot of fun! It makes people really happy. They'll chase after the bike, get some ice cream, and make quick conversations with us. It's nice because we get to see people we wouldn't have seen otherwise. Getting to see everyone on campus, saying hello, seeing smiles, are happy parts of the job.
T: It really is a happy job. It honestly makes me happy to see them happy.
What do you specifically like about operating the ice cream bike?
T: People recognize us as the ice cream bike girls now! They get to know us, and then we become more approachable for them. I really like that. They'll be like, "Wow you're the ice cream bike person. How is the whole frosh thing going?"
We've also had a lot of people on tours who will stop and get ice cream sandwiches to remain cool in the summer heat! There was this one mom with 5 or 6 kids who all really REALLY wanted ice cream. They ran off, got a dollar, and were very happy with their ice cream. They were adorable!
Before being in charge of the ice cream bike this summer, how often did you see the ice cream bike?
T: I had seen it around since my frosh year, and I always wanted to ride it! So it was the summer of my frosh year, and I was working in admissions, and the bike would go by and they'd ring the bell. Everyone in admissions would run out, and the first time I was like "What's the big deal?" and they told me "It's the ice cream bike!!" [Editor's note: yes, this is true. The Office of Admission loves ice cream]. They'd come by every week, and it was a nice part of the summer. Now I get to serve the ice cream!
Do you all have favorite ice cream that you serve?
L: I've enjoyed the Bomb Pops we've been serving, those are pretty fun. They're so refreshing!
T: That's rough; I like all of them! Since we have so much variety. My favorite one so far is the Mango Cherry, followed by the Bomb Pop, and then the Drumsticks.
How can people find out when the ice cream bike is out and about?
L: We have a Twitter you can check! If you want to follow the ice cream bike on its journey every week, you can follow us here!
T: We also have a mega phone; we scream all around campus "Ice cream! Ice cream!"
————————————————————–
A big thank you to Lorelei and Toty for sitting down with me and answering my questions. If you're on campus through the summer, be sure to keep an eye out on Fridays for the Ice Cream Bike!
Gets a caramel Drumstick every time,
Joaquín "the guy who zoomed past you at 10 mph with 30 lbs of ice cream while laughing" Fuenzalida Nuñez