Spring Club Fair!
March 18, 2019
Hello! It's Mason with another blog post!
Earlier this semester, Harvey Mudd had its club fair for spring semester! The club fair is pretty much what it sounds like – representatives from various clubs set up booths in Platt Campus Center and talk to people who are interested in signing up for clubs. So, I thought I'd take some pictures of some of the clubs that were there and talk about them!
Chocolate Club!
The chocolate society is one of multiple food clubs on campus. They meet about once every three weeks, and the leaders are given a budget to go out and buy chocolate to share and enjoy. It's a low commitment club where you can enjoy good treats and socialize with friends and strangers alike!
Cheese Club:
Cheese club is another popular food club. Similarly to chocolate club, the leaders have money to go out and buy different types of cheeses along with crackers and breads to go with them. Again, this is a great opportunity to taste new foods, meet people, and relax!
Women in Physics:
"The Women in Physics club is dedicated to creating a community where everyone, especially those who are not typically represented in [physics], feels welcomed, safe, excited, and a sense of belonging in the physics community. The Women in Physics club organizes Tea Times w/ physics faculty, homework parties, talks with guest speakers, trips to physics conferences, and  more! Everyone is welcomed no matter what you identify as!" –  Email from Maya Martinez, Mae Lee, & Madeleine Kerr, WiP presidents. 
The Muddraker:
The Muddraker is Harvey Mudd's student-run newspaper!
"The Muddraker is awesome. We tell stories about students, by students. It's a community where you can have a nice break from doing homework all the time. The Muddraker also gives you free food, so it's kind of like chocolate club and cheese club, but with more." – Hannah Larson, Co-president of the Muddraker.
PRISM(People Respecting Identities and Sexualities at Mudd):
PRISM is dedicated to supporting Mudd's queer community by allowing Mudd community members to socialize in a friendly environment, discuss issues facing the queer community at Mudd, and advocate for positive change. PRISM also organizes 'Crush for your Crush' and 'squash for your squish' every year: the week before Valentine's Day, PRISM arranges 'Crush for your Crush', where you can buy "Crush soda to anonymously send to your favorite friends, or to subtly give a hint ;)" – PRISM e-mail. Similarly, before Halloween, during 'Squash for your 'Squish', you can buy a mini-pumpkin for a 'squish' – someone you have a platonic attraction, liking, appreciation, or admiration for (think crush but for friends).
Mindfulness Club:
Mindfulness club hosts daily meditations. They gather for 20 minutes under Atwood's big, pretty tree, and use meditation to relax and be mindful of what they're thinking and feeling.
Craft Club: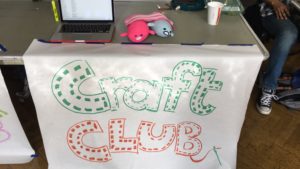 Craft club is pretty self-explanatory: the club gets together regularly to knit, sew, and do other crafty things! Like many clubs, it's a great opportunity to take a break from work and spend time with friends.
These are only some of HMC's clubs, but I hope that gives you a fun snapshot of the various clubs at Mudd. Here's a full list of HMC clubs.
Until next time,
-Mason Acevedo