My junior year of high school was, as I'm sure is the case for many others, incredibly busy. I was swimming nonstop, making sure all of my homework was done, going to all my classes, and, on top of it all, I was searching for colleges I wanted to apply to the following year. Harvey Mudd College had been on my radar, but I hadn't delved too deep into it all. Then, my junior year, a week before the application for the program was due, I got an email inviting me to apply for WISTEM.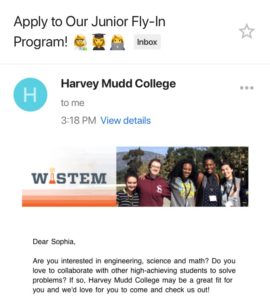 WISTEM stands for Women's Introduction to STEM. After a hurried read about the relatively new program at Harvey Mudd, I discovered that it was a short end-of-week program at Mudd that then carried over into a nine-month online component designed to set up 20 high school junior girls to apply to the colleges of their choosing. So I set to work on my application, still not exactly sure what to expect from the program, even on the off-chance that I was accepted to attend. After writing a short essay about the impact of STEM in my life and updating my resume, I clicked submit (note: this year's essay prompt is about your community's impact on you).
The day we were supposed to hear back, I was nervous. I kept refreshing my email, even while sitting on the pool deck during a high school swim meet. After the meet was over and my friends had all wished me luck on acceptance to the program, I received the email: I had been accepted to the Harvey Mudd College WISTEM Program!
I waited not-so-patiently until the day came that I would be flown down to Claremont. I was picked up at the airport by one of the admissions counselors (shoutout to the lovely Maureen Ruiz-Sundstrom!) and driven to Harvey Mudd.
It was then when I got my first look at (though I had no idea at the time) my future college. I wasn't sure what to expect, but was continuously surprised as I was given tours around campus, met my host, and got to know the 19 other girls who had been invited to the program.
Quickly, we became friendly acquaintances, all of us exchanging numbers and Snapchat usernames. More than that, we were able to meet multiple faculty and staff members and hear about their jobs on campus. Additionally, we were given seminars on leadership and (hence the name of the program) the importance of women in STEM from faculty and staff.
Throughout the program, we were shown around all 5C's and the Village, getting a detailed and real look at Claremont and the schools residing within it. It was made clear from the start that this program is NOT a program to convince you to come to Harvey Mudd. It was supposed to be about STEM and leadership. We were all told frequently that they would love to have us at the school, but in the end, pick the school that felt best. Honestly, when it came down to picking colleges, knowing that I had the full, straight, unabridged truth about Mudd helped me feel better about choosing it.
After we all flew home, we all kept in touch over our large group chat. Also, we were able to hear from each other every other weekend. The WISTEM program extended past the three-day stay and lingered into a nine-month online program. For the first half of the program, we had bi-weekly webinars with women in STEM for which we wrote a reflective blog post, and we also completed an online pre-calc refresher (which lined up perfectly for studying for my IB Math test!). The second half of the nine-month stretch, our webinars were instead on the college admission process and we did CodeAcademy online. All of our webinars were insightful and reflective for me, though each for different reasons.
I walked away from the program feeling ready to apply for colleges, not just Harvey Mudd. WISTEM really helped me think about what I was looking for in a college, a career, and a life as a student. It was so different from any other fly-in programs that I had heard about, and for that I'm grateful. I can say that I am so pleased to have been able to take part in this program and now be able call myself a WISTEM Alumni.