Backpacking in Kings Canyon with the Adventure Club
May 21, 2018
Your regular bloggers, Izzy, Moe, and Julia are on summer vacation, but we have some guest bloggers to give you different perspectives throughout the summer. Here's the first!
Hi everyone! My name is Doug, and this is my first time posting on the blog! I'm a rising junior at Mudd who's passionate about engineering and material science. Before coming to Mudd, I grew up in various towns in Connecticut which is quite the distance from here. Through my blog posts, I want to share my experiences in a state on what seems like the other side of the world for me and in a school that is like no other.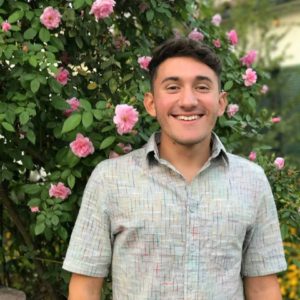 Currently, I am one of the co-presidents of the Adventure Club at Harvey Mudd. The Adventure Club is a student run club whose purpose is to "organize enthusiastic. individuals into a cohesive mass of excellence to engage in a wide variety of productive, recreational, and ridiculous activities of grand import." With this rather ambiguous description, the Adventure Club hosts numerous outdoorsy adventures that do get a lot of attention. Over the course of this year, the Adventure Club at Harvey Mudd has done a variety of trips including moonlight hiking in nearby Icehouse Canyon, camping in Death Valley, and even doing some beach getaways. I wanted to highlight one of my favorite trips with the Adventure Club, our backpacking journey in Kings Canyon National Park.
Only a six-hour drive from campus, Kings Canyon National Park provides a beautiful, picturesque wilderness like no other. Sequoiadendron giganteums, or giant sequoias, fill the groves on the canyon slopes, scraping the sky with their enormous height and providing shade with their incredible volume. Navigating to and around the park with the Adventure Club was definitely my most memorable experience at Mudd.
Our group of eight started at the top of a canyon in the southernmost part of Kings Canyon National Park and made our way down to the base of the valley over the course of one day. The views were unbelievable. In order to get down there, we had to not only weave our way around the world's largest trees (by volume), but also walk through and over them.
Never before have I seen nature like this. Although I do see my share of trees back home in Connecticut, the wilderness of the Kings Canyon is much different. On top of that, backpacking with my Mudd friends made the experience even better. Throughout the trip our conversations ranged from arguments about our physics classes to ideas about the best crossover movies. I was given the opportunity to see my friends in a new light and began to really appreciate our friendships.
Although I do love seeing the wart-covered buildings (warts are the brown, cement squares that embellish the columns of buildings at Mudd), every so often Mudders make the effort to explore the gorgeous environments California has to offer.