14 Reasons I Love Mudd
February 23, 2018
Before February ends, I wanted to write a post with the spirit of Valentine's day. Here are 14 reasons I love Mudd (for a blog post that was intended to go up on Feb 14, but alas Mudd life got in the way)
1) The community. For Valentine's Day, our school hangs up paper hearts in the Hoch. About 1100 hand cut, individually lettered hearts are put up in our dining hall so that everyone in the community can write little love and appreciation notes for everyone on campus–all 830 students and 300-some staff and faculty. Everyone gets some love on Valentine's day 🙂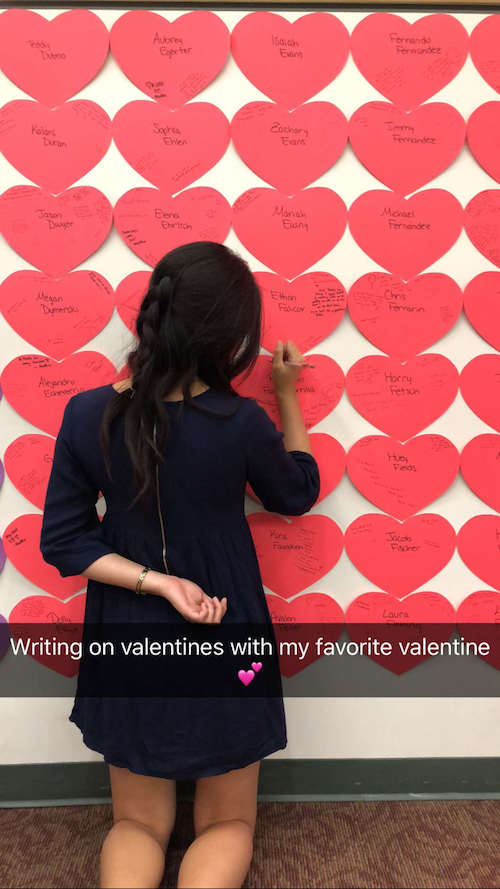 Me signing some hearts in the Hoch <3 
2) There are people up at all times of day. 1am…2am…3am…4am… Whether they just woke up or they still haven't slept, you'll never know, but it's comforting to know there's always a friend awake on campus!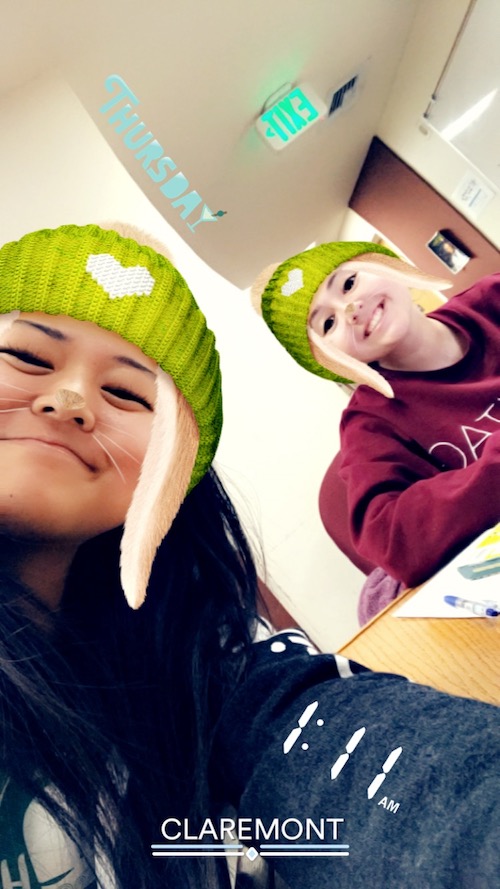 One of my friends and I hanging out in the physics lounge on late on a Wednesday night (or Thursday morning?!) 
3).14(15926535…) is a universally loved number here on campus. Traditionally in room draw, special mathematical constants are paid homage as students are assigned numbers between 2 and 3 (e) and 3 and 4 (pi). You can sure you'll find a group of students and faculty engaged in some sort of celebration on March 14 every year.
4) The landscaping might not be as beautiful as the Garden of Versailles, but the landscaping is perfect for wheels. The campus is wheelable from end to end in less than 5 minutes and it's nice that going from residential end to academic end is downhill which makes getting to class in the early morning all the more convenient.
5) The wealth of free food. Cheese Club, BBQ club, CafeSHMC, Chocolate Society. These are just a couple of the food clubs on campus that host fun events where they buy a bunch of cool food and invite students to come taste all the foods!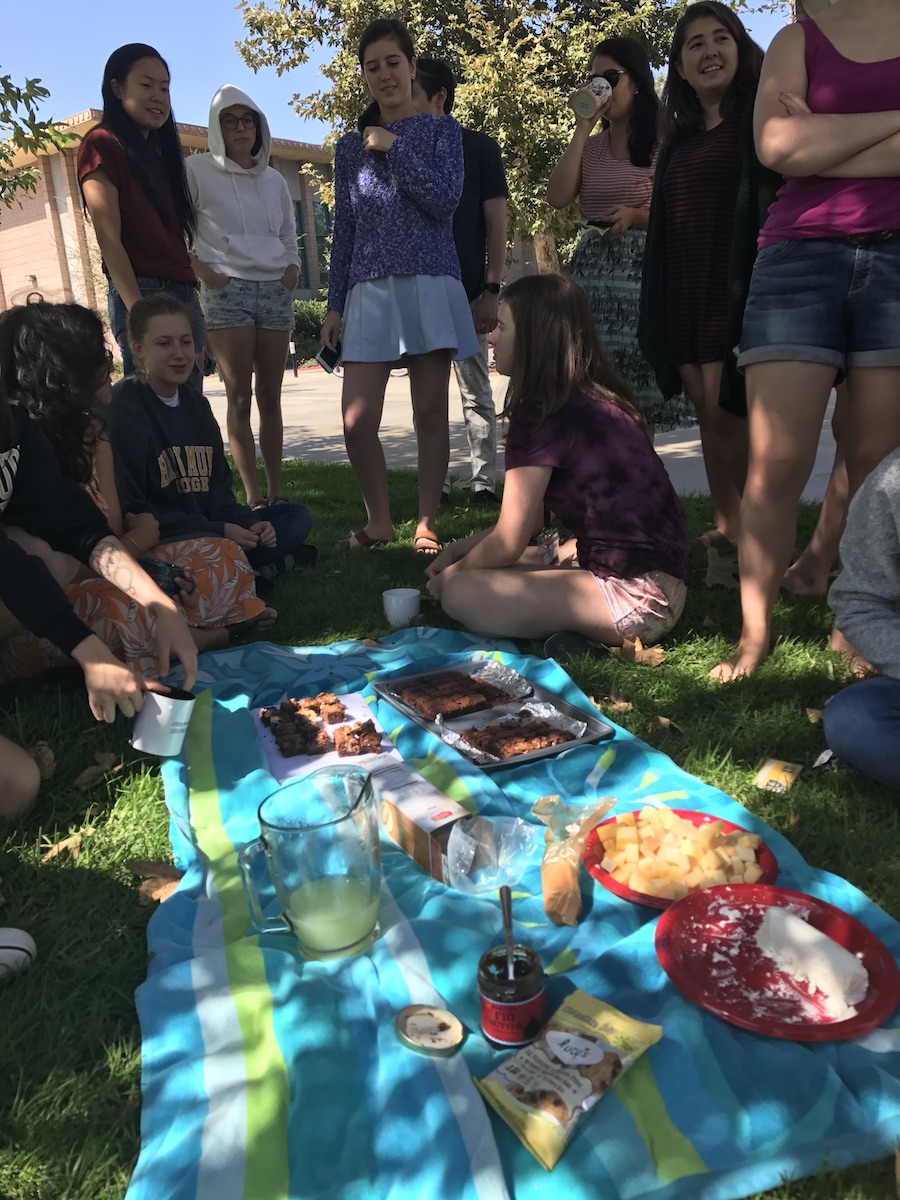 A group of students enjoying some snacks acquired through various food-shmcs on campus.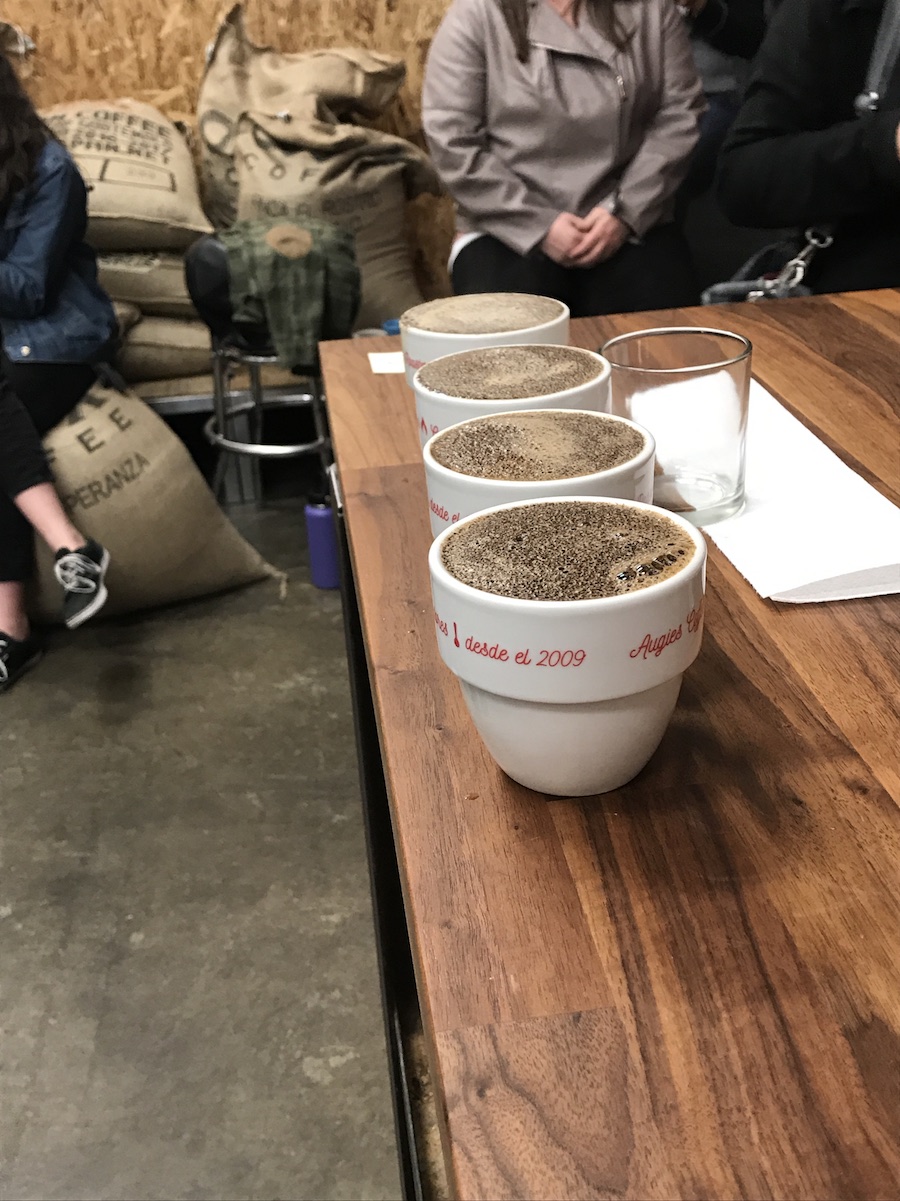 Some cups of coffee from a cupping event that cafe-shmc took students to. 
6) On a similar note, the food here is amazing. From sushi and steak nights to make your own pizza (to chocolate fountains on Valentines Day), our dining hall treats us well…
Arguably too well when freshman 15 comes around.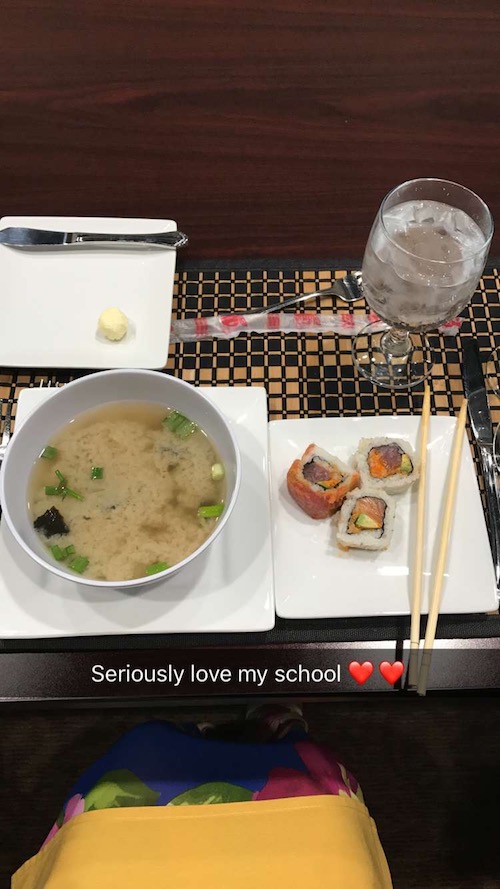 A pretty plate of sushi and miso that I had for dinner one day. 
7) People here love and care for one another. Students here are so excited to become grutors (graders/tutors) for classes, and mentors and proctors for their dorms. Mudders care about our community and will put in plenty of their own time and efforts to make sure this a welcoming place for all.
A poster students signed to thank the chefs/staff members of our dining hall for all the work they do for our community. 
8) Collaboration is key to success. Students here work together and support one another because oftentimes that is the only way to get things done. We have a culture in which students are always willing to give up their own time to ensure that others are doing ok. I've found that Mudd students love learning as much as they love helping others learn.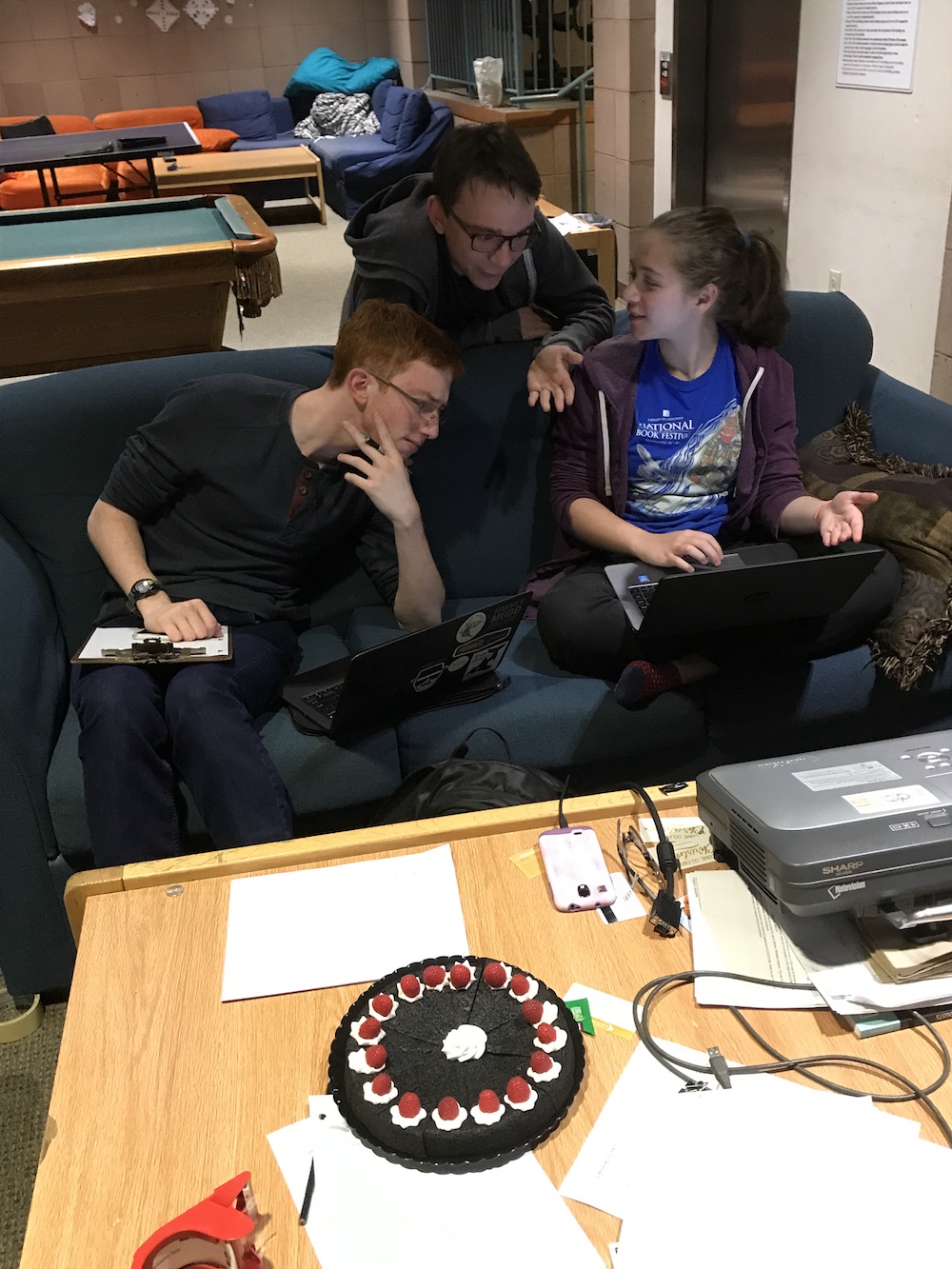 A group of freshmen discuss a homework problem together (obviously not a posed picture). 
9) People here have such a wide variety of talents abilities. From dancers to artists to people who can juggle fire, there is literally someone here who can do everything and anything you've ever thought of doing.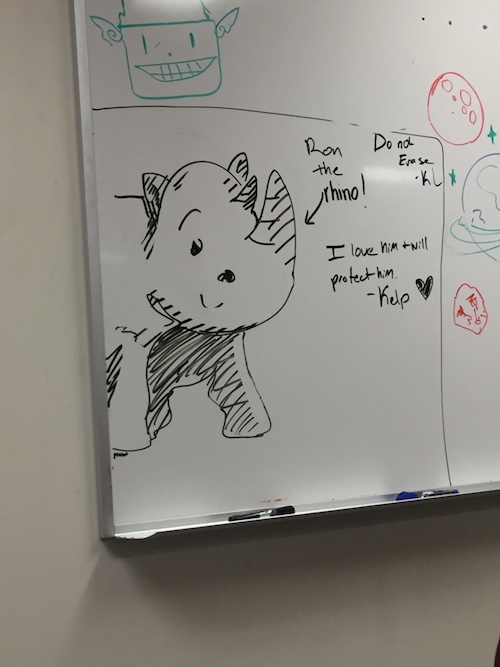 A resident student artist from the physics department casually draws masterpieces on the whiteboard in the physics lounge. 
10) Similarly, the profs here has such a wide array of talents and hobbies. We have magicians, airplane pilots, and profs who have the cutest kids!
Here's a video of Prof Benjamin from the Math Department presenting some of his "mathemagics" on the TED stage:
11) Engineers know how to party and I would say they do it well! We have a range of parties throughout the school year that are sure to excite every type of personality. Some notable parties include Singalong (held at Case Dorm where students sing/shout all night to some great 2000's throwbacks), Wild Wild West (held at West Dorm every fall with a guest appearance from a mechanical bull), and Tres Chic (one of the classier parties of the year held at Sontag Dorm with live jazz music played by CS Prof Keller's band).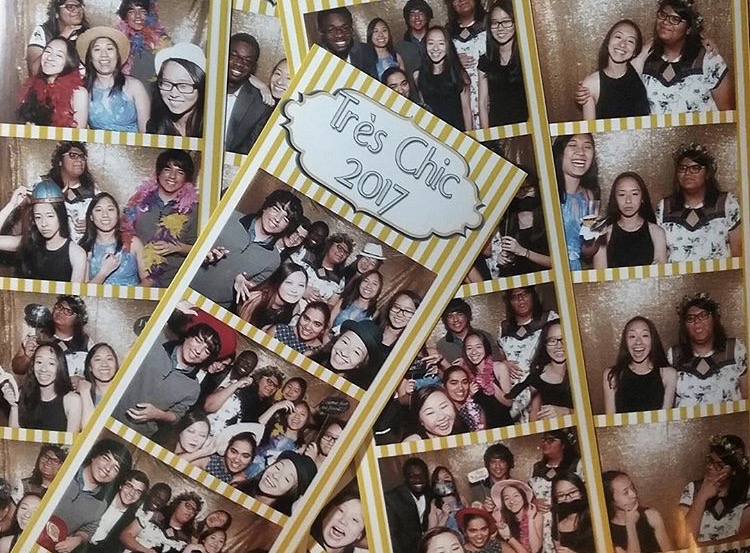 Some of the photostrips from the photobooth at Tres Chic. 
12) There are so many comfy spots on campus. From dorm lounges to department lounges to Platt living room, there are many places that are nap-worthy comfy away from our own beds. (Also, check out Izzy's post here about some of the couch controversy surrounding the Platt Living Room couches!)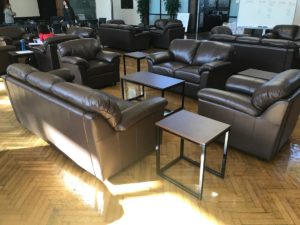 Some of the comfy couches of Platt Living Room. 
13) The professors here are not only our teachers, they are our mentors, our role models, and fundamentally, our friends.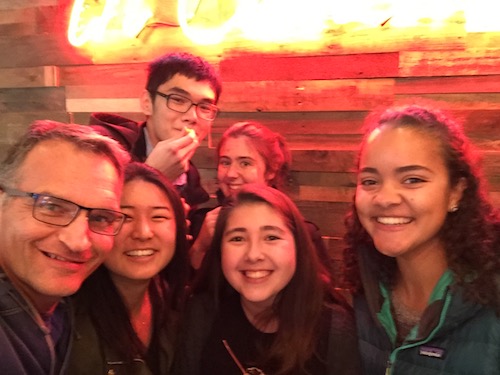 A group of students with Prof Donnelly at Paradis Ice Cream in the Village in Claremont. 
14) Mudders are the kindest, most genuine, and loving people I know. They can be rather quirky, sometimes a little shy…sometimes really loud and rowdy, but overall, a phenomenal group of people.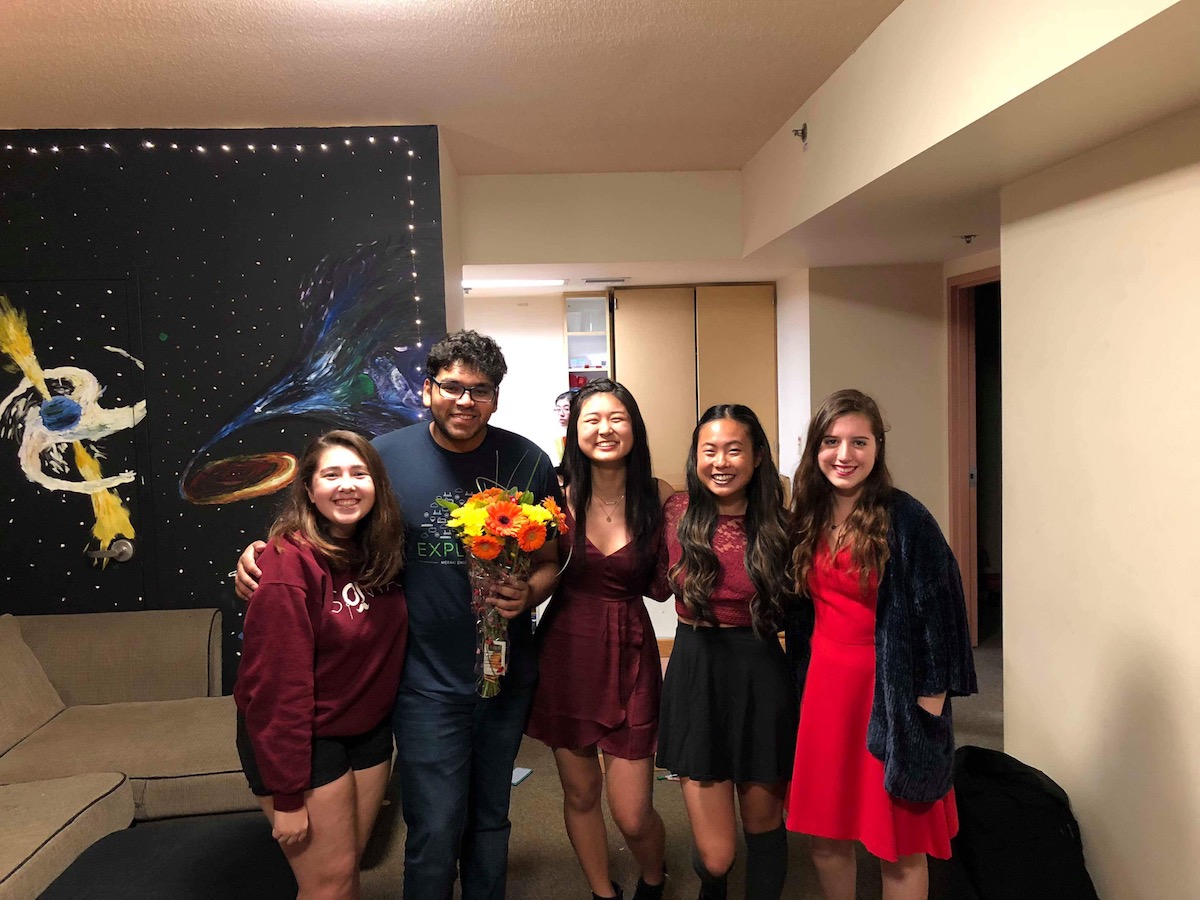 A group of me with my friends who surprised me with flowers and chocolate for my birthday this year 🙂