The end of an era: finishing up Core: finals week 2017
December 18, 2017
Finals week is always a hussle: people are wrapping up classes, getting ready for the holidays, starting to pack to go home, and trying to make the most of the limited time they have left with their friends on campus. And among all that, we're still trying to fit in time to study, and occasionally sleep.
This week, I have a total of 3 in-class finals, a final presentation, and one take home final. It's definitely a busy week, but at the same time, the days feel much longer since there are no classes to attend during the day time!
Here's an overview of how my finals week looked this semester:
Over the weekend preceding finals week, things definitely felt lighter; there are no psets (problem sets) due during finals week so I was able to spend a lot more time just hanging out with friends. On Friday, I went out to lunch off campus (a rarity for the most the semester) at Wahfles which is a fantastic waffle house near the 5C's. It was nice to get off campus during this stressful time of year and it was especially nice to have some lighthearted conversations with my friend about things totally not Mudd-related. I've found that during the school year, in the thick of classes and job applications and projects, students can struggle to find time to think about the world beyond Mudd so I always appreciate the genuine conversations I have with friends about things outside the Mudd bubble.
Some high quality dessert for lunch at Wahfles 🙂
Later that evening, I went out to a Leonard funded dinner* with Prof Chen from the Physics Department. This was my second  off campus meal for the day so you can tell this weekend was definitely a special one. Prof Chen was my recitation professor for both of my freshman year physics courses, Special Relativity and Mechanics. She's retiring next semester so this was a lovely way to thank her for all her ph-antastic physics help throughout my frosh year and to get to know her better as a person!
*"The Leonard Fund supports small-scale student-faculty interaction by reimbursing faculty members for entertaining small groups of students in a mealtime setting." Basically, free food with professors!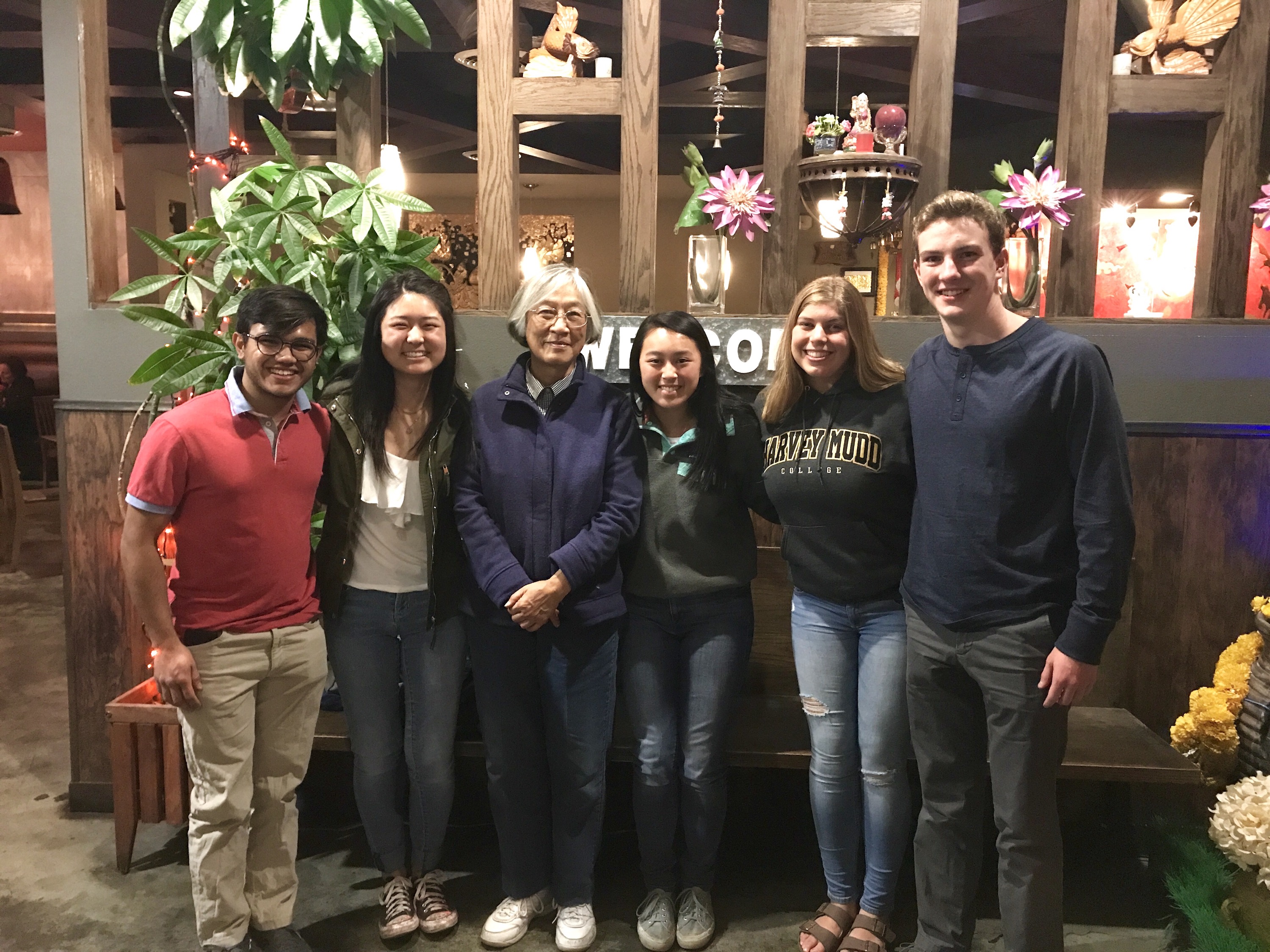 A group of students with Prof Chen at Bua Thai in the village.
This weekend was also Casemas, the annual Christmas themed party held at Case dorm. There's always fake snow, festive Christmas lights, and very loud music. Two of my friends, Sydney and Flora, were DJ-ing the music for the party and here's an overhead picture of the party from their point of view.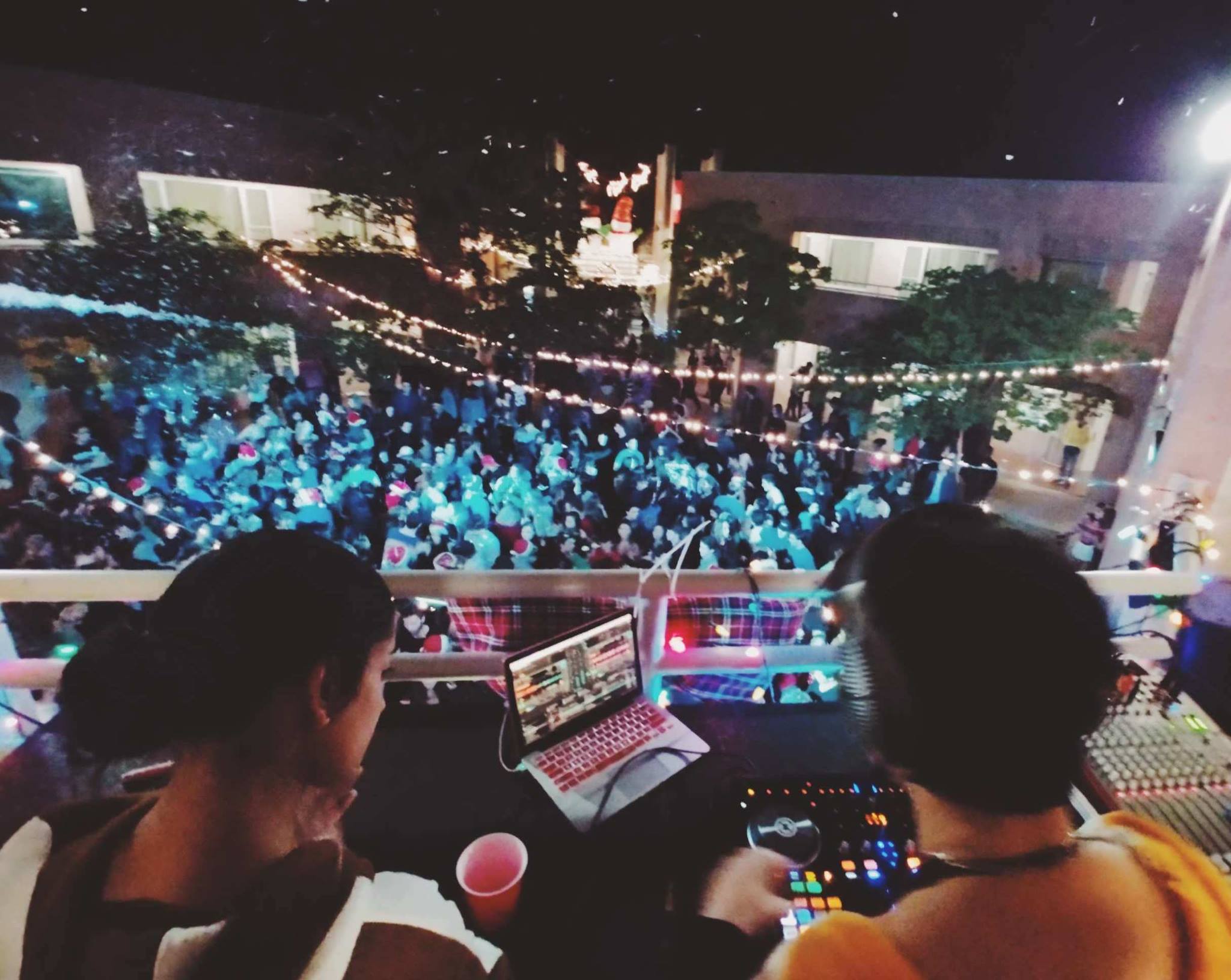 An overhead view of the Casemas festivities (credits to Anthony Moody, student at Mt. San Antonio College).
And then things started to get more serious on Sunday. My Intro to Engineering Systems (AKA E79 the engineering course in Core) was Monday morning. I spent most of Sunday studying for my test, but there were also some great opportunities to take breaks during the day. For dinner, SWE (Society of Women Engineers) hosted a pre-finals celebration and catered a table's worth of Thai food for people to enjoy.
Later that evening, I headed to the physics department to start studying for the E&M final, only to find a group of professors and students playing an intense game of Mysterium. Prof Breznay also made some scrumptious cinnamon rolls so I sat there at the table learning about quantum optics, munching on some gooey cinnamoney rolls, listening in on the group trying to communicate with the ghost in the board game.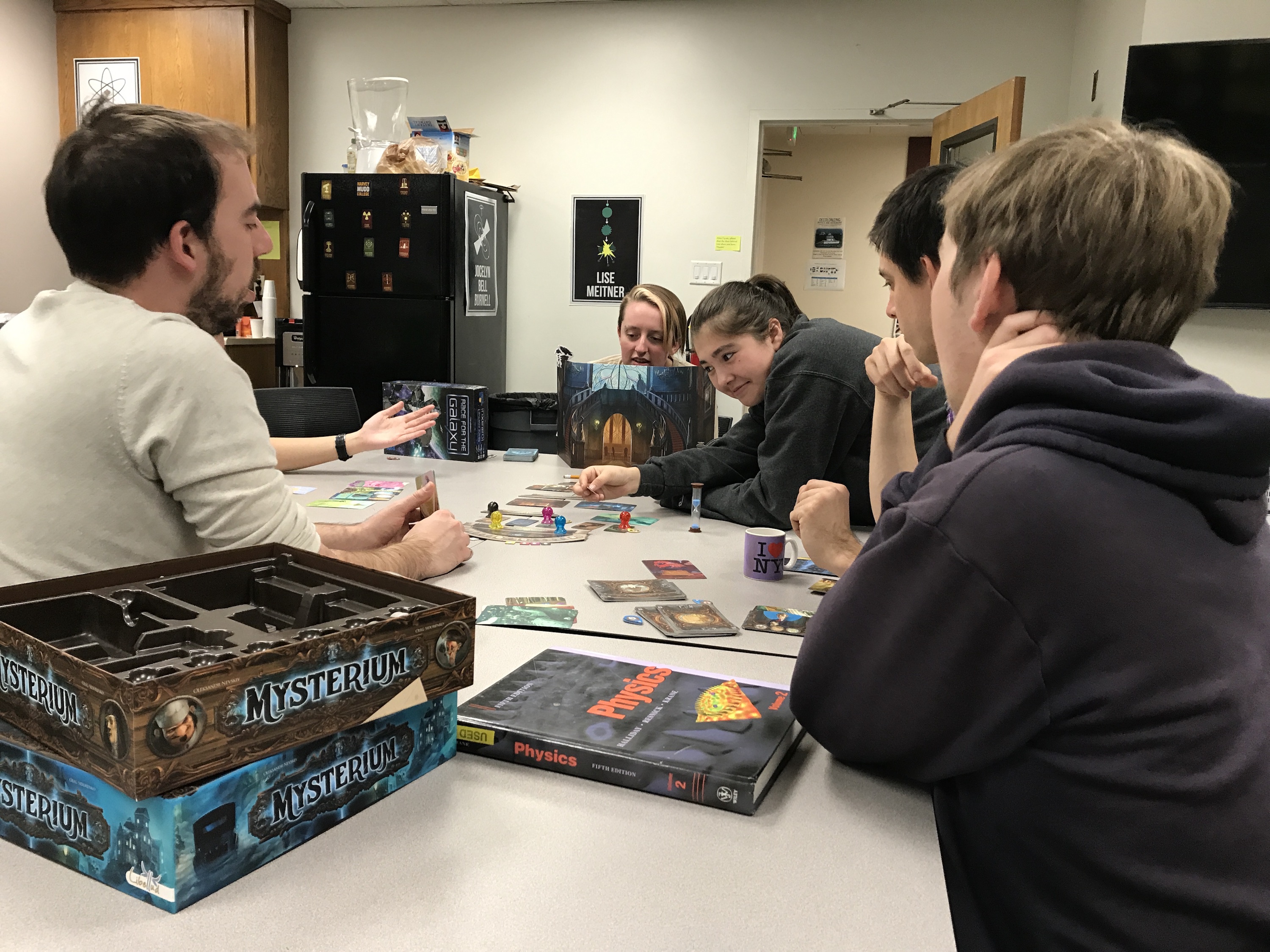 Profs Breznay and Shuve play Mysterium with some students in the physics lounge before finals week.
After finishing my first in-class final of the week on Monday, I grabbed some lunch and met with my Math group to finish up and practice our final presentation for Tuesday. Differential equations and linear algebra is super useful for modeling situations in the real world and the presentations in class were focused on topics that varied from the spread of diseases and species extinction to the lines at Disneyland. And there was also an a-maize-ing presentation about corn that the presenters were incredibly excited about, as you can see below.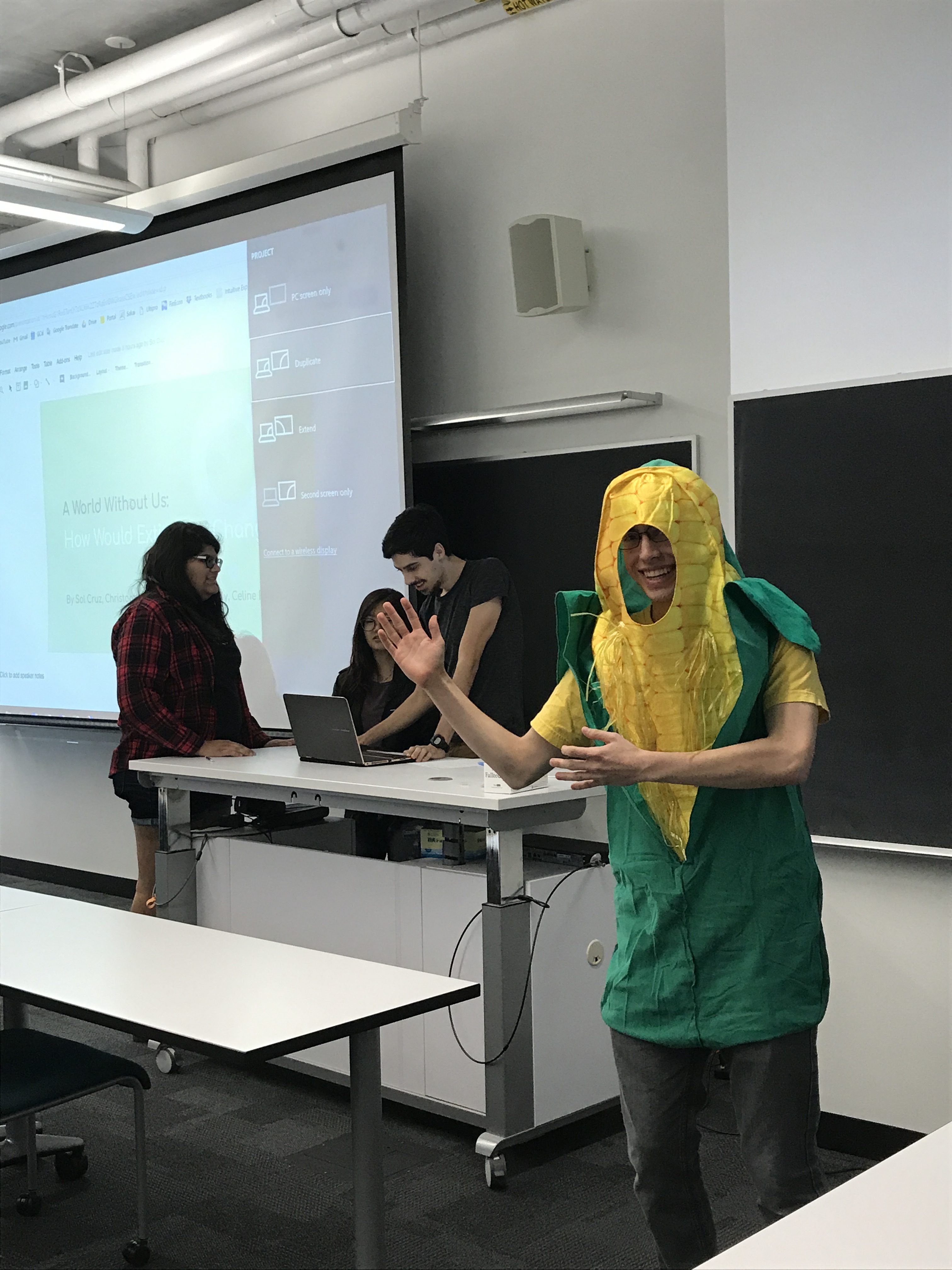 Owen Gillespie ('20) poses in his corn suit after his final presentation for Math 65: linear algebra and differential equations.
And for those of those who haven't visited Mudd, I should let you know that when you get on campus, there is always going to be noise coming from a couple dorms… However, during finals week, we have quiet hours 24/7 to ensure everyone has the ability to focus during this important week. But, there is one exception: from 8:45-9pm every evening, we have "noisy minutes" where students can be as loud as they desire for just these 15 minutes. This is a great opportunity for students to blow off steam and destress in the midst of everything going on. Additionally, there are special events held at the Hoch during this time including student performances and activities like zumba! The Hoch also provides some snacks to help fuel students through any late night studying they might be doing. Students zumba with Carla Becker ('21) who leads the group with her groovy moves.
And there are also a couple clubs that encouraged students to take a break from studying by subsidizing getting ice cream or coffee at any local ice creameries/cafes at any point during finals week. Some of my friends and I went down to the Village to get ice cream from A La Minute which makes their ice creams to order using liquid nitrogen.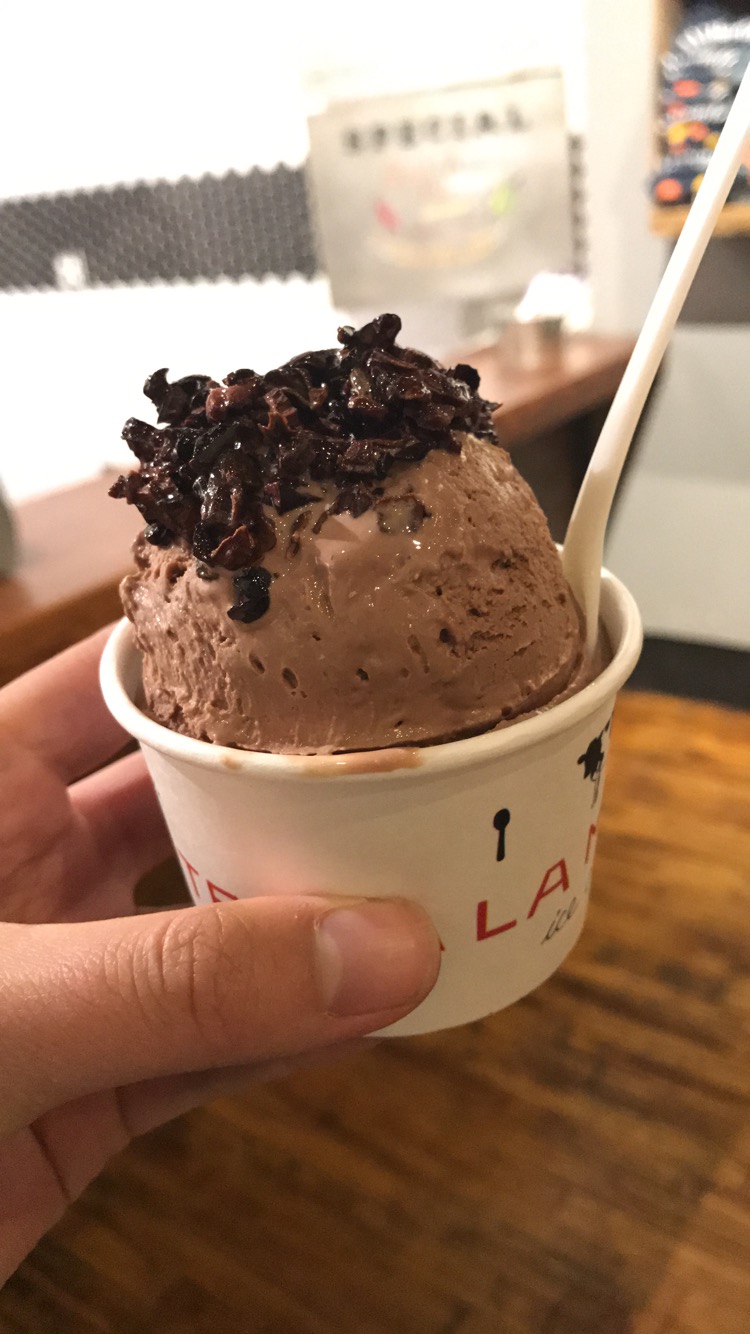 A picturesque scoop of chocolate lavender ice cream.
Well, now the week is over, campus is going to be empty for about a month before everyone comes back and the whole cycle starts up again…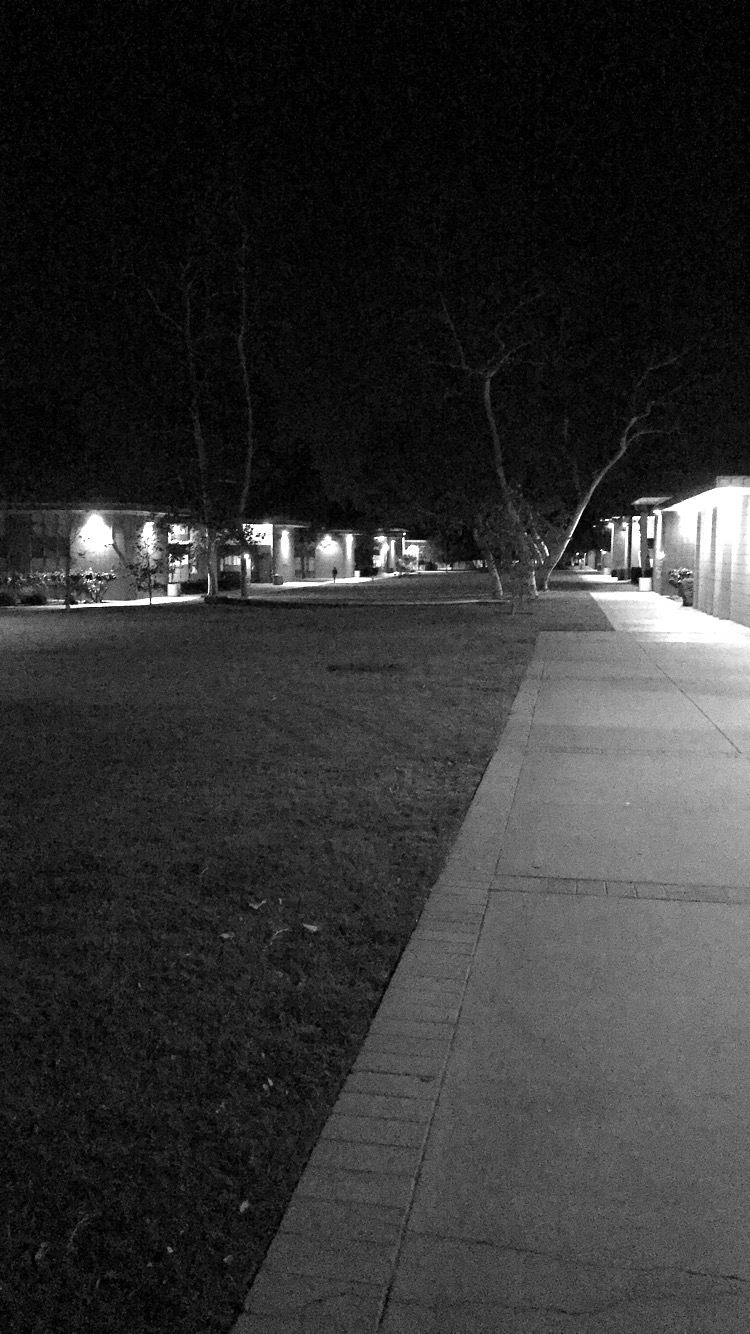 The quiet HMC campus on some night during finals week.