West Side Story: Meet Shamu
April 24, 2017
Hi all, long time no see, again. I've been meaning to be more regular about these but, as it would, life keeps getting in the way! No matter, because today I'm going to share with you a fun little tidbit about dorm culture. HMC prides itself on strong dormitory identities and cultures, and West Dorm is no exception. West has a fun tidbits tradition sprinkled through it's history, most recently this has included a fascination and celebration of an inflatable killer whale dubbed 'Shamu'.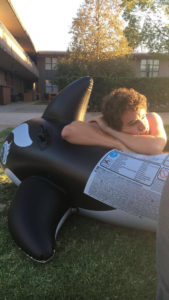 Rumor has it that Shamu first appeared after a social gathering at West in the spring of '16. Shortly thereafter Shamu's status as legend was affirmed when he was held hostage in West basement by rivaling dorm Atwoood. The standoff lasted for several hours, but in the end Shamu was returned safely to Westizens.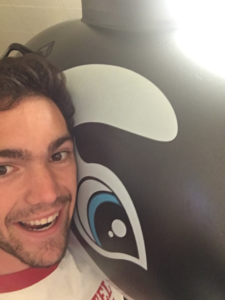 West has a curious history of displacing Shamu in particularly odd or inconvenient places only to be recovered by venerable West residents. This has included several unsuspecting bathrooms, showers, trees, ceilings, and a mountaintop. That's right. One time, students living in Case Dorm stole Shamu and took him to the peak of Potato Mountain (a popular hiking spot close to campus) and tragically abandoned the whale by a lookout spot. Thankfully, Shamu was rescued by a pair of Westies sorely invested in the safe return of the icon.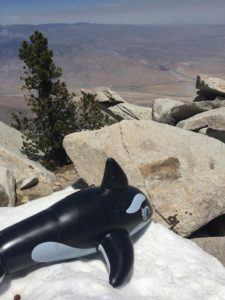 Since then Shamu has roamed far and wide across the Claremont colleges and LA area alike. He has attended music festivals and parties, cementing his celebrity status along the way. No longer does he reside solely in West lounge (among other locations), but in the halls of West infamy, and in the hearts of adoring Westizens. It's a classic example of silly West shenanigans, but also a true manifestation of the saying, "Time you enjoy wasting, was not wasted" (Marthe Troly Curtin). Hopefully this collection of cursory anecdotes gives you a sense of what some part of the Mudd community is like.