Spring 2017!
January 30, 2017
Mudders are back! While the problem set and midterm routine continues for sophomores, juniors, and seniors, freshmen will be embarking on their first, real, graded semester at Mudd. This semester of core for freshmen includes two math classes: linear algebra and differential equations, physics: Mechanics and Wave Motion, half-semester of chemistry, Critical Inquiry HSA10, Intro Bio, and either chemistry or physics lab. It's a very hectic semester, with room for one elective. Often, students choose between E4 Intro to Engineering Design and Manufacturing, CS 60 Principles of Computer Science, an HSA class, or just focusing on core's demanding standards. It's an exciting time, but also sometimes overwhelming. To this year's freshmen: know that upperclassmen are always willing to help! Reach out to your dorm's Peer Academic Liaison regarding study tips, class feedback, and any nervousness. We're here for you! Professors and deans are always good resources too.
My schedule as a second semester junior looks like this: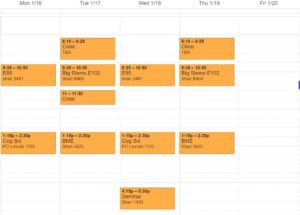 I'll probably be adding a credit of research, and perhaps another class.
Aside from anticipating this semester's struggles and planning possible spring break trips with friends, this break I mostly did a lot of relaxing. When I wasn't watching Mad Men, I continued with Stephen King's "It." I haven't really been able to make much progress with the book at school. I also met with a few members of Mudd's Singapore crew. Even though not all of our times at Mudd overlapped, we really enjoyed bonding about experiences. We had stories about core that we tried not to scare frosh Meena Venkataraman with, and jokes about the legacies that the alums left on the community , particularly Sid Srinivasan's indianfood-l listserv that still continues to feed us Indian food every week.
It's hard to believe it's already been two weeks since break ended, but I'm eager to see what awaits me this semester.
Congrats to all the ED admits! We are excited to have you! Feel free to contact us to learn more about Mudd life.