Harvey Mudd's Women Engineers in Philly: WE16
November 4, 2016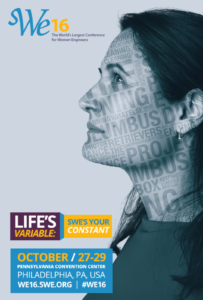 Last week, almost 30 of Mudd's many women engineers attended the Society of Women Engineers (SWE) annual conference, this year in Philadelphia.
We left Mudd at 4:30 am on Wednesday, reached Philly in the late afternoon, and walked around in the cold for a few hours, appreciating the historic feel of the city. We visited the Philadelphia Java Company (I highly recommend) and enjoyed dinner at Isabel King's '18 (one of the Mudd SWE co-presidents, along with Michaela Yaman'18) house.
With over 11,000 women engineers who attended it, WE16 was my first large-scale conference. It began on Thursday with plenary sessions and discussions for women in every stage of their engineering careers. Luann Pendy from Medtronic led the Opening Keynote with a focus on being aware of your strengths to improve yourself at work. Collegiate talks focused on adjusting to corporate life, or planning for on a PhD, while popular professional talks included balancing work and kids, or how to progress in your career. The general themes of the conference included the availability of support, the importance of balance, and being an independent, but well networked person in a large corporate or academic world. I found a workshop on salary negotiations particularly engaging.
On Friday, we did some sightseeing, turned big fans of Philly's famous Federal Donuts, and attended the Career Fair (over 250 companies!). In the evening, some of us attended the Mudd meet-up, where we got to eat dinner with Mudd alums and parents in the Philly area. I loved being able to connect with alums who had taken the same classes when they went to Mudd, hearing about their life experiences pre and post-graduation. I especially enjoyed hearing Mudd stories from Prof. Orwin and Prof. Lee, both of who are Mudd alums and accompanied us on this trip!
I loved bonding with fellow Mudd engineers, exploring Philly, and learning about what it means to be a professional, capable, and strong female engineer.  A big thanks to the Engineering Department and Mudd's SWE chapter for making this conference trip happen!