Resistors, Capacitors, Inductors, Oh My! (aka Summer in Beijing)
September 26, 2016
你好,
School is back in full swing, so I figure I should tell you all about my summer before I forget it entirely. After a brief stint at the admissions office I spent the majority of summer in Beijing, China, taking three courses at Peking University. I studied electrical engineering, Chinese history, and introductory mandarin. The program is described in full, but read on to get a more personal look at summer in Beijing!
My friends and I that participated in the program lived in the international hotel/dorm at the southeast end of Peking University. The campus is massive, housing some thirty-two thousand students during the year. Granted, there weren't close to that many students on campus by the time my friends and I arrived, but coming from a small, residential college of eight-hundred… it took some getting used to!
I took Introductory Mandarin, China in Transformation (a history of modern China), and Electrical and Magnetic Circuits. The last one is the electrical engineering course required for all engineering majors. In it we learned circuit analysis skills for passive circuits (resistors, capacitors, inductors) and then dynamic ones (lots and lots of transistors!). No idea what any of that means? Come to Mudd to find out! Our class was held in a traditional building on the old side of campus (read: impossible to navigate because of the tourists walking around), and on clear days the scenery was quite nice.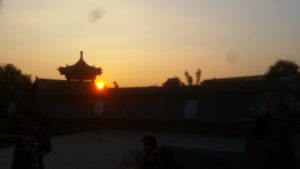 Besides being 书呆子人 (nerd people, we were called this by our teacher once), we spent our free time touring Beijing. The Great Wall? Check. Forbidden City? Check. To make up for our touristy-ness we also engaged in some less common activities, like spending a day with orphans from Tibet. We played games, meditated, got blessed by a monk dude, and are now still friends on WeChat. All in all, it was one of the better days in China.
I can't begin to encapsulate what my summer there was like in this teeny post, but I hope I can at least impart to you, fair reader, that here at Mudd there are some really cool ways to spend your summer.
Till next time,
再见