Sophomore Soliloquy
June 1, 2016
Hi readers, happy summer! With sophomore year in the books I thought it would be appropriate to reflect on the experience. This year has been a whirlwind of classes, swim meets, rockets, and all-nighters; chock full of unforgettable experiences and invaluable lessons. While I don't think I can compress the entirety of the year into a single blog, I hope to share some of the highlights.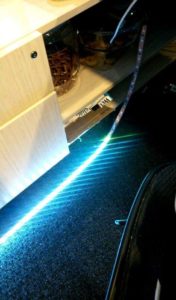 So I did a few really cool things this year. Two of my friends (shout outs to Kristin Lie '18 and Bryce Murley '18) and I, being swimmers, decided to make an LED pool pacer. You can read about it in the Mudd Makers post I wrote! The idea had been bouncing around in my head for a few years, but it was incredibly rewarding to finally see it come to life. What a logistic nightmare though; the LED strip would constantly break inside the waterproof tubing, just one of many problems we encountered. It really taught me about teamwork, cooperation, communication, and design.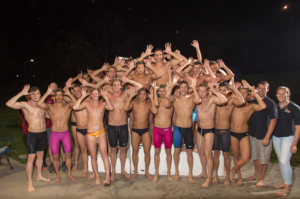 I became a better swimmer and teammate. Coming into the year, I had a best time of 1 minute 59 seconds in the 200 yard backstroke. It doesn't matter if that doesn't mean anything to you, the point is that at our championships (SCIACS), when the Stags were down 65 points in the last session of the meet, I finished first in my heat and 10th overall in a new best time of 1 minute 55 seconds. 5 top 10 finishes by my teammates (including 1st, 2nd and 4th) and 7 top 18 finishes in the 200 yard backstroke meant the Stags had brought the difference between us and first place (then Pomona-Pitzer) down to 16 points. Stags dominated the rest of the session to turn around a meet where we'd been trailing 3 of the 4 days. We beat Pomona-Pitzer to become SCIAC champions once again, and it was awesome contributing to the win.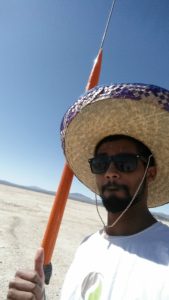 Completely unrelated, I also launched a rocket this year! I won't cover it in gory detail, since it's been written about in The Final Countdown and Constructing a Cosmic Cheeto, but I do want to share what a journey it's been. Before taking Experimental Engineering (E80) rockets were distant, hyper-advanced technical endeavors in a realm cohabited by NASA and Elon Musk. Countless lab hours and four successful launches later, I feel confident in my theoretical and practical knowledge of how rockets work. From sensor selection to data analysis, rocket simulation to rocket launch, my technical understanding, teamwork ability, and problem solving skills have grown tremendously. Dabbling in rocketry has made me grow as a capable engineer and effective team member.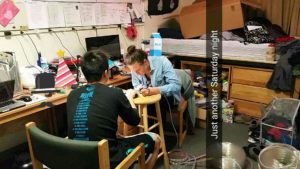 With that said, not everything has been a walk in the park. Often it's been more akin to a sprint through scorching desert (cramming for midterms), or a trudge through waist deep tar pits (poring through a 900 page datasheet for an Atmel processor). Nevertheless, through problem sets, labs, practices, meets, and tests, I've learned how to be more efficient and successful in the future, and I've also learned a bit about myself. Sometimes the two coincided, like learning to wolf down dinner between swim practice and E80 lab (my friends were shocked at anything but my slothly food eating pace). In any case, I'll make sure to take what I've learned and put it to good use in the future.
*chanting* Two more years… two more years…