Hyperlooping with SpaceX
February 10, 2016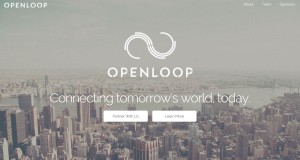 SpaceX's Hyperloop competition is the kind of thing I expect to hear about on the news or read an online article or two about, so it's surreal that I get to talk to my peers about their involvement in building a fifth mode of transportation. Last year, 10 Mudders teamed up with engineering professors Orwin and Clark to enter into SpaceX's competition; now they're designing automated controls for the pod on behalf of the OpenLoop alliance, comprised of four other colleges.
The team recently went to Design Weekend in Texas to present designs to SpaceX and Elon Musk, and was invited back to the big presentation in June! Here's what Jessica Lupanow '18 has to say about her experience working on the project.
"It is an insane opportunity to get to be a part of SpaceX's Hyperloop Competition. We're all working to develop a fifth mode of transportation–in college! Harvey Mudd's team is a part of the OpenLoop alliance, which includes Cornell, Memorial University of Newfoundland, Northeastern University, Princeton, and University of Michigan. Mudd is working on controls for our pod (since you can't have someone driving a pod traveling around 200 mph). At Design Weekend in Texas we got to meet over one hundred other teams in the competition and we learned so much from them and their designs. Everyone brought really exciting new ideas to the table. Elon Musk even stopped by! We were invited to Competition Weekend in mid-June in Hawthorne in the week following Design Weekend."
The alliance even has a website where they introduce each of their members and will soon put up a couple of plans for their pod design.
"Going forward, we plan to polish our controls algorithms, run a lot of simulations, and work with all of our other schools to present the best pod possible in June!"
It's really exciting to see Mudd students participate in such real world ventures; Jess says the team actually makes use of concepts we learn in our classes: "Our controls algorithm required us to derive equations relating sensor readings and physical phenomena using our mechanics knowledge, which we then put into matrices (with what we learned in linear algebra). This is all implemented within what's known as a Kalman Filter, which we learned about in E80!"
The Hyperloop might be ready in another 5 to 10 years, and to think that the OpenLoop alliance might contribute to that is incredible!