What do we watch?
July 18, 2014
Hey everyone! I know a lot of people engage in this fascinating thing called TV shows and so I thought I would give a glimpse into what we Mudders watch! This survey had 90 participants ranging from Class of 2014 to Class of 2017 and had a variety of male, female and other students. The first part was just to list their 5 favorite or most watched TV shows. Here are the results!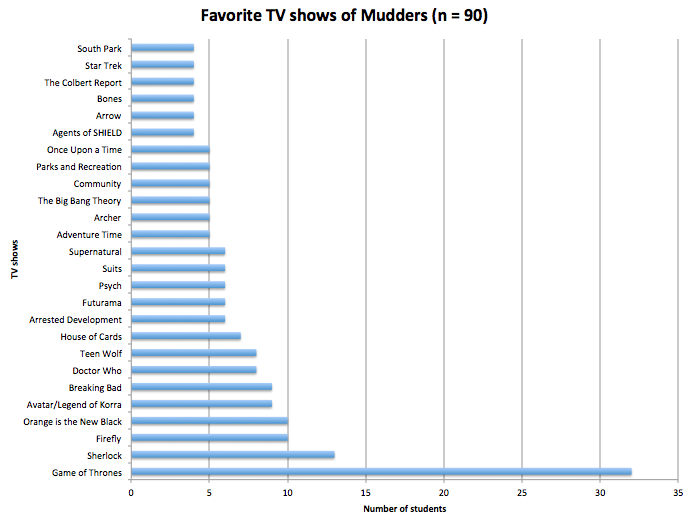 As you can see, Game of Thrones is pretty popular. During this last season North dorm showed it on our huge lounge projector every Sunday night so that we could watch it as a dorm (but anyone was free to join)! Sophia made this pretty word cloud for y'all:

After that I asked people to explain why they liked the shows so much and here are some of the responses:
"Parks and Recreation manages to have an incredible cast ensemble with unique characters. There is so much depth and creativity in their humor, character development and relationships, and story lines. I LOVE PARKS AND REC."
(Firefly) "Doesn't the words "Space Western" draw you in? The writing alone is intelligent, clever and thought-provoking, to say nothing of the aesthetics or the acting. The universe created is seamless, interesting and deep."
(Sherlock) "Benedict Cumberbatch's cheekbones."
"Teen Wolf is a hilarious mess of great and horrible acting mixed side by side, dramatic beyond belief, interesting elements drawn from different mythologies, and really hot actors. "
(Orange is the New Black) "It's funny, it's thrilling, it's deep, it's brilliant, it provides social commentary— and never before have I seen a show that provides such a range and depth of female characters. The women are phenomenal actresses, they beat down hollywood stereotypes, they burst out of the box the media puts women in— they're real, they're deep— the show tackles racism, sexism, homophobia, transphobia— AND IT'S SO GOOD, AHHH."
(Breaking Bad) "No other show universally breaks its viewers. The plot line is great, devoid of any fillers or cheap cliff hangers. Without a doubt, the character development and attention to detail is unrivaled in television. Its moral is clear and is hauntingly true; being good is a choice, not an inherent characteristic."
And here are some of the answers for GoT because it was the most popular and they were silly:
"EVERYONE DIES."
"So much detail and effort put into the show. And dat plot line!! Nothing happens as you expect so each episode keeps you on the edge of your seat!"
"Its got medieval fighting and politics and love and loss and nudity."
"They aren't afraid to kill favorite characters. Bye bye Starks!"
"cus it has magic and dragons and s—"
Finally I asked students to share something nerdy they had done. Disclaimer: Mudders are nerdy or not or anywhere in between – I just figured this prompt would get some interesting answers! I got a wide variety of answers (both nerdy and not), some of which are listed below:
"Made more money from speculating on Magic the Gathering cards than I have from actual jobs."
"Go on a video game date" (even I'm not exactly sure what that entails…)
"glasses"
"I lift yo"
"I play a lot of video games. And actually I guess more "nerdy," I probably research and collect video games more often than I play them."
WoW, D & D, obscure Japanese RPGs, etc
"I once quit a take home test early because the NFL Draft had started"
"Gone to Mudd" popped up quite a few times
cosplaying, costumes, and capes
learning just cause
Hopefully that gave you a random glimpse of people's interests here at Mudd! If you have questions, email me at regerter@hmc.edu!