Reverse Culture Shock
July 1, 2014
I just got back from 4.5 amazing months studying abroad in Madrid, Spain and I'm experiencing some reverse culture shock…
First, you might have noticed that I haven't written a blog post before, so I'm going to take a short break to introduce myself. My name is Sophia Williams and I am an engineering major going into my senior year at Harvey Mudd. This summer I am working in the Admissions office as a senior interviewer. Some interesting facts about me are that: I am going to be a Sontag Proctor next year, I am a voracious reader (I mean it, I actually eat books), and I can make a wicked cherry cobbler. Now, back to the story:
Spain was amazing! I studied at the Universidad Carlos III where I took engineering and humanities classes, I did an internship at a sustainable architecture firm called Natureback, and I practiced Spanish with my friends and host family. I am really excited that I'm back on Harvey Mudd campus, but there are some things that I really miss.
Por ejemplo, I miss Spanish fast food: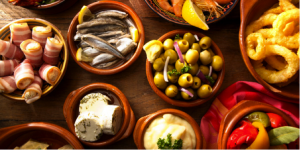 I miss my neighbors: the other 47 European countries. I miss the architecture like the Palacio Real de España and the 90 or so cathedrals. But first and fore most, I miss my host family and my roommate: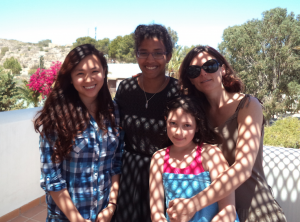 The best part of my experience in Spain was meeting new people. I made a lot of friendships with Spaniards and with the people in my study abroad program. So when I left I was already starting to miss Spain. I was pretty shocked when I landed in San Francisco International Airport. The first thing I noticed was that, some things really are bigger in America (images are not shown to scale):
I already was feeling a little stunned when I accidentally knocked into someone and said "Perdón" in a Spanish accent. For the next couple of days I was approaching every new person prepared to speak in Spanish. I still miss the sound of the language.
It's been about 3 weeks now and I am finally starting to adjust back to living in the US.  The World Cup has helped a lot. However, I don't think I'll ever stop missing Spain and the amazing people I met there.
If you have any questions about studying abroad at Harvey Mudd College, please don't hesitate to contact me! My email address is srwilliams@hmc.edu.