The Claremont Village
January 26, 2013
When talking to prospective students and families about Harvey Mudd and the Claremont Colleges we sometimes forget to highlight one of the better features of the area, the Claremont Village. The Village is our downtown area, home to over 150 businesses. It has everything from shops, hotels, specialty boutiques, art galleries, entertainment venues, a movie theater, and a wide range of establishments where you can fill your belly and wet your palette. It also plays host to a number of events throughout the year from Farmers Markets to Wine Walks.
I have been around the Claremont area since the late 90s and it is amazing to see how the Village has expanded and grown over the years. It has always had its charm, but now it definitely rivals the most popular "old town" areas in Southern California. When you are paying a visit to HMC or any of the 5Cs, taking a stroll through the Village is a must.
During our winter break my 3 year-old daughter (Lailah) and I visited a few of my favorite spots in the Village. You will notice that my stops were sort of dominated by places to eat…a little known fact about my colleagues and I in the HMC Office of Admission is we LOVE food. I'm not sure I'd drop the "foodie" tag on us because we aren't too snobby about it, but discussing restaurants, recipes, and shows on Food Network often finds its way in our conversations. Anyhow, who doesn't love food?
The first place was actually an unexpected stop…as Lailah and I were getting out of the car we ran into HMC Director of Admission Peter Osgood. He and his family were enjoying a meal here…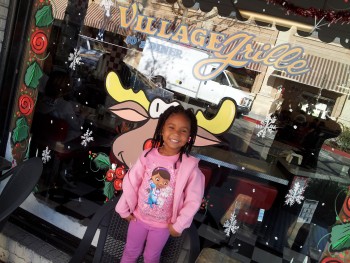 If Dinners, Drive Ins, and Dives ever shot an episode at the Village, the Village Grille would probably be the first place featured. This is Claremont's own 50s diner. Great breakfast, burgers, shakes…and as Peter's son Connor can attest, great hot chocolate!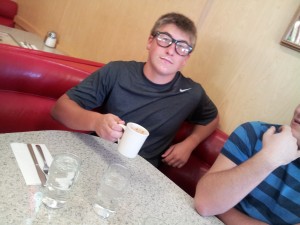 It was nice bumping into the Osgoods, but Lailah and I were on a different mission. We were in town to grab a cupcake from the best bakery in town, Some Crust.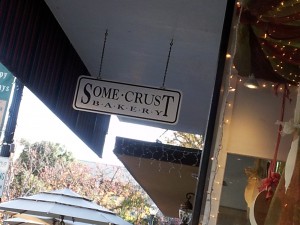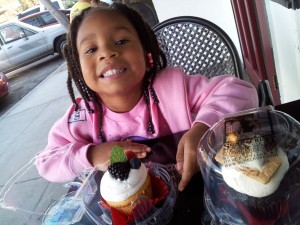 This place has awesome pastries, cookies, everything really. Lailah went with some fruity, mint topped cupcake (I think it was cream filled too) while I decided to go the healthy route and ordered the S'mores cupcake!
After slamming our cupcakes we walked it off by heading over to my favorite place in the Village that isn't a restaurant, Rhino Records.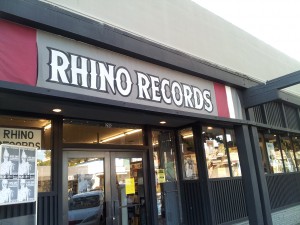 OK class, in the dark ages (pre iTunes and Amazon) people had to go to brick and mortar locations to purchase their music, and they played their purchases in devices called record players or cassette decks. Seriously though, there aren't a lot of places still around like Rhino Records. They sell all of the radio friendly popular artists as well as music from independent artists and labels. This is also where DJs and vinyl collectors can go to add to their collection…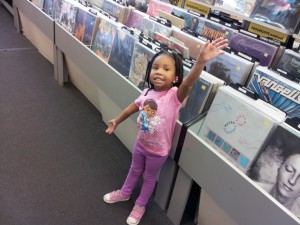 Our next stop is my favorite eatery in the packing house area, Eureka Burger!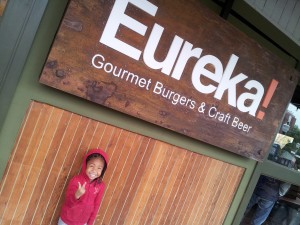 I have since found out that there are other Eureka Burger locations in California, but this is the only one in our area. I usually go with the Bison Burger (topped with a bacon infused jalepeno jam), but on this day I went with the Fig Marmalade Burger (with bacon and goat cheese). Lailah recommends the lollipop corn dog appetizer.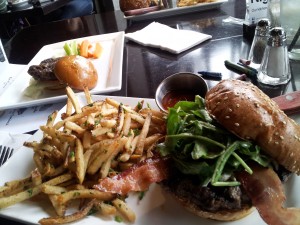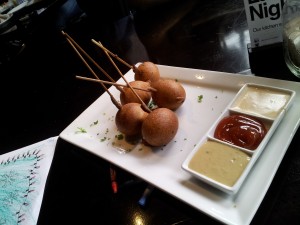 The Packing House area is the most recent addition to the village. It has a lot of cool places, a Jazz club that serves fondue, a Comedy Club, the Claremont Chef's Academy, and neat classes to take like this one…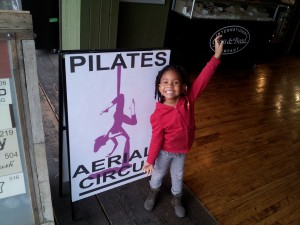 Back at the main part of the Village, Lailah wanted a grilled cheese for lunch so we went to the first restaurant I had ever been to in the Village, Heroes & Legends…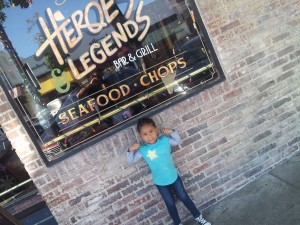 If you have peanut allergies you should probably stay away from this place as you get a bag of peanuts while you wait for you food, and when you're done with the shells you toss them on the ground (Lailah got a kick out of that). This is also not the place to come if you have a small appetite because Heroes specializes in HUGE portions, thankfully they let people split most of their entrees. I just got a basket of calamari and shrimp, so nothing crazy, but check out the size of that mug…needless to say I did not have a refill.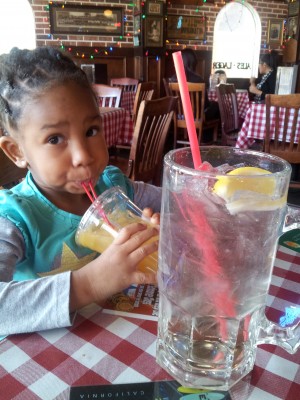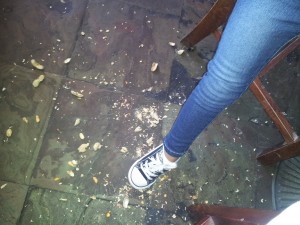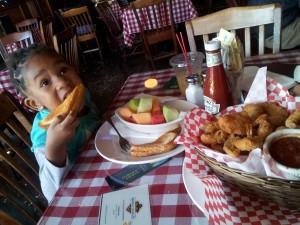 Our final stop brings us to Lailah's favorite place in the Village, Yogurtland.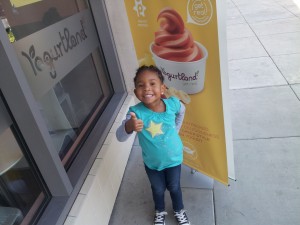 Best place to come if you aren't quite sure how to cure your sweet tooth craving as they carry a broad range of flavors from red velvet cupcake batter to peach tart to NY cheese cake to double cookies n' cream. They also have a full topping station with everything from fresh fruit to cereal. Everything is self service, and you are charged by how much your creation weighs. Lailah went with the fresh strawberry yogurt topped with strawberries and brownie bites, and I got the toasted coconut topped with lychee fruit.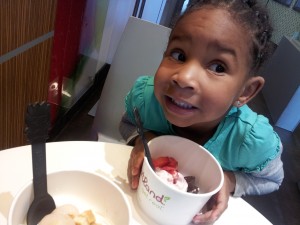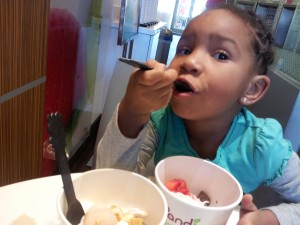 Since this only scratches the surface of the variety offered in the Village I will probably do a part 2 (and maybe a part 3) to show the range of options offered. I'm thinking my waistline will appreciate a "lighter" tour of the Village next time!
In closing Lailah and I have to give a special shout out…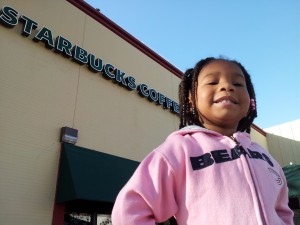 During the shooting of this blog, in true 3 year-old fashion, at the most inopportune time Lailah informed me that she had to go potty. Fortunately the fine folks at Starbucks allowed her to use their restroom without forcing me to buy anything…this was the "after" photo 🙂
Hopefully you enjoyed this snapshot of the Village, I'll probably do the next one when the weather out here gets better (right now we're suffering through a  BRUTAL stretch of temperatures creeping below 70 degrees with partly cloudy skies…BRUTAL). Until then…