Oh, the Places Mudders Go!
January 3, 2013
Happy new year, everyone!
It's 2013. The application deadline was yesterday. It's sunny out. It's an absolutely wonderful and exciting time of year! If only students were around… And I had awesome things to blog about, but alas, Mudders need their well-deserved break so I'll just have to come up with something amazing on my own.
I think I'll take my cue from this new year's Rose Parade themed "Oh, the Places You'll Go!" For those of you unfamiliar, the Tournament of Roses Parade is, according to Wikipedia, "America's New Year Celebration" held each new year in Pasadena, California. And "Oh, the Places You'll Go!" is a book by the great Dr. Seuss and is typically a graduation present favorite, at least seemingly so at HMC.
Well, where have some recent Mudd graduates gone? A little bit of everywhere to do a lot of everything. I surveyed some alumni from my Google chat list and here's what I got –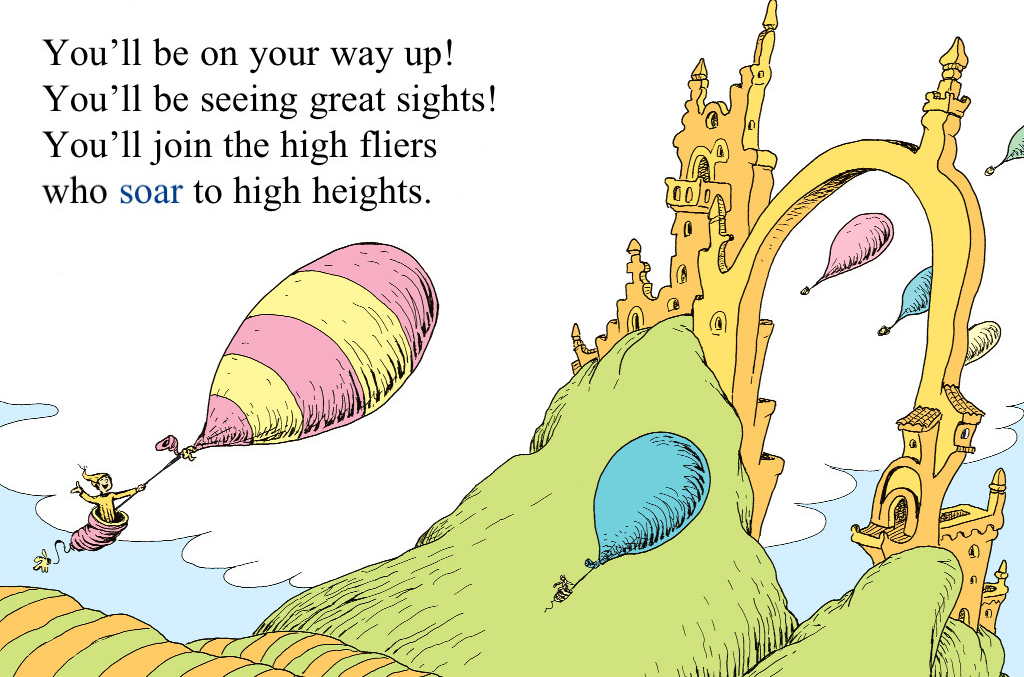 Craig Weidert '07
Major: Math-Computer Science
Current Location: Echo Park (Los Angeles), CA
teaches statistics and geometry at a LAUSD arts magnet school
Nadia Abuelezam '09
Major: Mathematical Biology
Current Location: Boston, MA
Doctoral Candidate in Infectious Disease Epidemiology, Harvard School of Public Health
Dissertation topic: Mathematical models for HIV transmission and prevention
I am where I am today in large part to the guidance given, opportunities provided, and research accomplished at Harvey Mudd College by my professors, and most notably because of the HIV/AIDS course at Harvey Mudd and the school funded trip to work with THE AIDS Support Organization (TASO) in Uganda in the summer of 2008.
Donna (Phu) Mayeda '09
Major: Biology
Current Location: Columbia, SC
Medical Student, University of South Carolina School of Medicine
After developing a passion for learning at Harvey Mudd College, I decided to pursue a career in medicine so that I can put the education I've acquired into benefiting others. (Donna felt like this sounded super cheesy, but I like cheddar.)
Claire Walker '10
Major: Chemistry
Current Location: San Francisco, CA
works at Engineering/Remediation Resources Group, Inc. (ERRG) doing environmental consulting and construction
I found out about ERRG through the Office of Alumni and Parent Relations because 2 Mudders previously worked here, and I stayed because I love the variety of jobs and the atmosphere of the company.
Roque Muna '11
Major: Engineering
Current Location: Los Angeles, CA (soon to be New York, NY)
works as a Freelance Challenge Producer (for shows like Big Brother 14)
After sitting at a desk for a year, I knew that I really needed something more exciting that utilized my creativity so when an opportunity to jump into the entertainment industry presented itself, I didn't hesitate and now I've been jumping from reality show to reality show for almost 7 months producing challenges.
This is a pretty (more like really) small sample of young alumni, but I think it's still a great representation of the different paths Mudders will walk post HMC.
Where are all the places we'll go? I have only one answer, amazing places! Would you like to join us? Isotope so! (That one's for you, Peter.)