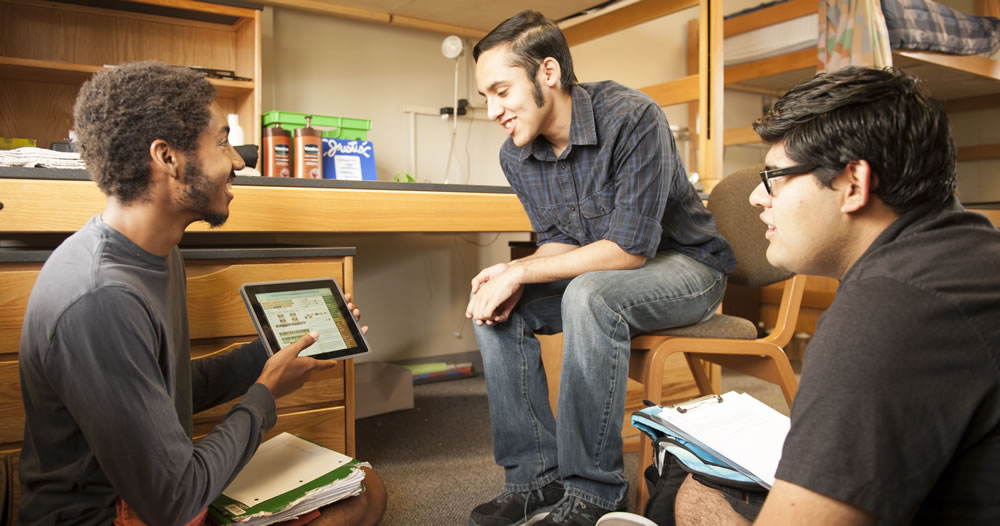 Important: Overnight visits will resume in Fall 2016.
An overnight visit is the best way to experience student life at Harvey Mudd College. We offer overnight visits—Monday through Thursday—in our residence halls from late September until Thanksgiving and throughout February. During your overnight visit, you can take a tour, participate in an interview, eat in our dining hall, sit in on classes, and meet our amazing community!
To register for an overnight visit, please see our Overnight Visit Calendar. Only high school seniors may stay overnight. You will also have the option to add a campus tour, an information session, and an admission interview to your visit to Harvey Mudd.
Overnight Visit Checklist
Register for an overnight visit at least two weeks in advance of your visit date. You will need a parent/guardian to complete the Harvey Mudd College Overnight Visit Policy section of registration. We request arrival time information to help facilitate connecting you with your overnight visit host.
Plan/book your travel, including ground transportation, to Harvey Mudd College campus.
Plan the remainder of your visit. Check the class schedule and decide which classes to sit in on. You may also consider emailing faculty to arrange a brief meeting.
Pack for your visit:

Pillow and sleeping bag
Towel and toiletries
Clothes and a book or some homework for free time
Some cash for a late-night snack at Jay's Place (vouchers are provided for meals at our dining hall) or souvenirs from Huntley Bookstore

Enjoy a wonderful and informative visit to Harvey Mudd College!
Overnight Visit FAQs
Who will be my host? What dorm will I be staying in? Where will I sleep?
You will receive an information packet upon arrival at campus. The packet will include your host's name, dorm room and contact information, as well as some important emergency contact numbers. While some hosts are able to offer more comfortable accommodations (i.e., a couch), most students on an overnight visit sleep in their sleeping bags on the floor.
What time should I arrive/depart?
Students should plan to arrive by 4:30 p.m. to check in with the Office of Admission. Please plan to arrive no earlier than 8 a.m. and not during the lunch hour (between noon and 1 p.m.). Outside of this, we recommend you choose arrival and departure times that works best for your schedule. We highly recommend you include a campus tour and interview in your visit. You may also consider attending an information session and sitting in on select classes.
When should I schedule for a campus tour and/or interview during my visit?
We recommend scheduling your campus tour and interview around classes you would like to sit in on. Campus tours and interviews are offered many times a day, while certain classes may only meet once during your overnight visit.
Do I need to give advance notice for the classes I would like to sit in on?
You do not need to give any notice for the classes you are attending. We only ask that you check in with the Office of Admission before attending classes. We also suggest you arrive early to introduce yourself to the professor before class starts. Faculty members are always very welcoming of prospective students and may even point you to another class if it is not a great day to observe theirs (i.e., exam days). You will find the current course schedule in Visiting Classes.
I am flying into LAX/ONT airport, how do I get to/from campus?
We suggest arranging for transportation through Super Shuttle. The service picks up and drops off directly on campus. If possible, we recommend flying into Ontario Airport. It is a nice, low-key airport just 10 miles east of campus. Most current students fly in and out of Ontario Airport and use Super Shuttle for ground transportation.