Dorm Cultures: Time to Relax!
February 3, 2023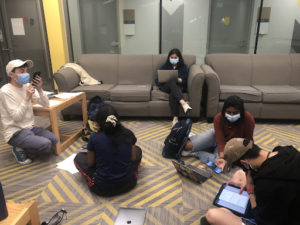 Here at Mudd, each of the dorms has a distinct culture. Here's a light post on a few of the quieter outer dorms – perfect for a student seeking a more mild and relaxed vibe as they enter college life.
Sontag
The best dorm (ahem… without bias, of course), Sontag is a quiet outer dorm. For starters, music generally is never playing (this goes for the two outer dorms as well.). It's a terrifically quiet place to get work done, or if you want a more relaxed, slower paced dorm. 
Dorm Style
Dorms are arranged into apartment-style suites, usually consisting of five people. There are 3-4 rooms, with a shared common space. Freshmen will share a room with a roommate. Unique to Sontag, every suite is fitted with a full kitchen, complete with a microwave, oven, stove, and full-sized refrigerator. Normally, this suite is reserved for upperclassmen, so every freshman duo will be paired with three older students; it creates for a nice dynamic where the upperclassmen can interact with the freshman and help them.
Lounge
Sontag's lounge is an impressive, massive, one-and-a-half story lounge complete with two pool tables, a foosball table, a sizable collection of textbooks, and a projector for movie nights.
Events
Next, the events are far more low-key; our most notable one is Suntag, where we enjoy baked sweets like brownies, cupcakes, and more while bonding over a refreshing glass of lemonade. We also have Tea Time with Professors, where students get the opportunity to casually talk with faculty in a relaxed atmosphere, while enjoying a hot cup of tea. Finally, we have Tres Chic, our signature event of the year. Here, we dress to the nines, put on some classy tunes in the main lounge, and enjoy some fine breads, cheese, and ciders. You wanna feel classy? The "senior retirement home" is a dorm where you can kick back and relax.
Drinkward
Have you ever thought to yourself, "I'm an adult now! I wanna feel like a grown up and live in a condo!"
No…
Okay, fair enough. Regardless, Drinkward is certainly unique amongst the dorms. It's the newest complex, completed in 2015, and it shows–lots of glass, it stands out against the other dorm buildings.
Dorm Style
Dorms are arranged into two sides, o-side and suite side. Per its namesake, suiteside consists of 10 suites, each with one triple and two/three singles. O-side, on the other hand, has a more shared style, with three floors, each with a swathe of singles, doubles, and triples. Each floor shares a communal bathroom and common lounge.
Lounge
Drinkward has one main lounge, which is a large, glass-encased room with a ping-pong table and a large kitchen. In addition to that, O-side has its three floor lounges.
Events
Drinkward is a bit quieter in terms of events. It's home to the LLC on its second floor lounge; the LLC is the Living Learning Community, and it's a group that discusses social justice issues while maintaining a respectful environment. They also host fun group events together! Otherwise, it's a very quiet dorm, without too many events; so much so that in the past, they're nicknamed the "No Culture Culture Club".
Case
To round off the set of quiet dorms, we have the pink-walled Case.
Dorm Style
Dorms are arranged into four sets ("L"s), one on the upper left (upper left L/ULL),  lower left (LLL), lower right (LRL), and upper right (URL). There's a mix of singles, doubles, and triples, and no suites. There are communal bathrooms, and a large courtyard in the center.
Lounge
Case's lounge is split into two sections, one lounge on the first floor, and a second, two story lounge on the second – referred to as two-story. There's a pool table, a poker table complete with cards and chips, and a set of comfy couches and bean bags.
Events
Case's signature weekly event is Poker night, so this is a perfect place for all you card-counting aficionados. Alternatively, if gambling is less your style, there's a Wine and Cheese Wednesdays as an opportunity to socialize with your peers and upperclassmen. Finally, Case hosts the signature Case Sing-a-long, a popular karaoke party that is loved by many Mudders.