Fun October Events on Campus
November 23, 2022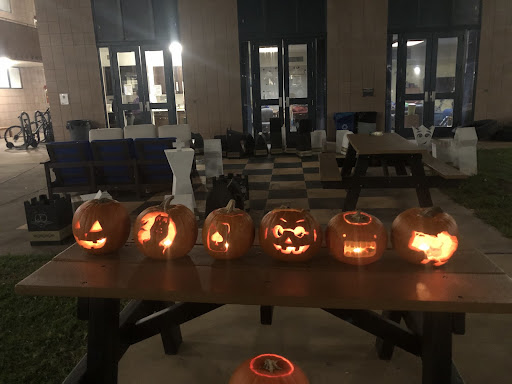 You probably already know that it's fall. The days are a little shorter, the temperatures are a little cooler, and maybe the leaves are turning pretty colors where you live. The weeks have flown by and it's already November. It's the height of college app season and midterms, but it's also the perfect time right before the holidays to look back and reflect on all the fun things that happened in October!
It's commonly known that Mudders are very busy. Personally, my schedule is packed full of classes, homework, and most importantly, FUN! The fact that Halloween falls during October means that there are lots of very fun Halloween themed activities and events. At Mudd, Halloween was much more popular than I expected it to be. There are several big Halloween parties at Mudd and other campuses (if that's your thing). I did not attend any of these parties, but my friends and I went trick or treating at the dorms!
As you might be able to guess, my costume was a little bit last minute (I was a sheep btw), but I still had tons of fun. The fun was also not limited to just trick-or-treating. The Division of Student Affairs (DSA) made a small circus themed haunted house. I was not excited to go through but I ended up enjoying it. DSA also hosted a costume contest that had categories for students, student groups, pets, and professors!
The Residential Life Teams (students who organize dorm events) also organized Halloween themed events such as pumpkin carving.
The Harvey Mudd Makerspace even joined in on all of the Halloween fun! There were workshops every day leading up to Halloween. I attended two of these and had a fantastic time. At the first one, students got to print their own poems on the printing press (picture below). The second one I attended gave students the opportunity to use pre-carved linoleum blocks to print T-shirt designs! Workshops like these give students the opportunity to make something while also learning a new skill set. (You may have seen a post about the Makerspace workshops either through the @hmcadmission instagram or @hmcmakerspace instagram.)
All of the events that I talked about were related to Halloween. It turns out that there are just so many fun things to participate in at Mudd that I cannot include all of the fun and exciting activities for an entire month into just one blog. Don't take this to mean that Mudders have tons of free-time to do whatever we want (believe me, we don't), rather it means that the students at Mudd prioritize a healthy work-life balance which means having plenty of fun.