A Summer Weekend
August 4, 2014
I hope everyone is having a great summer! I'm going to walk you through the adventures of my weekend including the CCR, some nice food, and a hike complete with a surprise ending.
So the weekend began with the CCR (Claremont Colleges Reception) which we hold so prospective students interested in more than one of the Claremont Colleges get a chance to check them all out! It begins with a overall view of the consortium, then a more focused view at each of the campuses and finally students and their families get the opportunity to take tours at 2 of the 5 colleges.
Right after that I headed with some friends to Rowland Heights for some delicious dim sum!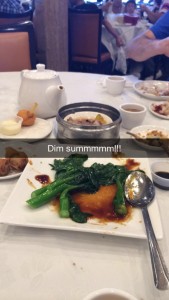 Then on to get some boba and shaved ice!
Welp after those two meals we were exhausted and spent the rest of the day lazing about. But, we decided, the next morning we were to take on an epic journey – Mt Baldy….
Turns out there were thunderstorm warnings so we actually decided not to climb super high because lightning is cool, but not when it's touching me. Instead we hiked up to Icehouse Saddle, an entirely uphill climb of 3.6 miles and then back down. Cassie decided to be the dedicated photographer and here are some of the best!
I've taken a poll and at least 40% of the legs are sore, but it was a wonderful climb with fabulous views.
duh duh duuuuuhhhhhhh (dramatic music) So remember when I said there were thunderstorm warnings? Well that happened: On the way back down it started raining off and on and there was thunder but we made it back to the car alive and sopping wet. Here is where it gets a bit crazy – when there is a lot of rain all at once in the mountains gravity does its thing and all the water wants to go places resulting in flash floods so the ride down the mountain was a bit intense. This is what the road looked like in a lot of places (and we heard that it got a lot worse later!):
We did make it down safely and to top it off, once we got back to campus our phones received some nice and rather late flash flood warnings!
That was my weekend! Email me if you have any questions at regerter@hmc.edu!