"Arts at Harvey Mudd College: Goings On," by Julia Hong
September 15, 2022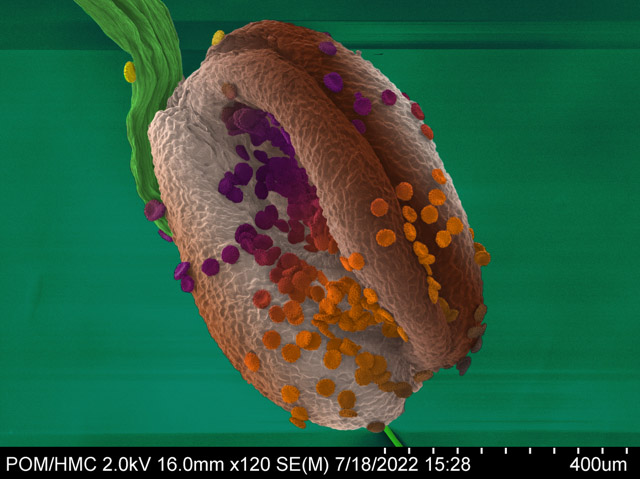 It is with extreme pleasure and thanks that I announce the 2022–2023 program of Arts at Harvey Mudd College presented by the HMC Department of Humanities, Social Sciences, and the Arts.
The concert series at the Drinkward Recital Hall continues to treat the audience to intriguing music and sounds: Ian Dicke reimagines American folksongs with electronic technologies; Bill Alves (HMC professor of music) presents new compositions for gamelan instruments, violin and cello with video; the Los Angeles Clarinet Choir returns with original works and transcriptions; Jenny Soonjin Kim and friends perform chamber versions of the Mozart piano concerto K. 466 and the Beethoven Triple Concerto; Gamelan Merdu Kumala creates a live score of the silent animated film classic "The Adventures of Prince Achmed;" and pianist Aron Kallay performs works by Scriabin, Messiaen and Alvin Curran plus new commissions from Rajna Swaminathan and Dante De Silva, which explore "ecstatic states in music." Furthermore, we look forward to HMC students delighting the audience during fall and spring student recitals.
Sprague Gallery continues to work with artists from across The Claremont Colleges. This year we'll present six solo exhibitions: paintings by Sharda Umanath from the CMC psychology faculty; paintings by Charles Becker POM '23 (art); ready-to-wear by Cayman Chen CMC '25 (psychology and art); drawings and sculptures by Vivian Monteiro SCR '23 (art and media studies); paintings and animations by Meghna Pamula CMC '25 (data science and government); and scanning electron microscope images by E. Bacon-Gershman '23 (chemistry). The works I have selected suggest various forms of subjectivity and, for and with subjectivity, call for imagination and resistance each in their own way.
Additionally, to showcase interdisciplinary artwork, the gallery hosts an exhibition by the HMC Department of Mathematics and continues to call for works made in the HMC Makerspace.
For more information, visit the Arts at Harvey Mudd College website.
Julia Hong is the arts director for the Department of Humanities, Social Sciences, and the Arts.