"Lights, Walls, Action: Renovations Improve Sprague Gallery's Flexibility," by Julia Lee Hong
December 4, 2019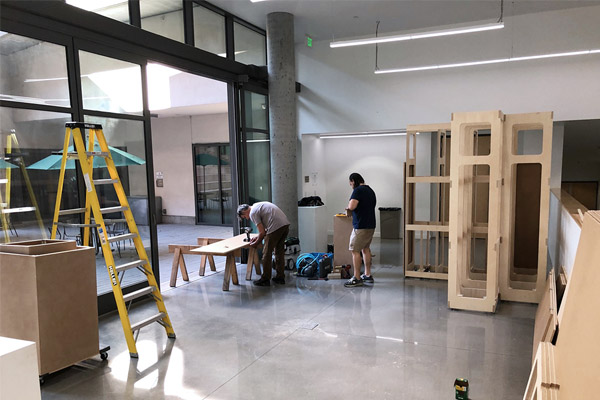 The Caryll Mudd and Norman F. Sprague Jr. Gallery located in the R. Michael Shanahan Center for Teaching and Learning is the main art gallery of Harvey Mudd College. Adjacent to Drinkward Recital Hall, which hosts the College's concert series and lectures, the gallery experiences considerable foot traffic and is frequented by both students and the public.
During the planning of the Shanahan Center, the gallery space was developed to manifest the College's commitment to the arts as part of a humanistic approach to STEM education. The gallery remained relatively empty for several years, in need of more artistic direction. Recently, the Department of Humanities, Social Sciences, and the Arts has more consciously contributed to its growth with the creation of an arts administrator position, which I have occupied since 2017. I have worked in coordination with arts Professor Ken Fandell, the Michael G. and C. Jane Wilson Chair in Arts and the Humanities, to activate Sprague Gallery and to launch various curatorial projects. In addition to presenting regular exhibitions of HMC art courses in photography, interdisciplinary art and art history, our exhibits have included theme-less, consortium-wide open calls to gain an overview of what art and concerns exist within The Claremont Colleges community and to share these with HMC students and public viewers. We've welcomed all media, including painting, drawing, sculpture, installation, photography, video, writing, spoken word and performance.
However, curatorial challenges surfaced. While the gallery's architectural elements, such as sliding glass doors, high ceiling and columns, helped create a sense of artistic space, the room is constrained by its use as a building entrance and pathway to the recital hall, its limited wall space and its shadow-casting lights, which make it difficult for displayed art to fully claim the space.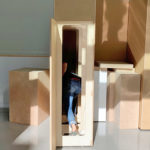 In summer 2019, renovation was made possible by the generous gift of theoretical physicist and abstract acrylic painter Paul So '88. New lights were installed this fall, and walls and pedestals were constructed by Los Angeles-based artist and fabricator Greg Kozaki, whose experience includes assisting artist Chris Burden with engineering and building Metropolis II, on permanent display at LACMA. The Sprague Gallery's new, free-standing walls have wheels to allow flexible exhibition design and are hollow to store works and supplies during exhibition installation and to clear the way for those passing through. The movable walls will soon be smoothed, painted and ready to provide a home to many works of art.
These walls, for me, are a reminder of the sensitivity and responsibility that go into presentation and preservation, not only of art, but of any idea, product and being as part of a community. Without a doubt, the renovation of Sprague Gallery and future exhibitions will have an impact on the campus culture.
Julia Lee Hong is the arts administrator in the Department of Humanities, Social Sciences, and the Arts at Harvey Mudd College.