"Love Knows No Borders," by David K. Seitz
January 2, 2019
In December 2018, less than three hours' drive from Harvey Mudd College, 400 religious leaders were arrested during a demonstration at the U.S.-Mexico border, where San Diego meets Tijuana. Representing numerous faith and spiritual traditions, these activists marched in solidarity with the caravan of migrants from Central America traveling through Mexico and seeking refuge in the United States from political and economic violence at home. Answering to the ethical authority of their religious and spiritual communities rather than that of national officials, these leaders insisted that, "love knows no borders."
We live at a time when the power of national governments to restrict people's access to movement across geographical borders has come under increased scrutiny from a broad swathe of the U.S. public. But as many migrant justice activists and social movement scholars have long pointed out, the violence that borders impose on the lives of migrants is far from new, and is not limited to any one political administration, nor to the United States. People of various religious faiths, likewise, have long played a crucial role in struggles for the rights of migrants to free movement, as the ethical commandment to welcome the stranger and care for the vulnerable is one shared by virtually all religious and spiritual paths.
As a cultural geographer, I am interested in how people form community and identity through space, and in how different understandings of community can motivate people to transform the spaces through which they move. One major strand of my research examines public debates over asylum and the rights and struggles of asylum-seekers, and the everyday practices of organizations that serve refugees.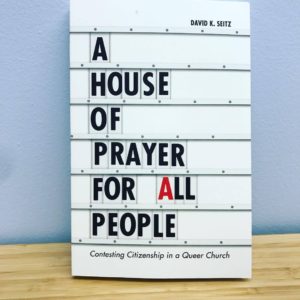 My first book, A House of Prayer for All People: Contesting Citizenship in a Queer Church, investigates people's experiences of belonging and exclusion at the Metropolitan Community Church of Toronto (MCCT), a large, predominantly lesbian, gay, bisexual, and transgender (LGBT) Protestant congregation in Toronto, Canada's largest city. Based on three years of interviews and participation in worship services, much of the book focuses on the church's refugee program, which at the time of this writing has sponsored 29 LGBT-identified refugees to Canada and provided support to 2,400 refugees of diverse sexual, gender and religious identities.
In the book, I argue that part of what makes MCCT's refugee program so compelling is that although it is motivated in part by a need to respond to anti-LGBT violence and persecution across the world, it also welcomes and extends support to all asylum-seekers, regardless of identity. Extending a broad welcome to all asylum-seekers matters, because gender and sexual identity, and in particular false allegations of refugees "faking" their identities, have in recent years been used by governments in wealthier countries to justify deporting and excluding thousands of migrants, the vast majority of them people of color from poorer countries.
In 2016, the United Nations High Commissioner for Refugees reported that the world was seeing a worse refugee crisis than during World War Two. In times such as these, and with the climate crisis all but certain to accelerate the refugee crisis, it is this cultural geographer's view that there is simply no time for governments to waste cynically using LGBT identity or any category of identity to obstruct the path of people seeking refuge from economic and political violence.
It is with hope, then, that we can look to social movements bridging migrant justice with a range of struggles for a better world—workers' rights, feminist movements, LGBT rights, environmental justice, and above all, faith communities—for the blueprints for a world based on solidarity and care, rather than fear and scarcity. All communities are riven with internal conflicts, and as my book makes clear, MCCT is far from an exception. But on its good days, the church offers one important starting point for imagining a world that makes good on the promise that "love knows no borders."
David Seitz is assistant professor of cultural geography in the Department of Humanities, Social Sciences, and the Arts at Harvey Mudd. A House of Prayer for All People: Contesting Citizenship in a Queer Church is available through the University of Minnesota Press as well as through Amazon.