Introduction to the Department of Chemistry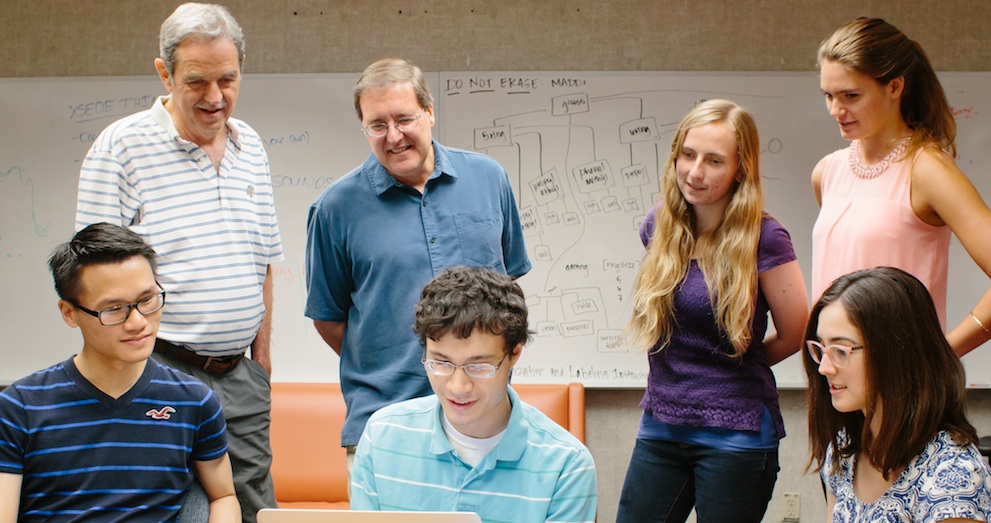 The Harvey Mudd Department of Chemistry is dedicated to undergraduate education and close personal interaction with students. It represents all chemical fields and provides a diverse range of research interests. The department is committed to challenging coursework and extensive hands-on experience with modern instrumentation and computation, and provides a broad-based education with an emphasis on problem-solving skills.
Our Distinctive Features
PhD faculty teach all courses and laboratories
The department offers a major compatible with pursuing double majors or minors, study abroad and participation in extracurricular activities
We encourage research participation at the earliest point in one's Harvey Mudd career
We integrate modern research-grade instrumentation and computational equipment in courses and research
The Chemistry Major
Provides classroom and laboratory instruction in the traditional fields of chemistry:

Analytical Chemistry
Biochemistry
Inorganic Chemistry
Organic Chemistry
Physical Chemistry

Allows exploration of specialized areas through elective courses

Bioorganic Chemistry
Biophysical Chemistry
Computational Chemistry
Industrial Chemistry
Lasers in Chemistry
Materials Science
Organometallic Chemistry
Surface Science
Synthetic Methods
Involves a senior research experience
Emphasizes development of problem-solving skills and communication skills
Leads to a Bachelor of Science degree certified by the American Chemical Society
Additional programs of study leading to ACS certification are available in Biochemistry, Chemical Education, and Chemical Physics
More than 80 percent of chemistry graduates continue advanced study leading to the PhD degree
Highest ranked chemistry department for the percentage of graduates who have earned PhD degrees
Significant numbers of graduates have won National Science Foundation, Churchill, Watson, and Marshall Fellowships and a Rhodes Scholarship
Chemistry alumni hold positions of leadership in academe and industry

Faculty at Columbia, Penn State, Harvard, Johns-Hopkins, Elmhurst, Purdue, UC-Irvine, UC-San Diego, Colorado School of Mines, College of William and Mary, SUNY-Stony Brook, Macalester
Senior Editor of Science Magazine
Owner and Winemaker – Brander Vineyards
Facility Director, Molecular Foundry
CEO, Arc Scan
Vice President and Winemaker, E & J Gallo Winery
CEO, Fivefocal
CTO, Pfizer
Co-Founder, I/O Software
Read more about the career paths of various Harvey Mudd chemistry alumni.