Biology Senior Capstone Experience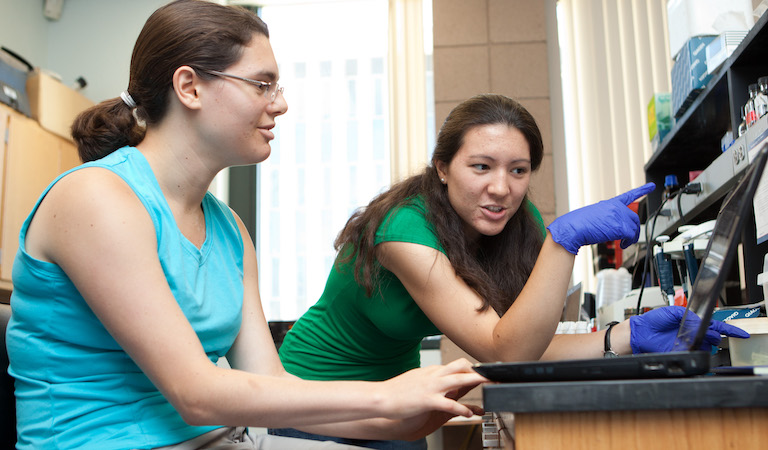 All biology majors are required to complete a year-long senior capstone experience (6 units). There are, however, a variety of options by which this requirement may be fulfilled:
Thesis in the biology department program
MCB related clinic
Thesis or clinic in another department
Students are asked to select one of these options in the spring of their junior year.
The Biology Department Thesis Program
Biology 193-194, Senior Research
Most biology majors conduct an independent senior research project in the laboratory of a biology faculty member. Biology 193-194 is a year-long course; a grade and 6 units of credit (3 per semester) are awarded only at the end of a full year (i.e., it is not possible to drop senior research mid-year and receive credit for the first semester). In addition to spending 10-12 hrs/wk working on a research project, Bio 193-194 also requires completion of a written research proposal and oral proposal presentation (fall semester) and a final written report and oral presentation (spring semester).
Although most students who take Bio 193-194 work with a member of the Harvey Mudd biology department, it is also possible to do biology-related senior research with a faculty member in another department (for instance, chemistry) or at one of the other Claremont Colleges. Students working with a faculty member outside of the Harvey Mudd biology department are assigned a faculty "liaison" within the Harvey Mudd biology department and are required to fulfill the same requirements and meet the same deadlines as students working within the department. Students who wish to work outside of Harvey Mudd's biology department must make all arrangements for doing so themselves, and should be aware that their host department/advisor may impose additional requirements on them (for instance, requiring presentations to another department/college or requiring a poster).
Biology 195-196, Intensive Research
Biology majors who wish to devote more than 3 units/semester to an independent research project may apply to do Intensive Research for 6 units/semester. Intensive Research may be taken in one or both semesters, and the additional 3 units/semester may substitute for an upper level biology elective course. Students taking intensive research are expected to devote at least 20 hrs/wk to their project, and must complete the same written and oral assignments as Biology 193-194. Registration for Intensive Research is by permission only. To be eligible to apply, students must: (1) have already completed one semester or a summer of research working on the proposed project with the same advisor; and (2) not be taking more than 18 units (i.e., 12 units in addition to research) in any semester in which they take Intensive Research. Prior to the start of the semester in which they wish to take Biology 195-196, eligible students must submit to the biology department: (1) a written research proposal, (2) a personal goals statement, and (3) a schedule of the courses to be taken concurrently with Bio 195-196. The biology department will review the application materials and determine if participation in Intensive Research is merited.
Selecting a Research Project
Each year during the spring semester, the biology faculty post the senior projects that will be available in their labs during the next academic year. Following that, rising seniors are expected to meet with professors individually to find out more information about projects and to indicate their interest in working on a particular project. A formal application for senior research, indicating first and second choices of projects, must be submitted to the biology department senior research coordinator at least one week prior to pre-registration for fall semester courses. Prior to pre-registration the department will notify students which advisor and project they have been assigned.
More information about thesis is can be found at:
MCB Related Clinic
CSMT 183 Computer Science & Math Clinic
Mathematical and computational biology clinics are run out of the CS and Math clinic programs. Over the last few years, we've developed a number of MCB related projects.
Note that the topics of clinic projects are not known until the fall. (We do it this way because we need to know how much student interest there is when we go to companies to recruit them). Students should think of the thesis vs. clinic decision in April of their junior year as being a sort of academic decision, about what general category of experience they would like to have.
Over the summer, we will make every effort to get biology related clinics to meet student interest. At the end of the summer, students will be able to participate in the selection process within the Math/CS clinic program. They can choose from among the biology related projects that we've recruited, and will also have the option to do a non-biology related clinic (e.g. a straight CS or math project).
Other Thesis and Clinic Options
It is also possible to do thesis in another department (e.g. chemistry) or to do a non-biology related clinic. If you are interested in that, you should explore the details with the relevant department, and inform us of what you are thinking.