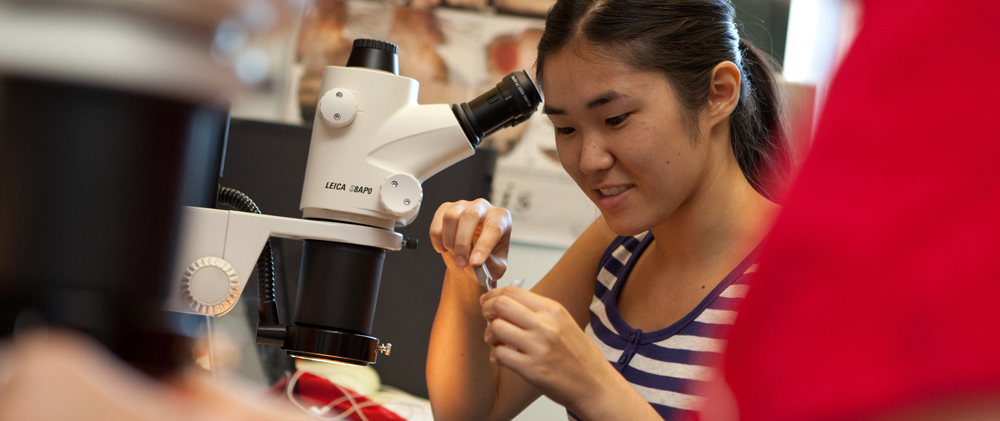 Students who select the molecular biology option within the biology major must satisfactorily complete the following courses.
Molecular Biology Core
Biology 54: Biology Laboratory
Biology 101: Structure & Function
Biology 108: Ecology & Environmental Biology
Biology 109: Evolutionary Biology
Biology 111: Molecular Biology Laboratory
Biology 113: Molecular Biology
Biology 182: Chemistry in Living Systems
Chemistry 51: Physical Chemistry
Chemistry 56: Chemistry of Carbon Compounds
Chemistry 58: Carbon Compounds
Chemistry 105: Organic Chemistry
Chemistry 111: Organic Chemistry Laboratory
Biology Electives

8 units of approved biology electives, selected by the student and advisor, to include:
At least one laboratory course
At least one seminar course (requiring student presentations and reading from the primary literature, selected from Bio 121, 122, 164, 185, 189) to be taken at Harvey Mudd College.
Note: One chemistry course may be substituted for an advanced biology course with the advisor's approval.
Colloquium
Four semesters of Biology 191-192: Biology Colloquium or Chemistry 199: Chemistry Colloquium
Capstone Project
Six units of Biology 193-194: Senior Thesis Research, Biology 195-196: Intensive Research, or Chemistry 151-152: Research Problems
Other options available to students interested in molecular biology and biochemistry include:
The standard biology major, with electives chosen to form an informal molecular biology concentration
The chemistry major with additional recommended courses for Biological Chemistry