Voices Abroad
We asked a number of participants to answer questions about their study abroad experiences.
Also check out our Global Ambassadors who are happy to answer questions about the program.
Josephine Wong '18 in China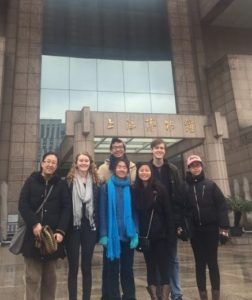 Major: Engineering
Program/Semester: IES Shanghai Engineering, Spring 2017
Why did you study abroad?
I grew up in Southern California and had never stepped foot out of the state. I was curious about the landscape and pace of life outside of California. I wanted to get a change of view and see what, if anything, was different living among a different culture of people. I chose to go to Shanghai because it would also give me the opportunity to practice my Mandarin. I had Mandarin classes for many years but I've never had the chance to put the language into real practice.
Tell us about your program
The program is divided into two segments. First, I lived in an apartment with other abroad students. Our suite was in the same complex as the IES Shanghai center and the Mandarin classes. The intention of this arrangement was to help us get acclimated to the new environment by making it easy for us to get to class, reducing the number of courses, and setting up our housing in downtown Shanghai. During those six weeks, we learned how to use the subway and became familiar with the city. We had a lot of time to explore Shanghai and get used to living there. Next, we moved to the university town and began taking courses at Shanghai Jiao Tong University. Some of us lived in homestays and while the rest of us lived in the international dorm. Around the middle of the semester, the IES staff took us on a trip to Xi'an for three days.
Describe a typical day
While living at the apartment, I had Mandarin class twice a day. On weekdays, I would have breakfast, go to class, have lunch, go to class, then do homework and make dinner. On weekends, we usually went sightseeing around Shanghai or go on overnight trips at popular cities near Shanghai.
At the homestay, I had two classes on MWF and one class on TR. I ate breakfast at my homestay. I usually stayed on campus the entire day so I ate lunch at the canteens. Meals were paid individually, but they (as most other living expenses in China) were very cheap. A typical meal would be 1-3 USD. With 5 USD, I could get enough for two meals or a pretty sizeable lunch. Between classes, I would hang out at the international program office, where there was a nice study space for students, or the library. I would be back home for dinner and spend the rest of the evening with the family and doing homework. On weekends, the other program students and I took the subway back to downtown Shanghai or found something fun to do around the university (watch a movie, shopping, etc.).
What were your courses like?
My Mandarin class was taught by the IES staff. There were only two other students in my class so the teaching was very individualized. We had lots of opportunities to practice new words in the group setting through conversation.
My classes at the university were:
VM211: Introduction to Solid Mechanics (E83-equivalent)
VR203: Food in Modern East Asian History
VR206: China in the Early Modern World
Just like at Mudd, my engineering class had weekly problems sets, midterms, and a final and my humanities class had regular readings, class discussions, and essays. The classes had a similar grading scale and were taught in English. My classmates were mostly native Chinese students. International students are rare during the spring semester because fewer courses are offered during the spring. The spring semester at the university is similar to a summer semester in the US: most students treat it as optional and take the time to work in internships.
Where did you live?
I live in an apartment suite during the first six weeks with two other program participants. We had a kitchen so we cooked or ate at nearby restaurants. The apartment complex was located in the heart of Shanghai so supermarkets and eateries were close-by and abundant. Also, the subway was a short walk away, making it very easy to explore the city. We had an RA that lived with us and helped us with various things, like find a doctor when we got sick or arrange trips outside Shanghai.
During the remaining two months, I lived in a homestay near Shanghai Jiao Tong University, Minhang campus. The homestay was very close to my classes, about a fifteen-minute walk away. I had a host mom, a host dad, and a seven-year-old sister. My host mom's parents also stayed with us for the first couple of weeks.
What challenges did you experience?
I was not prepared for the cold. Coming from Southern California, I didn't bring enough warm clothing for the wet and rainy winter there. It was fine when I was living in the apartment because we had heating, but at my homestay, the windows were often kept open. Heating was minimized since electricity is more expensive in China than in the US. I got used to it after a while, but I wished I had been more prepared. So, I would say, if you're planning to come to Shanghai in the winter, bring or buy plenty of warm clothes!
What did you enjoy the most about your time abroad?
The two things I enjoyed the most during my time abroad was traveling and spending time with my host family. There were only five people in my program so we traveled together almost every weekend. Around Shanghai and in the nearby cities, we visited Chinese gardens, museums, parks, and famous buildings. We had two longer trips: one to Chengdu, where the main attraction was a large panda reserve, and one to Xi'an, where we saw Emperor Shihuangdi's terra-cotta soldiers. We had less time to travel once our university classes started. Instead, I spent a lot of time with my host family. Communication was slightly difficult because they spoke little English, but Pleco (the English-Chinese dictionary app) helped a lot with translation. I enjoyed living with them. I got to try Anhui dishes, learn about their day-to-day life, and practice my Mandarin.
Now that you're back, what do you wish you would have done, but didn't?
I wished I had booked my return flight later after the end of the program. There were so many more places around China that I wanted to see.
What advice do you have for STEM majors and study abroad?
Engineering majors who want to study abroad should start planning at the beginning of sophomore year. Because there are a lot of course requirements for the major, it's important that those who plan to study abroad start taking core engineering classes as early as possible. This is especially true for those interested in the IES Shanghai Engineering Spring program, which has a rather limited number of engineering classes.
Rachel Mow '17 in Botswana
Major: Chemistry.
Program/Semester: CIEE in Botswana, Spring 2016.
Why did you study abroad?
My parents met while spending a year abroad in Japan and growing up I always thought that studying abroad was part of my future. For a while I thought that I would not be able to go abroad because Mudd has so many requirements, and I was excited when I discovered that going abroad was very possible. For me studying abroad seemed like a once in a lifetime opportunity. Being able to spend nearly 5 months in another country, living with a host family, taking classes, and traveling around the area would be nearly impossible outside of a study abroad experience. I think that it is so important to gain as many experiences as possible and have our eyes opened to the rest of the world before we get too comfortable and settled down.
Tell us about your program
I did a semester in Botswana through the CIEE Arts and Sciences program. I took classes at the University of Botswana alongside the local students, as well as a Setswana language and culture practicum through CIEE. There were fourteen students in my program, although most of the students studied Public Health, where they took a couple Public Health classes through CIEE and worked at clinics every week. The program also had several excursions planned for us, including an incredible safari at the end of the semester where we camped in Chobe National Park and got to see tons of animals. The program was a good combination of being immersed in the university and culture, but also having a tight group of American friends. The program itself was not always well organized and at times it was frustrating, but I think learning to deal with those frustrations was a valuable part of the experience.
Describe a typical day
For the first half of the semester, I would wake up around 6:30am so my host dad could take me to school on his way to work. Once I got to school I would go for a run beside a wildlife reserve right next to campus before going to class. About halfway through the semester, my dad quit his job, so I started running from home before taking the combi to school. Taking the combi typically took me about an hour because I had to take one combi to the bus station and then take a taxi from there to school. Generally I would stay at school until around 5 pm, either in class all day or in the computer lab getting work done because I did not have internet at my homestay. Some days I would take the combi home with one of my friends who lived next to me. Going through the bus station twice every day was not always pleasant because it was crowded and I was one of few white people that went through station so I got a lot of unwanted attention. That said, the bus station was an experience by itself and I am very glad that I became so comfortable navigating it. Once I got home, I would eat dinner with my family- sometimes I would help cook- while we watched the news and South African soap operas on TV. After dinner I would play with my little sister Peo, watch TV with my parents, watch movies with my sister Nelly who is around my age, or retreat to my room to study.
What were your courses like?
The courses were a lot different from those at Mudd. I took six classes as well as inorganic chemistry lab. I took the University of Botswana version of Inorganic chemistry as my only STEM class and it was so different from any chemistry class I have taken. The professors made slides and note packets and then would essentially just lecture straight off the notes. Occasionally they would write something on the board, but it was nothing like at Mudd where by the end of the lecture the entire room is covered with equations. The rest of my classes were humanities and for the most part were very boring. In class, I felt like I was not learning anything, but the tests were typically difficult and different from what was covered in class. The grading scale was also different; at UB above 80% is an A and you can expect to never get above a 90% on anything. I got several papers and tests back that said "Excellent!" or had no markings to tell me what I did wrong, yet I would still get an 80%. It could just be the classes that I chose to take, but I found the courses to be frustrating a lot of the time because I did not feel intellectually challenged yet I still was not getting good grades. However, what I didn't learn in class was made up for how much I learned by being immersed in such a different culture. I think studying abroad is about the experience more than it is about the coursework. It also made me appreciate Mudd so much more because we truly are getting an incredible education there.
Where did you live?
I lived in a homestay about an hour off campus on the outskirts of Gaborone. I had a host mom and a host dad (although I was the only homestay student with a host dad- everyone else had single moms) and a 23 year old sister. My parents' eight year old granddaughter, Peo, also lived with us and by the end of the semester, their five year old granddaughter, Ludo, was also living with us. I considered Peo and Ludo to be my sisters even though they technically were the daughters of two of my older sisters that did not live with us. We lived in a neighborhood called Block 9, which was a pretty nice and safe place to live. Our house was one story with three bedrooms and a kitchen/living room. It generally had all of the comforts that I was accustomed to, although I did have to take baths the entire semester and there was no air conditioning so it was really hot a lot of the time.
What challenges did you experience?
I faced a lot of challenges which I think made the experience more valuable, even if it was tough at the time.
One of the biggest challenges was being so visible. There are not a lot of white people in Botswana, and the white people that do live there are generally wealthy and have their communities separate from the rest of the population. Because I am not rich and was determined to get a genuine Botswana experience, I frequently ended up in places where white people (or "lekgoa" in Setswana) are not expected, such as the bus station. Because I stood out so much I frequently got unwanted attention which was more irritating than threatening. People also had different reactions to lekgoa; a lot of men wanted to marry me and many women were kind of hostile because the men gave me so much attention. It can be exhausting standing out so much, but it also is interesting to know what it feels like to be a minority.
Another challenge was the different diet. The food in Botswana is delicious, but it is not exactly healthy and there is not a lot of variety. I was vegetarian before I went abroad but I had to start eating meat because meat is such an important part of the diet in Botswana. A typical meal was a mountain of carbs (rice, pap, dumplings, pasta) which a couple pieces of chicken (frequently fried) and a tiny bit of salad (butternut squash, coleslaw, morogo, chakalaka salad). Most of the students in my program gained weight during the semester, and I know most of us missed a lot of food from home. That said it was fun to try really different foods, such as fried caterpillar, liver, intestines, goat meat, etc. It also taught me to be more adaptable and to appreciate all of the great foods that we have easy access to here in the States.
Of course there were other challenges as well, most of which because I am used to a certain way of life that is relatively luxurious. It is tough to go from being middle class in a first world country and attending an amazing college to living in a developing country where the standard of living is lower. For example, I did not have internet at my house for most of the semester and the Wi-Fi at school barely worked. I did not know how dependent I was on internet access until I no longer had it. I am glad that I was forced out of my comfort zone though and had to unplug for a few months because I think I experienced much more than I would have if I could have scrolled through Facebook every time I got bored or uncomfortable.
What did you enjoy the most about your time abroad?
I got to travel a lot while abroad. The exchange rates are in our favor, especially in South Africa so travelling was relatively cheap. During our mid semester break I went to Namibia, Victoria Falls in Zambia, and to the Okovango Delta in northern Botswana. I also went to South Africa a couple times. At the end of the semester, I went to Cape Town with a friend but she had to leave early so I spent a couple days there alone. This was my first time solo traveling and I really enjoyed it. My program also organized a safari in Chobe National Park, where we got to camp in the bush and see tons of animals. It is pretty amazing to be able to say that I have been charged by elephants, was a couple feet from a pride of lions, have seen countless giraffes, hippos, crocodiles, monkeys, impala, and that I now strongly dislike baboons. I also think that going abroad helped me grow exponentially as a person. Spending a semester somewhere so incredibly different from home forced me to define myself differently and to adopt new habits and routines. The way that I think about things has changed and I feel much more independent and comfortable with myself.
Now that you're back, what do you wish you would have done, but didn't?
I wish I had tried harder to make friends with the local students. It is difficult to force yourself into a social life that is not at all what you are used to, and I think I fell back too much on the other Americans in my program. By the end of the semester, I was good friends with a few chemistry students and my host sister and one of her friends, but it took several months to get to that point.
What advice do you have for STEM majors and study abroad?
Don't expect it to be like Mudd. STEM classes will be completely different, probably frustrating at times, and it is important to go into it open minded. Remember, you are there for the experience and if the classes aren't as high caliber as Mudd that is okay.
Thendral Govindaraj '16 in Spain
Major: Engineering
Program/Semester: CIEE Engineering and Society/Spring 2015
Why did you study abroad?
I studied abroad because I wanted to immerse myself in a different culture and academic environment. I wanted to fully experience a different way of life and improve my Spanish as much as possible. I also wanted to take classes in and learn how to navigate a larger university. I wanted to take advantage of any academic opportunities—classes or extracurriculars—that are not offered here.
Of what value is study abroad as it pertains to your HMC education?
The major differences I noticed in the education system and learning culture will influence the way I approach my classes at HMC next semester. Also, I took a class called Geografía, which was basically environmental analysis in Spanish. It gave me a different perspective on demographics, urbanization, the structure of cities, depletion of natural resources and environmental sustainability. This class inspired me to take a more integrated approach to sustainability. In the future, instead of just working on deep energy retrofits or hydrogen fuel cells, I want to study urban infrastructure too and work with policymakers to influence people's lifestyles and the way cities are organized.
I did an internship with Natureback, a sustainable architecture startup and learned how to design a unifamiliar (single-family) house so that it consumes the minimum amount of energy. After learning about home energy retrofits here, now I have a better general understanding of how to improve environmental sustainability through buildings. During the rest of my time at HMC, I would like to try to take environmental analysis classes that have a specific focus on areas in which I have little to no experience. I would also like to do a better job of keeping in touch with Sustainable Claremont and collaborate more on sustainability projects on the other colleges and in the city of Claremont.
Describe your program.
The program's office was in the city center, and they required us to take a language intensive class either before the semester started or throughout the semester. They also arranged our homestays and helped us with course registration. They organized cultural talks and activities, including a presentation about the history of Flamenco and a show afterwards. They also taught us about bullfighting and took us to the bullfighting ring. The program organized a couple of day trips and a weekend trip to Sevilla.
Describe a typical day.
On Mondays and Wednesdays, I walked and took the metro for half an hour to Natureback in the mornings, and then I had class on one of the campuses in the afternoon. On Tuesdays and Thursdays, I left the house around 8 a.m. and took the metro/commuter train to Leganés, the campus with engineering classes. The commute was about 45 minutes. I had one class there, and then I took the bus to Getafé, the humanities campus. Unlike the trains, that bus came only every 20 minutes. I came home between 6 and 8 p.m.
What were your courses like?
In my engineering classes, the professor usually just read from the slides. In Control Engineering, the professors gave us numerous formulas and taught us how to use them without deriving them. Each course had a lecture session and something like recitation. In the recitation-like session, the professors or PhD students solved the problems in front of us. We also did not have to turn in weekly problem sets for the technical classes, and a much larger proportion of the final grade in the class depended on the exams.
When I went to office hours for engineering classes, when I asked a question about a problem, the professor would solve the entire problem in front of me instead of giving me hints and pushing me to solve the problem myself. Also, office hours seemed to be one-on-one.
Where did you live?
I lived in a homestay. My host parents are actors and own a theater. My host dad writes and directs plays too.
What challenges did you experience?
I got lost pretty frequently in Madrid and other cities in Spain that I visited. While it was scary the first couple of times, especially because I did not have data on my Spanish phone, I eventually got used to asking people walking around for directions. Everybody I talked to explained to me patiently and clearly how to get where I needed to go.
Although I took Materials Science and Engineering in English, my classmates spoke in Spanish during the labs when they were explaining new concepts to each other. My technical vocabulary in Spanish is very limited, so I had a really hard time understanding some of the new concepts. When I thought I understood a concept and tried to explain it back to my classmates in English, they had trouble understanding me because I talked too fast.
What were some memorable highlights from your time abroad?
My most wonderful day abroad was the field trip with the Geografía class to la Sierra de Guadarrama, a mountain range about an hour north of Madrid by car. The professor explained the natural history of the region, including how the mountains formed, and the use of the natural resources (wood, coal and rocks) in Madrid and other nearby cities. He also explained the changes in property ownership, the changes in vegetation over the years and specific adaptations of some of the trees. For example, the pines above a certain altitude had branches on only one side because the strongest winds blew in the opposite direction.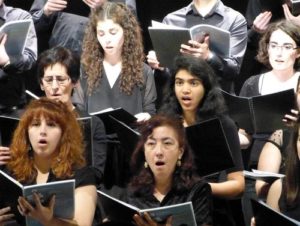 The other most memorable highlight was the trip to Ourense with the choir at the end of the semester. We sang some really cool Spanish and Hungarian songs, and I enjoyed talking to my fellow singers about their meanings (some of them were in dialects of Spanish I could not understand and others had very specific vocabulary that I would not be able to understand with a dictionary). I also had the best cultural experience because I was the only American student in the choir. The people who live in Galicia are called Gallegos, and they are extremely warm and friendly. They taught us their folk songs, and we sang and danced with them for many hours after the concert. (I'm shown second from right in the photo.)
I also enjoyed going to the plays in Plot Point, my host parents' theater.
Geografía and the choir were the ways in which I surrounded myself with only Spanish people, so I picked up most of my new vocabulary that way and they were the best parts of the semester. I was the only American student in Geografía too.
Now that you're back, what do you wish you would have done, but didn't?
I wish I had started earlier to make friends with my Spanish classmates/fellow singers. I waited until the end of the semester to make plans with the classmates/singers I was friendly with outside of class/rehearsal.
Audrey Lawrence '12 in South Africa
Major: Computer Science
Program/Semester:   University of Cape Town, Spring 2011
Why did you study abroad?
To explore and experience a new culture. First, I wanted a country that spoke English. I also did not want to go to Europe, for I had taken trips there previously and Europe is relatively easy to travel to for future trips. I narrowed my choices town to South Africa and Australia, but in the end chose South Africa. Due to its history and current problems, South Africa seemed to be the choice for a more unique experience.
What were your courses like?
I took only courses in the humanities that were related in some way to South Africa: Southern African History, African History, African Traditional Religion, Afrikaans (the language), and a course on contemporary issues in South Africa. The courses were just as, if not more, challenging that humanities classes in Claremont, but this may have been due to their different structure. Most classes had no set reading or work other than large research papers, due mostly at the end of the course, and a final exam. Thus, students had to use self-discipline to not wait until the last minute to start reading or researching.
Where did you live?
I lived in an apartment very close to campus with two other American students. Most students in both my program and others, however, lived in large houses with Americans and Europeans.
What did you do for fun?
Traveled, hiked, went to the beach, clubbed, ate amazing Indian food, explored.
What challenges did you experience?
The program staff was fairly new and were still working some things out. The staff recommended we don't travel alone at night so it was frustrating not being able to explore the city at night by yourself. Though we were close to campus, you needed transportation to visit other areas of the city and calling a cab was both tedious and costly.
Another challenge is seeing how much further the country still needs to go. South Africa has one of the world's highest Gini indices, and the connection of this inequality to race is clear. Although great strides have been made since the end of apartheid, so much still needs to be done.
What were some memorable highlights from your time abroad?
A 10 day camping trip over spring break through Botswana to Victoria Falls, where we explored both the park on the Zambia side and the Zimbabwe side.
Sea kayaking in the beautiful seaside town of Hermanus.
Spending Sunday evenings at beach clubs along Camps Bay, location of some of the prettiest beaches I've ever seen. The people, the music (we saw some live performances by South Africa's favorite group Goldfish here) and the views were amazing.
What advice do you have for Mudders interested in studying abroad?
Deciding to study abroad in South Africa, especially leading up to the World Cup, was such a great decision! Even without the World Cup, the nation is beautiful and interesting to spend time in.
Ben Ryan '12 in Ecuador
Major: Engineering
Program/Semester: Pitzer Ecuador Engineering Program, Spring 2011
Why did study abroad?
I chose to study abroad for a variety of reasons, but mainly to do new things. I wanted to discover somewhere new and different, to meet new people, to learn a language, to experience a new culture and to learn things about myself in the process. I was able to do all of these things, and I am a better person as a result.
I chose Quito, Ecuador mainly because I wanted to learn Spanish in a home-stay program while staying on track in the engineering major. Other factors that set Ecuador apart from other countries is that it has a low cost of living, incredible natural beauty and unparalleled biodiversity.
Tell us about your program
My program was hosted by Pitzer College. Their Ecuador program consists of an intensive Spanish class, Ecuadorian Studies, and an independent project. Through the Pitzer program, I was able to take an engineering class in English while still having a true Spanish immersion experience. All classes are in English, except for the Spanish language course. There were also several excursions during the semester.
What were your courses like?
I was enrolled in  Spanish for Foreigners (Levels 4 and 5) at Pontificia Universidad Catolica del Ecuador as well as Engineering Control Systems (E102), Ecuador: An Andean Culture, and a Directed Independent Study Project through the Pitzer program.
The courses were generally challenging and stimulating, but I also had plenty of time to practice my Spanish, spend time with my host family and travel around Ecuador.
Where did you live?
I lived with a host family in Quito, and the experience was outstanding! I lived with a host mother, host father, two host sisters (15 and 25 years old), and a toy poodle named Tofee.
I also spent about a week with an indigenous family in a rural community about an hour north of Quito. I got to help them pick corn, tend to their cows and attend a religious festival with them.  It was a life-changing experience in itself.
What challenges did you experience?
The biggest challenges were not knowing the language when I arrived, the hour-long commute to school each morning, and coping with cultural differences.
What were some memorable highlights from your time abroad?
The highlights of my trip was my experience with a rural indigenous family, gathering with my extended host family for lunch on Sundays, and the trip I took to Machu Picchu in Peru.
For fun, I traveled around Ecuador, I played basketball through my university, I spent time with my extended host family, and I spent time exploring Quito. In my travels, I was able to see some amazing things and meet some great people. I went to beaches, volcanoes, lakes, rivers, and jungles. The number of cool places near Quito was astounding, and it made getting out of the city for a weekend a real treat. Playing basketball was a great way to make Ecuadorian friends, and an excellent yet challenging opportunity to improve my Spanish skills. Quito boasts an impressive and cheap nightlife in the Mariscal area, which is something that I took full advantage of on the weekends that I stayed in the city.
What advice to you have for Mudders and studying abroad?
Do it! Take a risk and you will be rewarded with a once-in-a-lifetime experience! Keep an open mind, do as much as you can, and meet as many people as you can.
Julia Diaz '12 in Ecuador
Major: Engineering
Program/Semester: Pitzer Ecuador Engineering Program, Spring 2011
Why did you study abroad?
I studied abroad to improve my Spanish language skills.
Tell us about your program
My program was hosted by Pitzer College. Their Ecuador program consists of an intensive Spanish class, Ecuadorian Studies, and an independent project. As part of an agreement with Harvey Mudd College, they offer an E102 course that satisfies the requirements of our course. All classes are in English, except for the Spanish language course. There were also several excursion during the semester.
Describe a typical day
I had breakfast with my family then classes. There were two other engineering majors on the program and we often explored the city together.
What were your courses like?
I chose Ecuador because they offer D102 (big stems) and I could work on my Spanish skills. Since I had already taken Spanish 44, I opted to take the indigenous language course instead of Spanish.
E102 (big stems)
Ecuadorian Studies
Kichwa language
DISP (final project course)
There were three Mudd engineers on the program and we all took the E102 course together. Pitzer arranged for a local engineering professor to teach the course. The courses were challenging in a different way than at Mudd; the language barrier was difficult, especially in Kichwa (learning another language in a foreign language becomes very complex very quickly). Also, the format for assignments, etc. was different.
Where did you live?
I lived with a host family; I still keep in touch with my host mom and I miss her already!
What challenges did you experience?
My top 3 challenges were:
Going to the hospital (I spent 2 nights there with a severe stomach infection)
Dealing with living in a dangerous city
Kichwa Class
What were some memorable highlights from your time abroad?
We traveled, went dancing, tried local cuisine, went to the movies–traveling around Ecuador was always an epic adventure and for me was the highlight of the experience. My top 3 highlights were:
Machu Pichu
Salsa Dancing
Traveling on the weekends (especially our Amazon spring break trip!)
What advice do you have for Mudders and study abroad?
Ecuador was an incredible experience I wouldn't trade for anything!
Chandler May '11 in New Zealand
Major: Physics
Program/Semester: IES Auckland, Spring 2010
Why did you study abroad?
Studying abroad opens your mind and broadens your understanding of the world and its inhabitants. In a strange environment with new people, customs, foods, plants and animals, fashion and perhaps even a new language, it's easy and natural to relax your assumptions and expand your perspective. There's no limit to what you can learn from classroom lectures, problem sets, projects and papers, but all those things will continue to be available for years to come. However, once you enter a career, the opportunity for culture immersion and travel is immensely more difficult. Moreover, if you're looking to reinvent all or part of yourself, there's hardly a better place and time to do it: No one has any specific expectations about who you are and everything around you is different–why shouldn't you be, too?
Tell us about your program
I studied at the University of Auckland through the IES abroad program. Auckland is an urban city and is the largest city in the country. The university is top rated and is also the largest in the country. IES did a good job of orienting us to our new location, and we had a number of cultural events and field trips throughout the semester. The program also offered a homestay option, which other New Zealand programs did not. This was one of the reasons I choose the IES program.
Secondly, I chose Auckland instead of Christchurch (or any other New Zealand city) because of its milder climate and diverse, international culture. I learned after I arrived in New Zealand that Christchurch is close to many unique natural attractions in the South Island, so I think I would have had a great time in that city as well.
Describe a typical day
I'd start of the day eating breakfast with my host family and then head out to my classes. I'd grab lunch either on my own or with friends and dinner with my host family where we'd discuss various topics of conversation. I'm a huge fan of nature! I'm also fascinated by earth's peculiarities and during the day, when not in class, I explored Auckland very thoroughly, spotting plethoras of fun nooks and little idiosyncrasies scattered around the city. In the second half of the semester I started to experiment with cooking, a hobby I've long been wanting to try. I also reveled in the Toastmasters meeting every Monday evening: this particular club had just started up that semester and everyone was very positive and enthusiastic. We developed an absolutely fabulous social dynamic.
What were your courses like?
I took French 102, Introductory French Language Two Art History 110, Visual Art in Aotearoa/New Zealand Physics 213, The Geophysical Environment Statistics 320, and Applied Stochastic Modelling. Though the courses were not as challenging as Mudd courses and the workload in each course was lighter than I was used to, every course, except for statistics, assumed more background knowledge than what I had when I arrived. This didn't create a tremendous amount of extra work for me, but it did keep me engaged and stimulated! I would be happy to trot off to the library or computer lab to look up something taken for granted in class, as such an academic detour would solidify and enrich my classroom experience and often lead to exciting side-trips. The pace of my statistics class was much slower than I could have handled, but I took this as a gift and spent the extra time investigating the course material in greater depth.
Most importantly, all of my courses–regardless of their intensity–illuminated my experience as an international student in a strange new place. My art history course obviously educated me about New Zealand's art, but both French and art history informed me of New Zealand's history and traditions. My physics professors made appropriate use of New Zealand's geological diversity as examples in their lectures, and I was regularly possessed with glee to see classroom concepts come to life as I explored the natural environment in my travels. Even my statistics professor managed to influence my acculturation through real-world examples and case studies. I do not think I could have possibly selected a better mixture of courses.
Where did you live?
I lived in a homestay about 45 minutes from campus (walking briskly–there was a bus service but I chose not to use it). My family was incredibly warm, fun, and accommodating, and the neighborhood was safe and pleasant. Some of my fondest memories from New Zealand were with my homestay family, and they played by far the largest role in my acculturation. I greatly enjoyed attending trivia nights and barbies (barbecues) with my homestay family. If every homestay accommodation was like mine, I recommend that option whole-heartedly and fervently.
What challenges did you experience?
I deeply cherish my time in New Zealand, but it wasn't without its trials. Only a couple of weeks after arrival, I found my way into a tramping (hiking) trip on an iconic volcano, organized through the university tramping club. This was to be my first significant hike in New Zealand. I didn't know any of the other guys on the trip, but they all seemed incredibly nice when I met them on the first morning of the trip. After an hour on the trail I took the lead, eager to see the bare mountain and prove my ability to myself. When we all stopped to rest on the summit, however, the trip leader scolded me for my carelessness: The others had lost sight of me; the person I'd been seeing behind me was in fact not part of our group. I took the rebuke very badly. I knew that the trip leader was treating me kindly and fairly, but the realization that life abroad was not all new and perfect struck me forcefully. This was my first big mishap in my new environment. I took a long time to get over it, and I wasn't comfortable joining any more tramping club trips because of the trouble I'd caused.
Similarly trying, but more constant and ongoing, was my perception of my relationship with my homestay family. I sought to be the best guest I could. I fell far short of my high expectations and frequently worried that I was unfairly burdening the family. They, on the other hand, were very gracious hosts, only rarely approaching me to ask that I do something differently. I could never have hoped for better friends or a better living environment, but my own drive for perfection nearly drove me mad.
I think most of the struggles I faced while abroad arose directly from insecurities I'd brought with me. However, I also experienced culture shock in a more obvious form. One of the reasons I chose to study in Auckland was its apparently diverse population. I read that Auckland was a sort of Pacific cultural hub, and I was excited to explore that dynamic variety. After living in Auckland for several weeks, though, I began to feel frustrated and disillusioned: It seemed to me that the cultural diversity was so great, the Auckland culture I wanted to experience was somewhat overwhelmed or overlooked. I eventually made some peace with this impression by reasoning that the "Auckland culture" wasn't any one selection from the mix–it was in fact the aggregation of all the cultures present. However, I never completely reconciled my expectations with my experiences.
What were some memorable highlights from your time abroad?
Some of my favorite experiences arose from chance encounters and spontaneous changes in plan. I heartily recommend going with the flow! The singular highlight of my time abroad was a day I spent in Stewart Island. I spent most of the daylight on a guided tour of Ulva Island, a protected natural sanctuary. I saw many rare native birds and local flora, and learned more about New Zealand's natural history. Just as significantly, I discovered something important about myself. I realized that with the right attitude, I could enjoy a guided tour even more than an independent excursion. Later, I went to a nice local place for dinner, on my hostel's owner's suggestion. I'm usually not very impressed by expensive places, but the atmosphere at the Church Hill restaurant was incredible. I had the most beautiful exchanges with the servers and staff, and the meal was almost mystifyingly delicious. Afterwards, I put off sleep to listen to a few of the hostel owner's intriguing stories.
I also fondly remember a three-day hike on the Abel Tasman Coastal Track. I reveled in the gorgeous beaches, the exotic coastal ferns, and the playful seals and waterfowl. I derived immense satisfaction in walking the track so quickly in such good spirits, without feeling that I'd missed out on anything. Once again, however, my favorite memories were of the people I met along the way–including one traveler from my hometown! While the landscapes have started to blur in my mind, the personal interactions and relationships remain vivid and strong.
Now that you're back, what do you wish you would have done, but didn't?
I did my fair share of traveling, sight-seeing, and tramping (hiking) but didn't explore beyond Auckland as much as I should have during the semester. During the semester, I would often get distracted with schoolwork and studying and fail to sign up for (or organize) interesting trips. I could have done much more, but the stress that accompanied planning–not something to which I was very familiar–discouraged me. Once the semester ended I traveled down to Wellington, at the bottom of the North Island, and then around the South Island and Stewart Island. Had I not been able to stay a month after the semester to travel, I would have missed out on a lot New Zealand has to offer. I wasn't as efficient with my time as I could have been during the semester, but it all worked out wonderfully for me in the end.
What advice do you have for Mudders and study abroad?
To me, study abroad was essentially about flexibility and an open mind. I wish I had developed these more before I arrived in New Zealand. On the other hand, the main thing I learned from my time abroad was the importance of fostering those virtues. My best experiences seemed to occur when I was holding a particularly relaxed and open attitude, and the hardest times seemed to come when I was most stubborn and inflexible. If I could, I would go back in time and tell myself about this revelation. However, I suspect that I wouldn't truly understand until I'd had the experience. I would come home and later write about it exactly as I am now.
Naomi Epstein '16 in France
Major: Joint Biology and Chemistry
Program/Semester: Hamilton Junior Year Abroad, Spring 2015
Why did you study abroad?
I have wanted to study abroad since high school! I have always enjoyed traveling and languages, and so for me, the opportunity to study in Paris and take classes in French was perfect. Studying abroad also helped my ability to view things from a different perspective, which is valuable both in science and life in general.
Tell us about your program
The program I chose is Hamilton in France (HiF), and is sponsored by Hamilton College. There were about 25 students on the program, some of whom were in France for a whole year, and some only for a semester. There was a language prerequisite of French 44 + 1 semester of upper division French classes. In Paris, all of my classes were in French, and there was a language pledge to speak only French. I took humanities classes at Reid Hall, the building HiF is housed in, and biology classes at Université Pierre et Marie Curie (Paris VI, one of the Sorbonne Universities).
Students in the program also went on some organized excursions, where we traveled as a group to other cities in France with the program director, and were given a chance to explore. For example, one weekend we went to Cassis and Marseille where we hiked along rocky inlets and saw incredible views. Another weekend, we went to Brittany — St. Malo and Mont-Saint-Michel to be precise. We ambled along the ocean, and walked in the bay on quicksand with an experienced guide when the tide was out.
The program also offered tickets (free for the students) to a variety of cultural events, such as the ballet and philharmonic symphony. We also received a card for the Louvre, allowing us to bypass the lines and have free entry to the museum.
Describe a typical day
During a typical day, I woke up and had coffee and breakfast. I took the metro to class, and generally left my host house about 45 minutes before class started. If I had time, I would come home for lunch; if not I would grab a sandwich from one of the plentiful bakeries around Paris. If I had classes in the afternoon, I would usually take the metro to class (some days I had classes at two different campuses about 20 minutes apart). If not, I had free time and would often wander around new neighborhoods in Paris with other students, or visit a museum. I lived with a host family, and every evening I walked to the local bakery, about 2 minutes away, and bought a fresh baguette for dinner. My host family and I ate dinner around 8:30pm, and I sometimes helped them prepare dinner. After dinner, I would usually do homework and study, or watch TV and talk with my host family.
What were your courses like?
I took five courses, all in French. Two of my courses were humanities courses, both at Reid Hall with other American students on the HiF program. One of these was an architecture course, which included trips in Paris exploring different arrondissements and quarters and learning sur place (on location), as well as lectures. The other was a discussion based cinema class with a great professor, looking at French films made by female directors. I also took three biology classes at a Parisian university, with French students. The lectures were large, maybe 100 students, and the professor was in front with slides and a microphone. In addition to lecture, there was also recitation and lab, though they did not meet every week. I found that in general I had a lot less homework than I usually do at Mudd, and it was left up to me to keep up with the material and study on my own. I really enjoyed taking all of my classes in French, especially the biology classes.
Where did you live?
I lived with a host family in the sixteenth arrondissement. The students all lived with host families, but were scattered throughout Paris. Most of my friends happened to live within a ~30 minute metro trip from me. My neighborhood was primarily residential, though there were some restaurants, stores and bakeries. Other students lived closer to the center of Paris – the location depended on the host family with whom one was placed.
What challenges did you experience?
I experienced a few challenges. One was the bureaucracy made things a little more challenging – I missed the first week of one of my classes because I wasn't able to get an appointment to register for the science classes until after class had started. Another was the difference in the sense of community. After attending Mudd, with the tight community and almost all the students on campus, I had to adjust to living with a host family and needing to plan at least a 20 minute commute to see my friends.
What were some memorable highlights from your time abroad?
I really enjoyed wandering around Paris, both by myself and with friends. Meandering through the different arrondissements allowed me to explore different areas and stumble upon things I may never have seen if I hadn't wandered. I also enjoyed the group excursions that Hamilton sponsored. They gave me a chance to explore different parts of France and spend more time with other students. We also got to see some gorgeous views on the excursions. I also traveled within Europe. The European Union and a Schengen visa made traveling even more accessible. I was able to take a few trips to different countries and appreciate the differences between the various cultures. Additionally, my host family had a second home in the countryside and a friend and I stayed for a weekend with my host mother at the house. Finally, I had a great time taking biology classes in French that didn't have an equivalent at the Claremont Colleges. For example, I took a class that studied neuronal signaling, and for the lab we dissected a frog and took a nerve from the leg, then measured the action potential that traveled through it. It was a unique experience, and I really enjoyed the added challenge of participating in the lab in French.
Now that you're back, what do you wish you would have done, but didn't?
I wish that I had both traveled more within France and outside of France, and explored other places. I also wish that I had explored more of Paris – though I think that no matter how much you explore Paris, there's always something new to discover.
What advice do you have for Mudders and study abroad?
Do it! It's an amazing experience and can expand your horizons and help you see things from a different point of view, which I think is invaluable in life in general, and also in a scientific context. I chose to do a program with a language requirement and found that my French got exponentially better, but I think that going to a country that speaks English, or a program in English, would also be very rewarding. Overall, I highly recommend studying abroad.
Emma Meersman '16 in Hungary
Major: Computer Science
Program/Semester: AIT Budapest, Fall 2014
Why did you study abroad?
I wanted to take advantage of the opportunity to travel while still in college. I had never been to Europe before this trip, and now I have been to many beautiful European countries. Even though I love Mudd, I am so grateful that I took the time to explore other parts of the world. Spending a semester making new connections, experiencing new things, and learning to live in a foreign environment has helped me to grow as a person.
Tell us about your program
My program was designed for foreign students, so everyone came into the program with little knowledge of Hungarian language or culture. All of the classes were taught in English and almost all of them were focused on computer science and math. Several Hungarian students from a partner university enrolled in some of the courses, though they mostly took courses at their own institution. Our campus was located outside of the city center, in a peaceful business park. A lot of tech companies are located in the park and all of the buildings are very new.
The program provided several excursions, most of which I attended. I went on a bike trip around a lake in the countryside, which included a cultural dinner. I also took a weekend trip to Lake Balaton in the southern part of the country, which involved traveling through wine country and enjoying local hot springs. There were also several tours in the city, such as a trip through the Jewish quarter and an Art Noveau tour. The program staff also gave us opportunities to attend concerts and performances. The staff themselves were amazing. Everyone was very friendly and informal. The program staff definitely felt like friends who would chat about anything or help with problems.
Describe a typical day
A typical day involved me waking up in the morning and either grabbing breakfast in my apartment or starting with a typical Hungarian breakfast of pastries from a bakery. Getting to class took about 40 minutes and involved a ride on the Metro and the suburban railway. After that, I walked 10 minutes to the business park or took the provided shuttle. Class times depended on what you signed up for, but I had a lot of classes at 9 a.m.
At lunch, my friends and I would go grab food from one of the restaurants around the business park and then spend time in the school lounge hanging out and playing games. We then had afternoon classes and went home. My nights were either spent trying out new dinner places with friends, going to yoga, or working/goofing off back at my apartment.
What were your courses like?
I got to take a lot of computer science courses, since there was no limit on class sizes and everyone could sign up for whatever they wanted. I ended up taking four CS classes and Hungarian language. It was fairly easy to adjust to the classes. The one major difference from classes at Mudd was that each class lasted for 2 hours but had less homework as a result. Since I didn't have as much work outside of class, I got more time to explore the city and plan excursions over the weekends.
Where did you live?
All students in the program rented apartments in the city. The program assigned us roommates and apartments before we arrived. I ended up in an apartment in one of the business districts of the city, right next to the Jewish quarter. It was very easy to walk to a lot of popular restaurants, attractions, and clubs. Even if something was very far away, the metro was less than a minute from the door of my apartment, and there were buses and streetcars right across the street.
What challenges did you experience?
Some of the challenges I experienced related to food and language. I am a vegetarian and Hungary is a very meat-centric country. Though there were some vegetarian options on most menus, I never had much of a selection when I went out to eat, unless I was going out for sweets. The language barrier was also a bit difficult. Most Hungarians speak some English, especially the younger generation. I also started learning Hungarian and eventually knew enough to read a lot of signs and carry on a very basic conversation. However, Hungarian is a very difficult language and it was frustrating at times to communicate with someone if they did not have a good grasp of English. I wasn't expecting to miss this, but I always smiled a bit when I walked by people on the street and heard them speaking English, since I could understand what they were saying.
What were some memorable highlights from your time abroad?
I really enjoyed the ease with which I could travel to other countries throughout Europe. One of my highlights was the week and a half long break in the middle of the program. I spent that time traveling in Spain and Switzerland, which were both countries I have been wanting to visit for quite some time.
One other thing that stood out for me was all of the small differences that you gradually adapt to. Since it was my first time in Europe, I had to get accustomed to the different types of outlets, smaller grocery stores, asking for the bill at a restaurant, and much more. Figuring out all of these differences and learning to adjust to them was eventually a rewarding experience.
Now that you're back, what do you wish you would have done, but didn't?
Even though I did a fair amount of travelling, I wish that I had visited a few more places. I think it would have been nice to take more day trips throughout Hungary, since I probably won't have the time to explore the country so thoroughly again. I would have enjoyed visiting some places like Prague and Venice, but I expect I will have time to do so when (not if) I return to Europe in the future.
What advice do you have for Mudders and study abroad?
My biggest piece of advice would be this: if you're considering it, do it. Coming into college, I thought about going abroad but quickly dismissed the idea once I realized how much I loved Mudd. However, after talking with upper classmen about their experiences abroad, I started thinking about traveling once more. I still love Mudd, but it was very nice to spend a semester in a different environment. College is about growing in a lot of different ways, and this semester definitely helped me to expand my view of the world and become a more independent person. I am so fortunate to have studied abroad, and I would encourage anyone to take advantage of such a unique opportunity while they have the chance.
Ruth Sung '17 in China
Major: Engineering
Program/Semester: E84 in China; summer 2014
Why did you study abroad?
Even in high school, I knew that I wanted to study abroad while in college. I didn't anticipate doing it the first year of college though! I was drawn to this program for two main reasons. Although I'm of Chinese descent, I have a hazy idea of what my heritage means to me. Studying in China would be a chance to experience the country that my parents grew up in, study at a renowned college, and immerse myself in a vibrant culture. In addition, I'm teetering between an engineering and computer science major and taking E84 would help me get a better picture of what engineering entails. China in other words, was an opportunity for me to discover my past, experience the present, and determine my future.
Tell us about your program
I took part in a summer program in China. It was 8 weeks studying at Peking University in Beijing, China through China Studies Institute (CSI). We had classes during the week and during Friday or the weekend, there would be trips out to places like the Great Wall and Forbidden City. The CSI staff were super nice. They were willing to answer all our questions and help us plan our own weekend trips. Peking University is a much larger campus than Mudd, and it is a 15min walk from the dorms to the classrooms. There are also multiple cafeterias for food so there's a lot of variety, and it's quiet cheap. As for going around the city, Beijing's public transport is cheap and ubiquitous. There is a subway station at the East Gate of Peking University and bus stations nearby.
Describe a typical day
Emily and I stayed off campus at Hope's house so we would all get up at 7, eat breakfast, and bike 15-20 min over to class each morning. Chinese language was from 8:30-10:20 Monday to Thursday. We had a super long lunch break, around 3 hours during which we'd eat lunch on campus and do our Chinese homework (or procrastinate). Beijing is 15 hours ahead so that was also the prime time to talk to people on the West coast because they'd be up. From 1:30-4:00 or 1:30-4:30 we'd have engineering and history respectively. Truth be told, 3-hour classes are extremely long. After class, Emily and I would bike back to Hope's house to do homework and eat dinner with her family. Friday's and the weekends were more eventful.
What were your courses like?
We had 3 courses: E84 (into to electrical engineering), Chinese language, and Chinese modern history. In all the courses, Mudders were the majority or all of the students. I found all of my teachers easy to communicate with and encouraging of our exploration of China. The one challenge was balancing exploring Beijing and working on homework. Emily and I made it our goal to force each other to get out more often. We went out every weekend and visited Wu Dao Kou (right next to the university) usually once a week for dinner out. They also have the most amazing milk tea boba.
E84 was taught by Prof. Wang (a Mudd prof) so it was basically a condensed version of the course.
Chinese language was a lot of fun. Being in the 100 class, we jumped right into the pinyin, characters, and reading. By the third day of class, we could actually read a full sentence in Chinese. It was work every night to memorize the characters, pinyin, and meaning but it was so rewarding to be able to read random characters everywhere. By the end, I could actually write a letter in Chinese, or read short passages.
Modern Chinese history was a bit eye opening. I didn't have the most background knowledge of modern Chinese history and we covered from the Opium Wars to modern day. While fascinating, it was a writing intensive course so the workload was proportioned accordingly.
Where did you live?
Emily and I lived with Hope for the summer. She was Emily's roommate and was super kind to open her home to us for the summer. Since we were at her house, we'd bike to the university for classes, which were about 15–20 min away. We'd eat meals with her family and we went out to dinner several times together.
The public transportation in Beijing is extensive and cheap, it costs 2RMB (~30 cents) or less to travel on the subway or bus. If you're going outside of Beijing, you can get train tickets which can be more expensive.
What challenges did you experience?
Coming to China, I was able to understand basic Chinese and knew enough to ask my way around although I couldn't read or write any Chinese (people won't understand English). Thus, language wasn't that large of a barrier for me. I also eat Chinese cuisine at home on occasion so I really liked the food (and it's super cheap). The most challenging part was the amount of homework that we racked up between three classes. Yes, studying abroad is awesome but don't forget about the "studying" part, it's not just an abroad adventure. All the same, the weekend excursions and explorations became so much more enjoyable after being holed up with work during the week.
China's not as much of a melting pot as the US so one thing that I noticed was that if you're an ethnicity other than Chinese, you tend to get a lot of stares, especially if you're hair color isn't black.
What did you enjoy the most about your time abroad?
We went camping on the Great Wall one weekend which was a blast. The CSI office had camping gear (tents and sleeping bags) that we could borrow. We left Saturday morning and after a day of traveling on subways and buses, we finally started hiking on the wild section of the Great Wall. The view was amazing. We didn't really plan for a downpour at 2am or being completely soaked but we rung ourselves out the next day.
At the end of the program, our whole group traveled to Pingyao. Instead of heading back to Beijing, Emily and I stayed a few days longer. We met up with Hope and Siyi (our roommates from Mudd who were Chinese) to explore Xian. We got to see the Terracotta warriors, ate at the Muslim district, and walked around.
Now that you're back, what do you wish you would have done, but didn't?
Go exploring more on the weekends. See more of China.
What advice do you have for STEM majors and study abroad?
E84 in China specifically was an appealing program for me because it was a chance to take a tech class and a writing intensive in one shot. It's also during the summer, which means you don't have to plan for a semester away from Mudd.
Study abroad is a wonderful opportunity. Talk to Ms. Chiles early to figure out how to find programs that offer STEM classes or what programs have transferable credits and how to plan your schedule around it.
Also, make sure that you take time to explore the place you study abroad in. Set aside your work every now and then and go out.
Samantha Stilson '15 in Australia
Major: International relations (computer science)
Program/Semester: IFSA Butler – University of Sydney, Fall 2013
Why did you choose to study abroad?
I was actually required to study abroad by my major, but I went abroad twice because I wanted to see the way students from all around the world learn. I always have wanted to live abroad, but studying gives you the unique experience of an entirely new educational system, surrounded by your peers.
Tell us about your program
We registered for classes directly through the university, with the help of their international student office. I absolutely loved the university. It was always busy during the day which made the whole campus feel alive. There were two hours of lecture either at once or split into two two-hour sections per week for each course, and then one hour of tutorials which were basically discussion sections, taught by TA's or professors. Many students commuted from home each day of class, and some lived in on campus residential colleges or in student apartment housing across the street from the campus.
The program hosted a few trips around Sydney: to the Opera House, an Australian footie match, out on a Harbour dinner cruise, and to an end of program dinner hosted in one of the hotels on the Harbour. We also went out to the Blue Mountains and spent a weekend doing a homestay in the New South Wales countryside. I went to most of these and they were all fantastic experiences! The program staff were very friendly and helpful as well, reachable by email and phone and sometimes coming to visit us in our housing (with treats!).
Describe a typical day
I was close enough to walk to class, so I usually grabbed breakfast in my room and headed to campus. I would sometimes have lunch with friends around the campus as I had a good amount of time in the middle of the day most days of the week, and then met up with study groups or went to frisbee practice or something in the afternoons. My classes were usually in the early afternoons, I had some days that started at 10 and some that started at 11. I had no classes on Fridays!
What were your courses like?
I absolutely loved the education system in Sydney, and I miss it back here. It allowed for much more independent study – required it in fact. We were assigned readings but never quizzed on them (except in one course, Mythology, where we had weekly quizzes on 1-2 chapters of reading). We only had to participate in discussion sections, and even then we didn't always cover all the readings. We then had a paper or two due during the semester and a final exam, and that was it! Finals period was two weeks long and was preceded by a week of study vacation. We had a lot of time to study then, but it still wouldn't have been enough had I not kept up with the readings during the semester. Some courses offer extra readings as well which many students complete, especially if they are pursuing a degree in that subject.
Where did you live?
I stayed in a university-owned apartment building just across the street from campus. It was very easy to get into the proper city by bus (a 10–25 minute ride, depending on where you wanted to go), but the area around the campus and apartment building was also rather city-like. I had a studio apartment, so I had my own room and bathroom and shared a kitchen and lounge area with the other students in the building. The complex hosted tons of events every month, so it was easy to meet people (and get free food!).
What challenges did you experience?
I think the greatest challenge was fitting everything I wanted to do in! It was a bit difficult to keep up with local friends when I wanted to go traveling most weekends and breaks, but I met so many people on my travels that it made up for it.
What were some memorable highlights of your time abroad?
Sailing the Great Barrier Reef was the best part of the experience, I think. I spent four days on a boat with ten other people just sailing, snorkeling, and exchanging travel stories. It was nice to get completely out of my comfort zone and just have time to reflect on my semester out in the middle of nowhere. But really, I loved just being able to live and breathe Australian. I loved finding all the cultural nuances between Australia and America, like how Australian university students seem to feel as though traveling outside their country is necessary in order to fully understand the world because they feel so isolated otherwise. I was also there during the national elections, and as a politics nerd I loved seeing the campaigning and reactions among students as a very conservative prime minister came into office.
Now that you're back, what do you wish you would have done, but didn't?
I wish I would have made more long-term connections with my Australian friends so it would be easier to go back!
What advice do you have for Mudders about studying abroad?
Go! There are so many places in the world that are doing amazing things in science. The more different ways you learn to look at things, the better scientist (and person!) you'll be.
Obosa Obazuaye '14 in Japan
Major: Computer Science
Program/Semester: Pomona ICU, Fall 2013
I came to Harvey Mudd College hoping to try out new things. For example, I had always wanted to take formal violin lessons and Japanese classes, and with Harvey Mudd being a "liberal arts college", attending Mudd would allow me to engage in such non-STEM curricula alongside my rigorous math and science education.
I was indeed able to take both violin lessons and Japanese courses upon my entry to Mudd at Pomona College (as part of the Claremont Consortium). Although both required an amount of dedication and some manipulation of my course scheduling, I found that both were very enjoyable and provided a good stress relief for my tough experiences with the Harvey Mudd Core and certain major courses; pursuing these arts/humanities interests was absolutely worth it for me. Furthermore, Japanese fulfilled my humanities concentration, so after four semesters, I was ready to end my Japanese education and spend more time completing my other required courses. However, the prospect of studying abroad had always lingered in my mind.
Now, as I presume most Mudders do, I had two pressing thoughts that concerned me about studying abroad. The first was the notion that I should make the most of my time at Mudd by taking as many courses at Mudd as possible. The second was a concern that I would have too much work to complete upon returning from study abroad, such that I would have to enroll at Mudd for a fifth year. However, by and large every person I had brought up the prospect of studying abroad to had told me that it sounded like a great opportunity. It particularly resonated with me when many of my professors and other trusted adults said things along the lines of, "I really wish I had taken advantage of such an opportunity when I was your age." As a result, I decided to go through with it, completing many of my humanities requirements (distribution, concentration, and Mudd hums) before going abroad so that I could focus on my major after returning. This definitely helped in softening some of the workload upon returning.
I have heard many students say that a big part of their desire to study abroad was the prospect of experiencing different curricula abroad and/or opportunities to party and have fun in a new and exciting country with new and exciting people. Although I definitely did want to experience and enjoy a different culture and meet new people, my main reason for studying abroad was that I wanted to pursue Japanese until I could really feel confident in my Japanese skills. While the Pomona College Japanese courses definitely put me at a relatively high level in only four semesters (especially when compared to some of the other studying abroad students I encountered in Japan), and even though I did very well in my Japanese courses, I still felt like I could not actually say that I was reasonably "good" at Japanese. I usually pick up things (skills, knowledge, etc.) very quickly, but I rarely have enough time to master anything (as they say, "Jack of all trades, master of none"). I wanted to be able to say that I was really good at something, or at least be able to put a concerted amount of time and effort into a single passion. Ultimately, I chose to let this pursuit of expertise take me all the way to Japan for half a year.
Another reason for studying abroad was to become a more interesting person. I wanted to have a deeply personal experience, away from my family and friends and everything I have become so used to in my life, so that I could better understand myself and my place in the world, so that I could feel more like an adult (i.e., by having an experience that requires much independence), and so that I could have interesting stories to share with people I meet throughout my life. I always love listening to people, old and young, tell stories of their various experiences in life, and I wanted to become that person who could describe his own interesting adventures and experiences to others.
I believe all of my goals were fulfilled. Through studying abroad, my Japanese language skills improved immensely (I can usually enjoy Japanese media such as music, movies, books, and video games without the use of English subtitles/translation, though I still need a dictionary on occasion), and I think I have become more aware of life's innumerable pathways. Being in the so-called "Mudd Bubble", I was so focused on my coursework that I did not realize how many possible career options existed. For example, when I was in Japan, I was often asked, "Are you planning on working in Japan after you graduate?" I had never even considered this, and although I do not plan on working in Japan in the near future, it was really eye-opening to realize that such opportunities are available to me; I am not limited to only aiming for jobs at, say, Microsoft, Google, or other big-name companies that are popular for Mudd computer science majors. And indeed, I had a plethora of interesting experiences I can share with people willing to listen; stories ranging from the experience of seeing the magnificent sunrise from the top of Mount Fuji, or having my butt smacked by a sociable old man in a public bathhouse (these stories and more are detailed on the blog I kept while I was in Japan, www.raisinbranmansanjapan.tumblr.com).
Furthermore, my homestay experiences were invaluable in improving my Japanese skills as well as my interpersonal relationship skills. It's one thing to meet someone and exchange small talk for several minutes, but it's entirely different to live with a new family for several weeks or months, and constantly think in and speak another language. It was one of the most difficult and mentally taxing things I have ever had to do, and yet it was by far also one of the most rewarding and memorable experiences I have ever had. There is just something particularly profound and unforgettable about being loved and cared for by strangers in a foreign country. Being in college for two years, I had also forgotten what it is like to interact with children, so being able to spend time with children in my host families and at volunteer events in the community helped me remember why I love kids.
Upon coming back to Mudd, I took five full non-Core tech courses (three CS, one engineering, and one physics) in one semester, which was probably the toughest course load I have ever had. However, through the combination of my experiences in Japan of having to be independent and having to teach myself (language, rules, how to troubleshoot, etc.) and solve real-world problems (and in a foreign language, nonetheless), I had gained a work ethic far more tempered than before I had studied abroad, and I flourished that semester, spending about 36+ hours a week on homework, thoroughly understanding and enjoying the course contents, and putting in some extra hours to help my classmates finish their assignments.
Missing a semester at Mudd did present some challenges. I had one less semester to take some of the many courses that I was interested in taking, which resulted in having to rearrange my schedule and take heavier course loads over my final three semesters. However, being a computer science major, I had slightly fewer course scheduling issues than, say, engineering majors (who have a few more courses in their major than computer science majors do) or physics majors (who, unlike computer science majors, have many courses that are offered only one semester a year rather than both semesters).
Another challenge resulted from missing the fall Career Fair, and neglecting to look for summer jobs/internships to apply for while I was in Japan. This was a bit of a setback because by the time spring semester rolled around, many companies did not seem as open to giving job/internship offers. However, I put in extra effort in applying during my semester back and I was fortunate enough to eventually receive a great internship offer right before the spring semester ended.
All things considered, I can say without a doubt that studying abroad was by far one of the most enriching and edifying experiences I have ever had, not only as a Harvey Mudd student, but simply as a human being.  I would definitely encourage other Mudders to consider this opportunity.
Heather Seaman '16 in Australia
Major: Computer Science
Program/Semester:  Arcadia CGS – University of new South Wales, Fall 2014
Why did you choose to study abroad?
I studied abroad because I wanted to experience a new culture and discover what sorts of paradigms were held by people living outside the US. I was very excited to see Australia in particular since it is somewhat "out of the way" compared to European countries.
I started thinking about studying abroad during freshman year and after a few conversations with Rhonda Chiles, I was convinced I had to do it. Several of my friends went to Europe, but I found myself drawn to more out-of-the-way places. After some searching for potential locations I settled on Australia because… hey, who wouldn't want to go to Australia! I wanted to experience a new culture, specifically life outside the US, and I loved Australian accents. My primary goals for studying abroad had to do with cultural enrichment and adventure rather than academics and, as it turns out, my abroad experience was a fantastic match!
Tell us about your program
I studied at the University of New South Wales through the Arcadia College of Global Studies. Arcadia is a four-year college on the East Coast that helps students from all over the world to study abroad. There were a few students who actually attended Arcadia in my program, but the vast majority were American students from other schools. Arcadia organized an Orientation Week for all of us when we first arrived. There were about forty students in the program and most of them were studying at various universities around Sydney. During Orientation we did some fun activities such as hiking and seeing wild kangaroos, but we also got a lot of general survival tips from our Australian program staff. Throughout the semester the program staff organized some activities for us including rugby games, dinners, and a long weekend retreat to a camp north of Sydney.
Describe a typical day
In addition to going to class, I spent a substantial part of my week cooking, cleaning, and shopping for groceries. I found that I really enjoyed this aspect of life so it didn't seem burdensome. I also enjoyed making trips to the farmers' markets to get fresh produce and locally produced foods each week. Sydney actually has about fifteen different farmers' markets that have their own schedule so I made a point to visit as many as I could throughout the semester! When I wasn't visiting farmers' markets I spent my free time exploring different areas of the city with friends or sometimes by myself. Sydney has so many fun niches and awesome restaurants so I never ran out of new places to visit.
Where did you live?
I lived in an apartment building called University Terraces on the UNSW campus. I had a single bedroom, but shared a kitchenette and common living space with another American student. Since we had no dining hall, we did all of our own grocery shopping and cooking, but this worked out well and I really enjoyed cooking for myself. The apartment itself was very nice and spacious! I did find, however, apartment living was harder socially since I didn't have ready-made friends as in a dorm. I had to be much more intentional about getting to know people and planning activities together.
What were your courses like?
While studying at UNSW I got to see how a few CS courses where taught in a different country. It turns out that Australian universities have a much different academic system compared to American schools and this was a pretty big adjustment for me at first. I had about 3–4 hours of lecture time per week for each class and one class that only held lectures once a week from 6–9 p.m.! The three-hour evening lecture was definitely a challenge for me, but I ended up doing well in the class anyway. Attendance for lectures was usually not required and most professors recorded their lectures. This made it quite easy to skip lectures without getting behind at all in the class, although I am NOT advocating this as a rule. Each class generally had a 1–2 hour Tutorial or Lab that met once a week. This class time was required as we had interactive discussion or worked through tasks as a group. I found that the courses at UNSW were generally much less demanding and they were structured such that I only had 3–5 assignments due in total for each class. This structure was a little intimidating since one assignment could be worth up to 40 or 50 percent of my grade, but it also allowed me a lot of flexibility in my work schedule. Near the beginning of the semester I found myself with almost nothing to do, but for the last few weeks I was almost as busy as I am at Mudd. I had very little personal interaction with my professors partly because of the larger class sizes and partially because they did not advocate regular student-professor conversation. I found this disappointing since it detracted from my academic experience, but I had a fantastic semester nonetheless.
What challenges did you experience?
Out of the various challenges I faced while abroad, finding good friends was the toughest. I got to meet a lot of people through my program and classes, but most of these people just ended up being acquaintances. Sydney is a multicultural hub so I got to meet not only Australian residents, but students and travelers from all over the world. I certainly didn't lack people to explore with, but by the end of my time in Australia I felt like I was just beginning to forge deeper friendships with a few people. Building quality friendship takes a lot of time and intentional effort and since I didn't have any history with these people I felt fairly lonely at times. If I were to study abroad again I'd definitely make more of an effort to get to people on a deeper level because that is the one thing that could've made my abroad experience better.
What were some memorable highlights of your time abroad?
I had so many awesome adventures while I was abroad; it is almost impossible to single out something I enjoyed the most! I was able to do quite a bit of traveling and see flora and fauna that grow and live only in Australia! One new hobby I developed in Australia was scuba diving! I did a few dives while in Sydney and even got my Advanced Certification over a weekend. At the end of my trip, I went to the Great Barrier Reef for a three-day dive trip and that was positively drop-dead gorgeous. It absolutely deserves the hype as a world-class destination. I also enjoyed feeling more independent as I explored Sydney on my bicycle. I never felt unsafe, just adventurous, but these bicycle trips were some of the highlights of my stay.
Now that you're back, what do you wish you would have done but didn't?
I would have loved to see Uluru also known as Ayer's Rock. It's in the "Red Centre" of the continent so it takes a long trip to get there, but a few friends who went there told me it was very impressive.
What advice do you have for Mudders considering studying abroad?
I would absolutely recommend study abroad no matter your major. Find a program that works for you and go!  My semester abroad helped me to grow in understanding different cultures, and I was faced with an important truth: not everyone thinks, acts, or believes as Americans do. I also discovered many sets of ethnocentric glasses that I had and am now able to better communicate with and appreciate people from different cultures. I also learned some fun things about myself: I love to travel, I love tea, and I love biking!
During your time abroad you will learn about other cultures, people, and places, but most of all you will become a better person and a more effective contributor to the world.
And though the academics at UNSW were different than at Mudd, the learning I did outside of the classroom was irreplaceable.