Global Ambassadors
Global Ambassadors are Mudd students who have already been abroad. They are looking to connect you to study abroad resources and share their study abroad experiences.
Maddie Gaumer '19
Computer Science-Mathematics Major, IFSA Butler, Kings College London, Spring 2018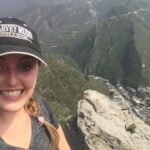 I had amazing study abroad experiences, and I want to encourage other Mudd students to step out of their comfort zones and study abroad. I think the majority of Mudd students would benefit from studying abroad, and I can't wait to share my experiences with them. Being away from Mudd for the semester gave me time to reflect and grow in ways I hadn't been able during my busy semesters at Mudd. I'm returning from studying abroad with a refreshed perspective on college, and I'm excited to enjoy the rest of my time at Mudd this coming year. I'm so glad I decided to go abroad because I learned so many life lessons, made some lifelong friends, and got to travel to so many cool places. It's crazy to think I almost didn't go! I hope that I can help other Mudd students better navigate the process and explore the options for studying abroad at Mudd.
Hannah Slocumb '19
Chemistry Major, SIT Kunming – Spring 2018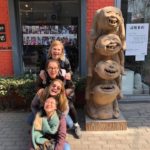 a) Why study abroad was valuable
Study abroad might have been one of the most important experiences in my life. Academically, my Chinese language skills improved enormously. There is no better way to learn a language than immersion, and since Kunming is a "smaller" city in China with far fewer English speakers you are really forced to speak Chinese a lot of the time. Culturally, I learned an incredible amount. Yunnan is the most diverse province in China with 26 ethnic groups, and we learned about a number of them in-depth. Possibly the most meaningful part of my experience was my Independent Study Project, where I lived with only two of my study abroad peers in a culturally Tibetan part of Yunnan. During this I spent eight hours a day learning about the Tibetan Buddhist art form of thangka painting, and in the end even created my own. We also befriended a reincarnated lama who taught us about Tibetan Buddhism in exchange for English lessons. Through this intense immersion I learned a lot about an amazing culture and even about myself, and this inspired me to try to be a better person in my everyday life.
b) I want to be a Global Ambassador so that I can tell people that they should DEFINITELY study abroad! Particularly, I really would like to spread the word about my program because the content, culture, and faculty/staff were amazing. My study abroad experience is definitely something I will remember and cherish for the rest of my life, so I'd like to help others who are interested have similar valuable experiences.
Marisa de Souza, '19
Engineering Major, CIEE Madrid Engineering – Spring 2018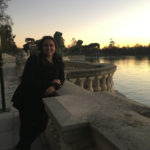 Study abroad was important to me because I got to make friends from other countries, practice real life language skills, and see how differently things run in other countries. It literally and broadened the horizons of places I had traveled to and my knowledge of European culture, economics, government policy, etc. It's also super fun and gave me a good chance to travel because who doesn't love going to new places for the price of a bus or train ticket. I want to be a GA because I want to help the younger students have as much fun as I did with less of some of the struggles. If I made some mistake and found some great travel gems doesn't it seem right to pass those on 🙂 so someone can have an easier time. I had such a fun time that I can't wait to share all the stories and crazy times I had.
Fanruhi Sha '19
Chemistry Major, IFSA-Butler Oxford, St. Edmonds Hall – Spring 2018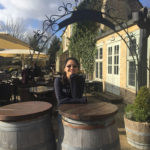 Coming from China, my experience in the US has been extremely rewarding with many unexpected insights into my values and ways of thinking. Therefore, I know I can't possibly let go this chance of studying abroad again. Studying in a big, prestigious university has also charmed me with a bit of intimidation since I've only lived in small communities, from my boarding high school with 90 others to Mudd. I spent my spring 2018 semester at St. Edmund Hall, Oxford University in UK studying Chemistry and Materials Science. It's been a real privilege to study in the oldest institution in the English-speaking world, surrounded by beautiful architectures and an extremely international community.
Studying abroad is full of surprises. I ended up with friends that I would never be able to meet otherwise, and my time there had also been much more academically rewarding than I was ever expecting. I'd love to help others sorting through the emotional uncertainties and the intimidating process to set off for one of the most memorable semester / year!