Chandler May '11 (New Zealand)
Major: Physics
Program/Semester: IES Auckland, Spring 2010
Why did you study abroad?
Studying abroad opens your mind and broadens your understanding of the world and its inhabitants. In a strange environment with new people, customs, foods, plants and animals, fashion and perhaps even a new language, it's easy and natural to relax your assumptions and expand your perspective. There's no limit to what you can learn from classroom lectures, problem sets, projects and papers, but all those things will continue to be available for years to come. However, once you enter a career, the opportunity for culture immersion and travel is immensely more difficult. Moreover, if you're looking to reinvent all or part of yourself, there's hardly a better place and time to do it: No one has any specific expectations about who you are and everything around you is different–why shouldn't you be, too?
Tell us about your program
I studied at the University of Auckland through the IES abroad program. Auckland is an urban city and is the largest city in the country. The university is top rated and is also the largest in the country. IES did a good job of orienting us to our new location, and we had a number of cultural events and field trips throughout the semester. The program also offered a homestay option, which other New Zealand programs did not. This was one of the reasons I choose the IES program.
Secondly, I chose Auckland instead of Christchurch (or any other New Zealand city) because of its milder climate and diverse, international culture. I learned after I arrived in New Zealand that Christchurch is close to many unique natural attractions in the South Island, so I think I would have had a great time in that city as well.
Describe a typical day
I'd start of the day eating breakfast with my host family and then head out to my classes. I'd grab lunch either on my own or with friends and dinner with my host family where we'd discuss various topics of conversation. I'm a huge fan of nature! I'm also fascinated by earth's peculiarities and during the day, when not in class, I explored Auckland very thoroughly, spotting plethoras of fun nooks and little idiosyncrasies scattered around the city. In the second half of the semester I started to experiment with cooking, a hobby I've long been wanting to try. I also reveled in the Toastmasters meeting every Monday evening: this particular club had just started up that semester and everyone was very positive and enthusiastic. We developed an absolutely fabulous social dynamic.
What were your courses like?
I took French 102, Introductory French Language Two Art History 110, Visual Art in Aotearoa/New Zealand Physics 213, The Geophysical Environment Statistics 320, and Applied Stochastic Modelling. Though the courses were not as challenging as Mudd courses and the workload in each course was lighter than I was used to, every course, except for statistics, assumed more background knowledge than what I had when I arrived. This didn't create a tremendous amount of extra work for me, but it did keep me engaged and stimulated! I would be happy to trot off to the library or computer lab to look up something taken for granted in class, as such an academic detour would solidify and enrich my classroom experience and often lead to exciting side-trips. The pace of my statistics class was much slower than I could have handled, but I took this as a gift and spent the extra time investigating the course material in greater depth.
Most importantly, all of my courses–regardless of their intensity–illuminated my experience as an international student in a strange new place. My art history course obviously educated me about New Zealand's art, but both French and art history informed me of New Zealand's history and traditions. My physics professors made appropriate use of New Zealand's geological diversity as examples in their lectures, and I was regularly possessed with glee to see classroom concepts come to life as I explored the natural environment in my travels. Even my statistics professor managed to influence my acculturation through real-world examples and case studies. I do not think I could have possibly selected a better mixture of courses.
Where did you live?
I lived in a homestay about 45 minutes from campus (walking briskly–there was a bus service but I chose not to use it). My family was incredibly warm, fun, and accommodating, and the neighborhood was safe and pleasant. Some of my fondest memories from New Zealand were with my homestay family, and they played by far the largest role in my acculturation. I greatly enjoyed attending trivia nights and barbies (barbecues) with my homestay family. If every homestay accommodation was like mine, I recommend that option whole-heartedly and fervently.
What challenges did you experience?
I deeply cherish my time in New Zealand, but it wasn't without its trials. Only a couple of weeks after arrival, I found my way into a tramping (hiking) trip on an iconic volcano, organized through the university tramping club. This was to be my first significant hike in New Zealand. I didn't know any of the other guys on the trip, but they all seemed incredibly nice when I met them on the first morning of the trip. After an hour on the trail I took the lead, eager to see the bare mountain and prove my ability to myself. When we all stopped to rest on the summit, however, the trip leader scolded me for my carelessness: The others had lost sight of me; the person I'd been seeing behind me was in fact not part of our group. I took the rebuke very badly. I knew that the trip leader was treating me kindly and fairly, but the realization that life abroad was not all new and perfect struck me forcefully. This was my first big mishap in my new environment. I took a long time to get over it, and I wasn't comfortable joining any more tramping club trips because of the trouble I'd caused.
Similarly trying, but more constant and ongoing, was my perception of my relationship with my homestay family. I sought to be the best guest I could. I fell far short of my high expectations and frequently worried that I was unfairly burdening the family. They, on the other hand, were very gracious hosts, only rarely approaching me to ask that I do something differently. I could never have hoped for better friends or a better living environment, but my own drive for perfection nearly drove me mad.
I think most of the struggles I faced while abroad arose directly from insecurities I'd brought with me. However, I also experienced culture shock in a more obvious form. One of the reasons I chose to study in Auckland was its apparently diverse population. I read that Auckland was a sort of Pacific cultural hub, and I was excited to explore that dynamic variety. After living in Auckland for several weeks, though, I began to feel frustrated and disillusioned: It seemed to me that the cultural diversity was so great, the Auckland culture I wanted to experience was somewhat overwhelmed or overlooked. I eventually made some peace with this impression by reasoning that the "Auckland culture" wasn't any one selection from the mix–it was in fact the aggregation of all the cultures present. However, I never completely reconciled my expectations with my experiences.
What were some memorable highlights from your time abroad?
Some of my favorite experiences arose from chance encounters and spontaneous changes in plan. I heartily recommend going with the flow! The singular highlight of my time abroad was a day I spent in Stewart Island. I spent most of the daylight on a guided tour of Ulva Island, a protected natural sanctuary. I saw many rare native birds and local flora, and learned more about New Zealand's natural history. Just as significantly, I discovered something important about myself. I realized that with the right attitude, I could enjoy a guided tour even more than an independent excursion. Later, I went to a nice local place for dinner, on my hostel's owner's suggestion. I'm usually not very impressed by expensive places, but the atmosphere at the Church Hill restaurant was incredible. I had the most beautiful exchanges with the servers and staff, and the meal was almost mystifyingly delicious. Afterwards, I put off sleep to listen to a few of the hostel owner's intriguing stories.
I also fondly remember a three-day hike on the Abel Tasman Coastal Track. I reveled in the gorgeous beaches, the exotic coastal ferns, and the playful seals and waterfowl. I derived immense satisfaction in walking the track so quickly in such good spirits, without feeling that I'd missed out on anything. Once again, however, my favorite memories were of the people I met along the way–including one traveler from my hometown! While the landscapes have started to blur in my mind, the personal interactions and relationships remain vivid and strong.
Now that you're back, what do you wish you would have done, but didn't?
I did my fair share of traveling, sight-seeing, and tramping (hiking) but didn't explore beyond Auckland as much as I should have during the semester. During the semester, I would often get distracted with schoolwork and studying and fail to sign up for (or organize) interesting trips. I could have done much more, but the stress that accompanied planning–not something to which I was very familiar–discouraged me. Once the semester ended I traveled down to Wellington, at the bottom of the North Island, and then around the South Island and Stewart Island. Had I not been able to stay a month after the semester to travel, I would have missed out on a lot New Zealand has to offer. I wasn't as efficient with my time as I could have been during the semester, but it all worked out wonderfully for me in the end.
What advice do you have for Mudders and study abroad?
To me, study abroad was essentially about flexibility and an open mind. I wish I had developed these more before I arrived in New Zealand. On the other hand, the main thing I learned from my time abroad was the importance of fostering those virtues. My best experiences seemed to occur when I was holding a particularly relaxed and open attitude, and the hardest times seemed to come when I was most stubborn and inflexible. If I could, I would go back in time and tell myself about this revelation. However, I suspect that I wouldn't truly understand until I'd had the experience. I would come home and later write about it exactly as I am now.
Samantha Stilson '15 (Australia)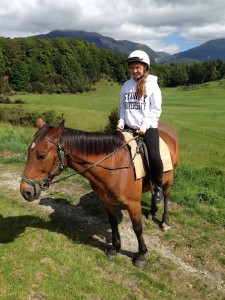 Major: International relations (computer science)
Program/Semester: IFSA Butler – University of Sydney, Fall 2013
Why did you choose to study abroad?
I was actually required to study abroad by my major, but I went abroad twice because I wanted to see the way students from all around the world learn. I always have wanted to live abroad, but studying gives you the unique experience of an entirely new educational system, surrounded by your peers.
Tell us about your program
We registered for classes directly through the university, with the help of their international student office. I absolutely loved the university. It was always busy during the day which made the whole campus feel alive. There were two hours of lecture either at once or split into two two-hour sections per week for each course, and then one hour of tutorials which were basically discussion sections, taught by TA's or professors. Many students commuted from home each day of class, and some lived in on campus residential colleges or in student apartment housing across the street from the campus.
The program hosted a few trips around Sydney: to the Opera House, an Australian footie match, out on a Harbour dinner cruise, and to an end of program dinner hosted in one of the hotels on the Harbour. We also went out to the Blue Mountains and spent a weekend doing a homestay in the New South Wales countryside. I went to most of these and they were all fantastic experiences! The program staff were very friendly and helpful as well, reachable by email and phone and sometimes coming to visit us in our housing (with treats!).
Describe a typical day
I was close enough to walk to class, so I usually grabbed breakfast in my room and headed to campus. I would sometimes have lunch with friends around the campus as I had a good amount of time in the middle of the day most days of the week, and then met up with study groups or went to frisbee practice or something in the afternoons. My classes were usually in the early afternoons, I had some days that started at 10 and some that started at 11. I had no classes on Fridays!
What were your courses like?
I absolutely loved the education system in Sydney, and I miss it back here. It allowed for much more independent study – required it in fact. We were assigned readings but never quizzed on them (except in one course, Mythology, where we had weekly quizzes on 1-2 chapters of reading). We only had to participate in discussion sections, and even then we didn't always cover all the readings. We then had a paper or two due during the semester and a final exam, and that was it! Finals period was two weeks long and was preceded by a week of study vacation. We had a lot of time to study then, but it still wouldn't have been enough had I not kept up with the readings during the semester. Some courses offer extra readings as well which many students complete, especially if they are pursuing a degree in that subject.
Where did you live?
I stayed in a university-owned apartment building just across the street from campus. It was very easy to get into the proper city by bus (a 10–25 minute ride, depending on where you wanted to go), but the area around the campus and apartment building was also rather city-like. I had a studio apartment, so I had my own room and bathroom and shared a kitchen and lounge area with the other students in the building. The complex hosted tons of events every month, so it was easy to meet people (and get free food!).
What challenges did you experience?
I think the greatest challenge was fitting everything I wanted to do in! It was a bit difficult to keep up with local friends when I wanted to go traveling most weekends and breaks, but I met so many people on my travels that it made up for it.
What were some memorable highlights of your time abroad?
Sailing the Great Barrier Reef was the best part of the experience, I think. I spent four days on a boat with ten other people just sailing, snorkeling, and exchanging travel stories. It was nice to get completely out of my comfort zone and just have time to reflect on my semester out in the middle of nowhere. But really, I loved just being able to live and breathe Australian. I loved finding all the cultural nuances between Australia and America, like how Australian university students seem to feel as though traveling outside their country is necessary in order to fully understand the world because they feel so isolated otherwise. I was also there during the national elections, and as a politics nerd I loved seeing the campaigning and reactions among students as a very conservative prime minister came into office.
Now that you're back, what do you wish you would have done, but didn't?
I wish I would have made more long-term connections with my Australian friends so it would be easier to go back!
What advice do you have for Mudders about studying abroad?
Go! There are so many places in the world that are doing amazing things in science. The more different ways you learn to look at things, the better scientist (and person!) you'll be.
Heather Seaman '16 in Australia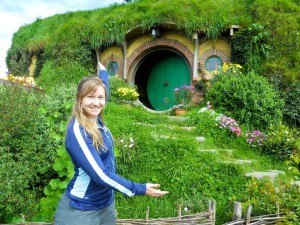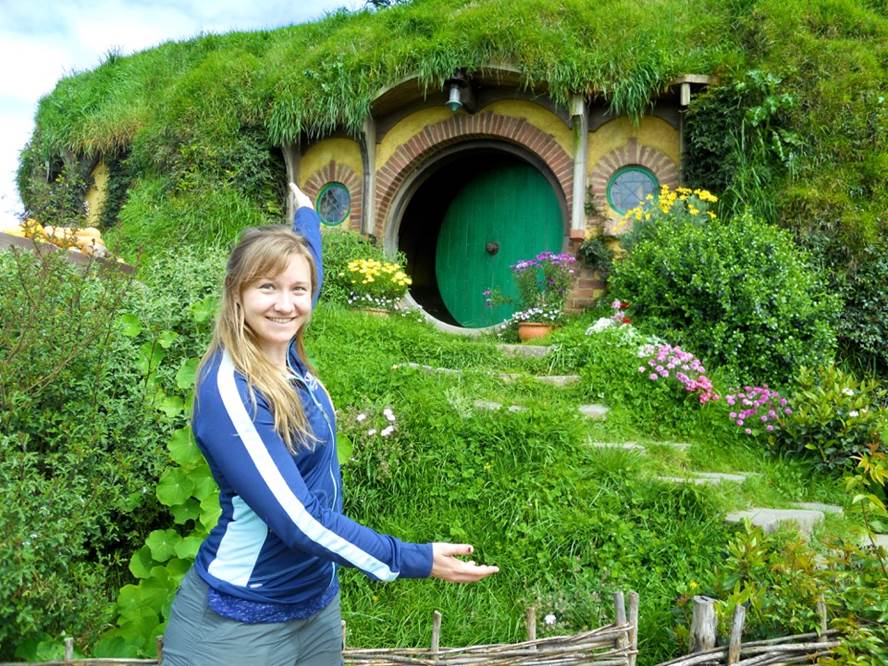 Major: Computer Science
Program/Semester: Arcadia CGS – University of new South Wales, Fall 2014
Why did you choose to study abroad?
I studied abroad because I wanted to experience a new culture and discover what sorts of paradigms were held by people living outside the US. I was very excited to see Australia in particular since it is somewhat "out of the way" compared to European countries.
I started thinking about studying abroad during freshman year and after a few conversations with Rhonda Chiles, I was convinced I had to do it. Several of my friends went to Europe, but I found myself drawn to more out-of-the-way places. After some searching for potential locations I settled on Australia because… hey, who wouldn't want to go to Australia! I wanted to experience a new culture, specifically life outside the US, and I loved Australian accents. My primary goals for studying abroad had to do with cultural enrichment and adventure rather than academics and, as it turns out, my abroad experience was a fantastic match!
Tell us about your program
I studied at the University of New South Wales through the Arcadia College of Global Studies. Arcadia is a four-year college on the East Coast that helps students from all over the world to study abroad. There were a few students who actually attended Arcadia in my program, but the vast majority were American students from other schools. Arcadia organized an Orientation Week for all of us when we first arrived. There were about forty students in the program and most of them were studying at various universities around Sydney. During Orientation we did some fun activities such as hiking and seeing wild kangaroos, but we also got a lot of general survival tips from our Australian program staff. Throughout the semester the program staff organized some activities for us including rugby games, dinners, and a long weekend retreat to a camp north of Sydney.
Describe a typical day
In addition to going to class, I spent a substantial part of my week cooking, cleaning, and shopping for groceries. I found that I really enjoyed this aspect of life so it didn't seem burdensome. I also enjoyed making trips to the farmers' markets to get fresh produce and locally produced foods each week. Sydney actually has about fifteen different farmers' markets that have their own schedule so I made a point to visit as many as I could throughout the semester! When I wasn't visiting farmers' markets I spent my free time exploring different areas of the city with friends or sometimes by myself. Sydney has so many fun niches and awesome restaurants so I never ran out of new places to visit.
Where did you live?
I lived in an apartment building called University Terraces on the UNSW campus. I had a single bedroom, but shared a kitchenette and common living space with another American student. Since we had no dining hall, we did all of our own grocery shopping and cooking, but this worked out well and I really enjoyed cooking for myself. The apartment itself was very nice and spacious! I did find, however, apartment living was harder socially since I didn't have ready-made friends as in a dorm. I had to be much more intentional about getting to know people and planning activities together.
What were your courses like?
While studying at UNSW I got to see how a few CS courses where taught in a different country. It turns out that Australian universities have a much different academic system compared to American schools and this was a pretty big adjustment for me at first. I had about 3–4 hours of lecture time per week for each class and one class that only held lectures once a week from 6–9 p.m.! The three-hour evening lecture was definitely a challenge for me, but I ended up doing well in the class anyway. Attendance for lectures was usually not required and most professors recorded their lectures. This made it quite easy to skip lectures without getting behind at all in the class, although I am NOT advocating this as a rule. Each class generally had a 1–2 hour Tutorial or Lab that met once a week. This class time was required as we had interactive discussion or worked through tasks as a group. I found that the courses at UNSW were generally much less demanding and they were structured such that I only had 3–5 assignments due in total for each class. This structure was a little intimidating since one assignment could be worth up to 40 or 50 percent of my grade, but it also allowed me a lot of flexibility in my work schedule. Near the beginning of the semester I found myself with almost nothing to do, but for the last few weeks I was almost as busy as I am at Mudd. I had very little personal interaction with my professors partly because of the larger class sizes and partially because they did not advocate regular student-professor conversation. I found this disappointing since it detracted from my academic experience, but I had a fantastic semester nonetheless.
What challenges did you experience?
Out of the various challenges I faced while abroad, finding good friends was the toughest. I got to meet a lot of people through my program and classes, but most of these people just ended up being acquaintances. Sydney is a multicultural hub so I got to meet not only Australian residents, but students and travelers from all over the world. I certainly didn't lack people to explore with, but by the end of my time in Australia I felt like I was just beginning to forge deeper friendships with a few people. Building quality friendship takes a lot of time and intentional effort and since I didn't have any history with these people I felt fairly lonely at times. If I were to study abroad again I'd definitely make more of an effort to get to people on a deeper level because that is the one thing that could've made my abroad experience better.
What were some memorable highlights of your time abroad?
I had so many awesome adventures while I was abroad; it is almost impossible to single out something I enjoyed the most! I was able to do quite a bit of traveling and see flora and fauna that grow and live only in Australia! One new hobby I developed in Australia was scuba diving! I did a few dives while in Sydney and even got my Advanced Certification over a weekend. At the end of my trip, I went to the Great Barrier Reef for a three-day dive trip and that was positively drop-dead gorgeous. It absolutely deserves the hype as a world-class destination. I also enjoyed feeling more independent as I explored Sydney on my bicycle. I never felt unsafe, just adventurous, but these bicycle trips were some of the highlights of my stay.
Now that you're back, what do you wish you would have done but didn't?
I would have loved to see Uluru also known as Ayer's Rock. It's in the "Red Centre" of the continent so it takes a long trip to get there, but a few friends who went there told me it was very impressive.
What advice do you have for Mudders considering studying abroad?
I would absolutely recommend study abroad no matter your major. Find a program that works for you and go! My semester abroad helped me to grow in understanding different cultures, and I was faced with an important truth: not everyone thinks, acts, or believes as Americans do. I also discovered many sets of ethnocentric glasses that I had and am now able to better communicate with and appreciate people from different cultures. I also learned some fun things about myself: I love to travel, I love tea, and I love biking!
During your time abroad you will learn about other cultures, people, and places, but most of all you will become a better person and a more effective contributor to the world.
And though the academics at UNSW were different than at Mudd, the learning I did outside of the classroom was irreplaceable.