Grant Submission Process and Timeline
The Office of Sponsored Research (OSR) supports faculty seeking funding for research, scholarship, and creative work through a clear and effective process for all partners (Faculty, Sponsored Research, Department Chairs, the Dean of Faculty, and Business Affairs).
It is important to follow this process so that we can best support you in each step of proposal development, submission, and grant administration.
HMC's approvals process ensures that proposal budgets — especially those involving durable equipment — are vetted by the Business Affairs Office and the Dean of the Faculty for compliance issues, as well as to ensure that the College is prepared to support any ongoing costs the equipment might require from the college. The process is clear — and easy — for the faculty when submitting proposals. It doesn't add much time and offers confidence to the faculty PI that they are fully supported by the institution.
Most grants, both public and private, are submitted by and awarded to HMC or require institutional nomination, thus it is critical that you notify OSR of any opportunity you are interested in pursuing. Even if a grant is not submitted by, awarded to, or administered by HMC, it is important to notify OSR about the opportunity so that 1) we can assist you with drafting a strong proposal, and 2) we can ensure there is no conflict with other institutional funding goals and efforts.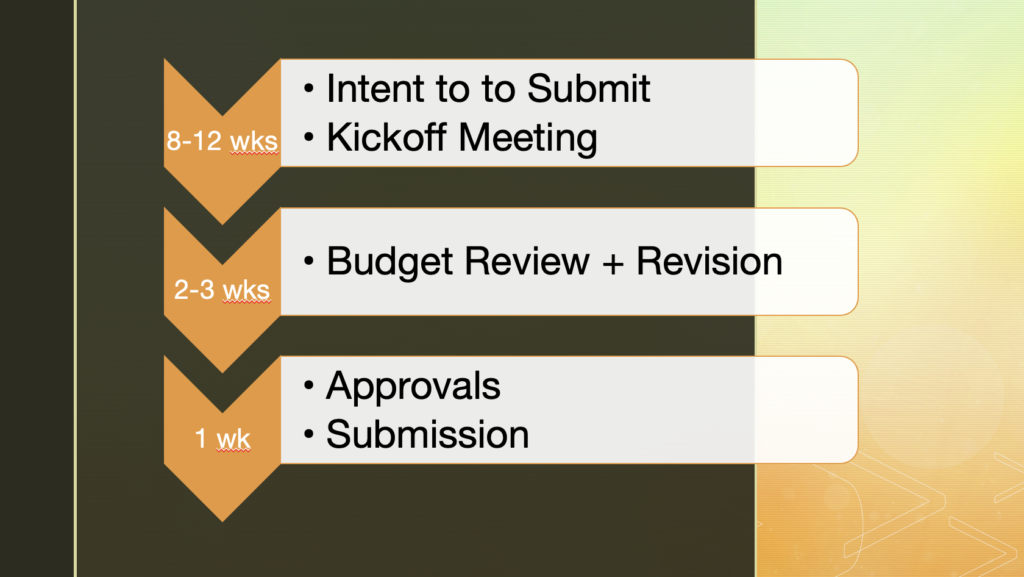 8-12 Weeks Before Deadline
Discuss your proposal concept and timeline with your Chair

Notify the Office of Sponsored Research of your intent to apply by submitting the

Intent to Submit Form 

Schedule Kickoff meeting with Nicole Wallens (OSR) and Rodrigo Flores (Business Affairs)

Set up an account on research.gov and add AOR and SPO access (NB: if you are registering for the first time, you will need to register as a PI and request access from Rodrigo Flores)

Compile list of all required documents

(See our

checklist

and cf requirements of specific solicitation)
2-4 Weeks Before Deadline
Submit budget outline and justification to Rodrigo Flores in BAO for approval
2 Weeks Before Deadline
Submit project summary, COI Disclosure, and BAO-approved budget to SRO for approval and/or letter of support from Chair and/or Dean of Faculty
Sign internal approvals form (upon receipt from SRO)
1 Week Before Deadline
Upload all final documents to agency submission portal, and notify OSR when ready for submission