Employer Recruitment Resources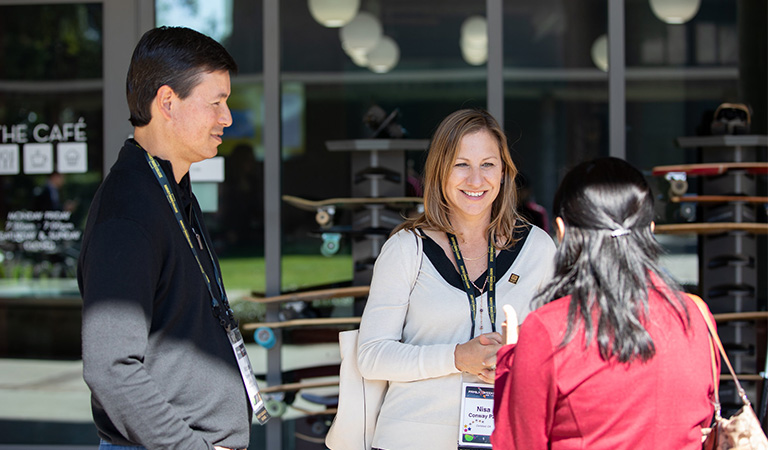 Special Announcement: Due to ongoing concerns related to the spread of COVID-19 (Coronavirus), We are currently only hosting in person events like Info Sessions, Techtalk, Skill-building Workshops and On-campus Interviews.  Please contact our Office at career_services@g.hmc.edu for more information about connecting with our students. 
The Office of Career Services works with employers and graduate school recruiters to connect them to our highly talented students.
We offer a range of effective services through Handshake, which includes job postings, career fairs, employer information sessions, on-campus recruiting, personalized marketing assistance and customized recruiting plans. We can help you choose which programs are suitable to your particular needs so you can recruit efficiently and easily.
Post a Job or Internship on Handshake
Handshake is the centralized online job listing portal accessed by The Claremont Colleges' students and alumni users. Recruiters can post internships, full- and part-time jobs, and seasonal/temporary opportunities at no charge.
Posting Instructions
Create an account on Handshake If you have an existing account with Handshake, you can connect with us by clicking on "Schools" on the left hand menu bar. Click the "Find Schools" tab on the upper right hand side. Then type "Harvey Mudd College" in the search bar to connect with us.
Click "Post a Job" tab. Go through the pages:

Basics
Details
Description
Schools
Requirements
*Local Community Opportunities
Local community members looking to hire a student- please fill out this form to have your Local Community Opportunity advertised to Claremont College students via Handshake, the online job/internship database shared by the seven Claremont Colleges (Harvey Mudd College, Claremont McKenna College, Pitzer College, Pomona College, Scripps College, Claremont Graduate University, and Keck Graduate Institute).
If you are looking to hire a tutor, Harvey Mudd College's Office of Civic and Community Engagement offers free math/science tutoring through Homework Hotline. 
Attend Harvey Mudd Job and Internship Fairs
For more information on the fairs, see Career Fairs page. If you are in Handshake already, you can register in the system.
Information sessions and tech talks are usually scheduled Monday through Thursday during lunch (noon–1 p.m.) or in the evening throughout the school year usually between 5 and 7:30 p.m. for a start time. Information sessions/tech talks are requested through Handshake by clicking on "Create an Event". Once your information session request is approved, the Office of Career Services arranges the meeting room, provides AV support and works with you to publicize your event. Companies may have events catered at their expense.
During the week of the fairs, space is limited thus requests are first-come, first-served basis and is limited to organizations participating in the fairs. We prefer to not schedule competing sessions at the same time to maximize attendance.
You can also do a virtual information session or event. Please contact us at career_services@g.hmc.edu with questions regarding hosting an information session or tech talk.
Information Session/Teach Talk/Workshop Shipping
Mail package(s) to: Harvey Mudd College, Attn: Office of Career Services, 301 Platt Blvd., Claremont, CA 91711
Check Handshake for RSVP count to ship appropriate amount of materials
Packages should be boldly marked with your company name and the date and name of the event you are hosting
Please schedule your packages to be delivered no later than 2 business days prior to the date of the event
Please pick up your package before the event at the Office of Career Services located in the Platt Campus Center
Interview schedules to recruit students for full-time employment or for internships are requested through Handshake and by clicking on "Request an Interview". Your organization has access to interview rooms on campus, available year-round. You have the option of pre-screening and selecting students to interview. Or, you can choose to have an open schedule, where students sign up on a first-come, first-served basis. Please contact our office with questions regarding on-campus interviewing.
Recruit Students for Graduate Programs
Promote your school's graduate programs through information tables or sessions, or attend one of our career fairs. Information tables or sessions are requested through Handshake.
Resources for Recruiting College Students With Autism
Visit Bringing autistic talent to your workplace to learn more.