Upcoming Events
The following virtual events are open to the HMC Community. Families, Alumni and Students are welcome to join!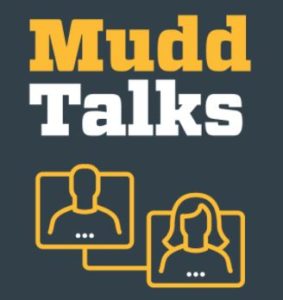 Mudd Talks – Keeping Ourselves and Our Organization Cybersecurity During COVID-19 with Keri Pearlson '79 on Wednesday, Nov. 4 at 5 p.m. PDT. With many people still working from home due to COVID-19, it's created a strange, chaotic environment for organizations and families. As we learn to work remotely, we must also think about keeping ourselves, teams and families cybersecure. Register.
Mudd Talks – Do Something Else: STEM and the Wine Industry with Diana Hawkins '08 on Tuesday, Nov. 10 at 5 p.m. PST.  Hawkins will discuss her unusual path from engineering to winemaking, the current challenges facing the wine industry, the need for innovative solutions and where STEM can take you. Register.
New! Wellness Coaching for Parents – Discover the Collaborative Process for Positive Support and Change with Susan Howard P17. During these uncharted times, we are experiencing many different situations that are unfamiliar to us. As a National Board Certified Health and Wellness Coach and an expert with a Masters in Integrative Wellness, Howard's guidance will provide the ability to support and collaborate with scientific, evidence-based approaches in creating positive outcomes.
Session for First-Year and Transfer Parents: Monday, Nov. 9 at 5 p.m. PST Register.
Session for Returning (P21-P23) Parents: Wednesday, Nov 11. At 5 p.m. PST Register.