Family Weekend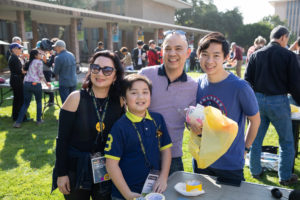 Family Weekend, held each spring, is one of Harvey Mudd College's signature events. Family Weekend offers parents and families an opportunity to connect with HMC and their students. Participants have the opportunity to meet with faculty and staff, sit in on open classes and learn more about student services including health and wellness and career services. The weekend includes the tradition of a parent vs. student competition, a fun and relaxing time to spend with your student and meet other families.
This year, due to the COVID-19 pandemic, Family Weekend will not be held on campus. This spring we will offer Family February 2021, a month-long schedule of traditional Family Weekend events offered virtually. We welcome parents and families to join in these activities. Please visit our Family February 2021 webpage to register and see a detailed schedule of events.
We look forward to welcoming families back to campus in the future. If you have any questions, please contact us at parents@hmc.edu.