Family Weekend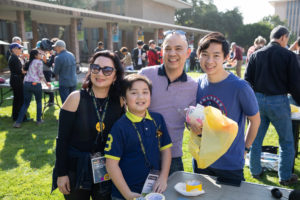 Family Weekend, held each spring, is one of Harvey Mudd College's signature events. Family Weekend offers parents and families an opportunity to connect with HMC and their students. Participants have the opportunity to meet with faculty and staff, sit in on open classes and learn more about student services including health and wellness and career services. The weekend includes the tradition of a parent vs. student competition, a fun and relaxing time to spend with your student and meet other families.
Family Weekend 2022
We regret to announce that we are canceling Family Weekend 2022, Feb. 4–5, due to concerns related to the novel coronavirus (COVID-19) Omicron variant outbreak. Ensuring the health and safety of all members of our community is Harvey Mudd's highest priority. Given the information currently available, we believe that taking this step is in the best interest of protecting the health of our families, students, faculty, staff and community.
State of the College
Saturday, Feb. 5
Join President Maria Klawe for a virtual "State of the College". She will share current campus news, future plans for the College and take questions from the audience.
Virutal Class Socials
Saturday and Sunday, Feb. 5 and 6
Join fellow parents from your students' class years in these casual social events hosted by members of our Parent Leadership Council (PLC)! This is a great opportunity to meet fellow parents and ask questions about where your students are in their journey at HMC. If you have multiple students in different class years, feel free to drop into multiple events.
Class of 2022 Social, Feb. 6, at 3 p.m PST—Hosted by Lori Haig P22, Jerome Haig P22 and Heather Mingst P22
Class of 2023 Social, Feb. 6, at 1:30 p.m. PST—Hosted by Melissa Lane P23, Eric Lane P23, Roger Meike P21 P23, Monika Schoenhoff P21 P23
Class of 2024 Social, Feb. 5, at 3 p.m. PST—Hosted by Chris Tuffli P23, Joy Higa P23, Saul Zales P23 and Wendy Zales P23
Class of 2025 Social, Feb. 5, at 1 p.m. PST—Hosted by Erik Wiberg P22, Andrea Fant-Hobbs P23 and Brad Hobbs P23
We have planned a series of virtual events with helpful information for families. Please visit our Family Focus page for a listing of events, and the individual registration pages. We are adding and updating events regularly, so check back and check your emails for individual invitations.
Please visit the Hotels and Lodging webpage for Family Weekend hotel courtesy block information.
This schedule was for the on-campus Family Weekend.
Friday, February 4, 2022
Time
Event
8 a.m.–4 p.m.
Registration/Continental Breakfast
Thomas-Garrett Plaza, Shanahan Center
8 a.m.–4 p.m.
Back to School: Open Classes
Open Classes Schedule will be available in advance.
12–1:30 p.m.
Welcome Lunch with the Parent Leadership Council
Liquidambar Mall Tent
2–3:30 p.m.
Parent-to-Parent Mingling Event
Location TBD
4–6 p.m.
Department Wine & Cheese Reception 
Strauss Plaza
6:30 p.m.
Dinner on the Town with your Student(s)
Saturday, February 5, 2022
Time
Event
 8 a.m.–noon
Registration/Continental Breakfast
Thomas-Garrett Plaza, Shanahan Center
10–11:30 a.m.
State of the College Address
McAlister Auditorium, Galileo Hall
12 –1:30 p.m.
Lunch
Liquidambar Mall Tent
2–3:30 p.m.
Student vs. Parent Competition
Lawn between Kingston and Shanahan

3:30–5 p.m.
Tea with the President/Senior Parent Toast
Location TBD
5 p.m.
Dinner on the Town with your Student(s)
8 p.m.–9:30 p.m.
DUCK! Improv 
Location TBD
Safety Protocols
For the safety of campus community members, we request that all Family Weekend attendees, ages 12 and up, be fully vaccinated. You can upload images of your vaccine cards when you register, or opt to show proof of vaccination at registration when you arrive on campus. Alternately, registrants may provide proof of a negative COVID-19 test taken within 72 hours of arrival to campus.
By registering, you are agreeing to comply with all California, Los Angeles County, and Harvey Mudd College COVID-19 safety protocols during your time on campus. Those guidelines can be found at the following websites:
California – https://covid19.ca.gov/
Los Angeles County – http://publichealth.lacounty.gov/media/coronavirus/index.htm
Harvey Mudd College – https://www.hmc.edu/covid-19/
Additional Information
Shanahan Café Hours
Friday, Feb. 4
7 a.m.–7 p.m.
Saturday, Feb. 5
8 a.m.–4 p.m.
All services are held at the McAlister Center for Religious Activities (919 N. Columbia Ave., Claremont).
The Chaplains Office Website details different denominations and meeting times.