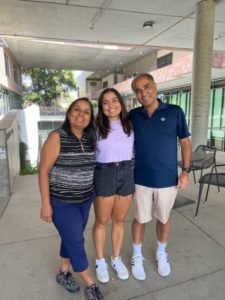 Parents and families are an important part of the Harvey Mudd community. Parent involvement enhances the HMC experience by increasing opportunities for and strengthening connections among fellow parents, alumni, students and faculty. Please contact the Office of Alumni and Parent Relations at parents@hmc.edu if you would like more information about any of the opportunities below or wish to propose a new one. Whether your participation is philanthropic in nature or comes in the form of offering your time and talents, we appreciate your support!
Programs for Admitted and Incoming Families
Participate in virtual or on-campus events to share your experiences and serve as a resource for families of admitted or incoming students who are new to Mudd.
Career Services Support
Partner with the Office of Career Services (OCS) to identify or sponsor student internships, identify employment opportunities, conduct mock interviews with students or offer an informational session about your employer, industry or career.
The Annual Fundd is a primary source of ongoing, budget-relieving funding for Harvey Mudd College. Donations to the Annual Fund support the overall exemplary standard of education expected at Harvey Mudd. There is strength in numbers – your participation at any level matters.
The PLC leads by example, serving as ambassadors to fellow HMC parents by encouraging participation in regional, virtual and on-campus events, and inspiring leadership level support through thoughtful outreach and stewardship.
Parent In a Pinch (PIP)
Do you live close to campus and want to help out a student or Mudd family? Volunteer to be a "Parent In a Pinch." Occasional or one-time PIP volunteer opportunities could include hosting a student over an academic break, providing student transportation, connecting with a non-local parent to offer support to their Mudder in temporary need, storing a student's bike in your garage over the summer, etc. If you are interested in being on our PIP resource list, please contact parents@hmc.edu.
Volunteer At Large
We welcome parent and family volunteers for co-hosting or hosting an event, contributing Mudd related articles to our Community Corner and more. If you have an interest in volunteering, please contact parents@hmc.edu.