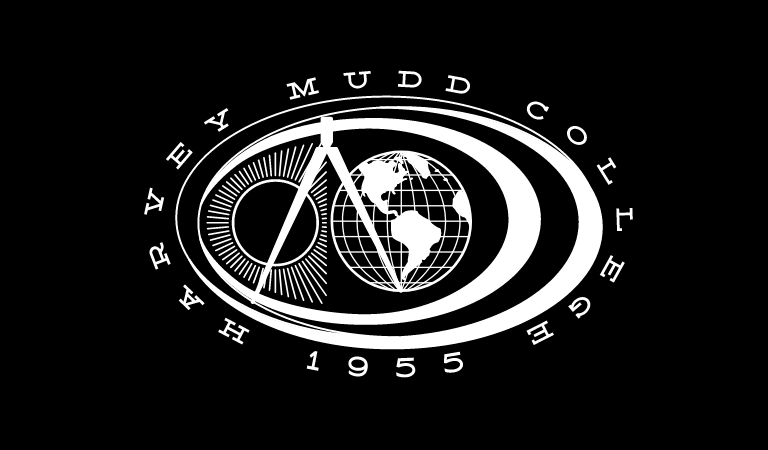 The Official College Seal
The original Harvey Mudd College seal, created in 1960 by Thomas Jamieson, represents the various ideals of the College. The Founding Class of 1961 described the seal in the 1961 yearbook: "The seal combines symbols intended to convey the image of the College. Medieval heraldry was avoided as inappropriate for a college founded in mid-twentieth century with its sights set on the technology of the future. The sun represents energy, the elliptical Moebeus [sic] strip denotes structure, and the dividers, measurement. The globe depicts the humanities and civilization. The dividers are placed in the design to bridge the gap between the sun and the globe to symbolize the measure of energy and things scientific as well as the measure of man and his civilization. The outer as well as the inner ellipse can be read as orbital paths suggesting man's concern with space."
Due to its intricate nature and specific meaning, the official seal has very limited use. The seal is reserved as the official, formal mark of the College and is used only for special occasions and formal ceremonies. Other uses should be considered carefully, keeping in mind the audience, readability of the seal and appropriateness.
The seal should not be used routinely on print or electronic communications or merchandise. The seal is a standalone mark of the College and should not be combined with the logo.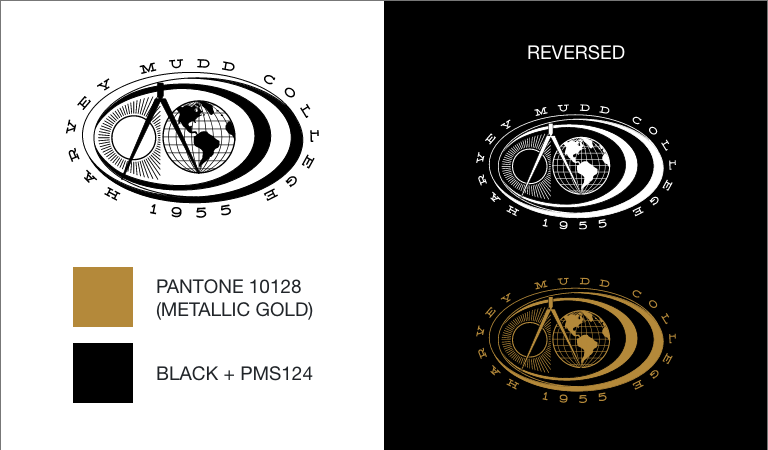 Acceptable Uses for the College Seal
The primary colors for the College seal are metallic gold (Pantone 10128) and black. When metallic ink is not available, always use the black or white version. The seal can also be reversed as shown when appearing on a solid black background.
Proximity of Logo
A prescribed amount of clear-zone around the seal should be maintained in all uses. The unit of measure is a square equal to half the height of the seal. The light blue area represents the amount of space that must be maintained between the seal and any other element including the edge of a page.
Size of Seal
The seal should be produced at a reasonable size to maintain legibility. For printed materials, the seal must never be reproduced smaller than 1 1/4 inches wide. For digital use, the seal must never be smaller than 375 pixels wide.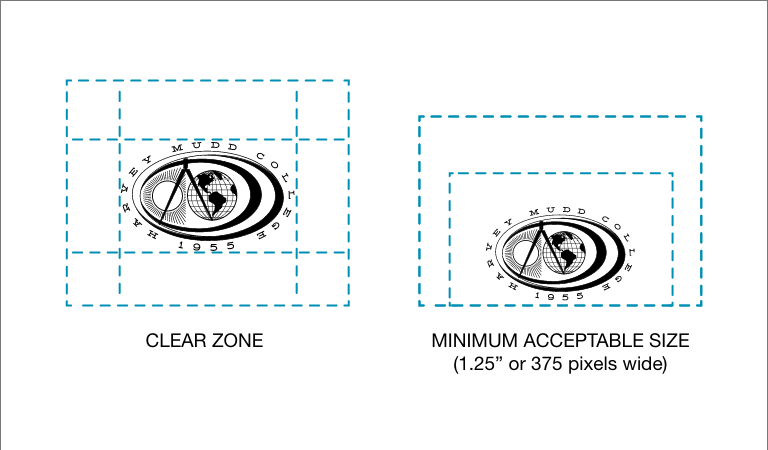 Unacceptable Uses of the College Seal
It is extremely important that the seal be displayed correctly. The following examples illustrate a few of the unacceptable uses of the seal.
DO NOT distort (stretch) the seal.
DO NOT crop any portion of the seal.
DO NOT tilt the seal.
DO NOT combine the seal with the logo.
DO NOT print text or images on top or behind the seal.
DO NOT color parts of the seal.
DO NOT embellish any part of the seal.
DO NOT add a drop shadow to the seal.